Knox, William (1756-1795) to Henry Knox
High-resolution images are available to schools and libraries via subscription to American History, 1493-1943. Check to see if your school or library already has a subscription. Or click here for more information. You may also order a pdf of the image from us here.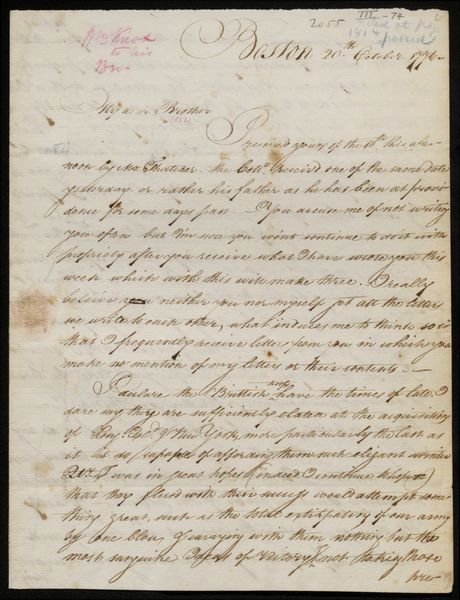 A high-resolution version of this object is available for registered users. LOG IN
Gilder Lehrman Collection #: GLC02437.00476 Author/Creator: Knox, William (1756-1795) Place Written: Boston, Massachusetts Type: Autograph letter signed Date: 20 October 1776 Pagination: 3 p. : address ; 24.8 x 18.2 cm.
Summary of Content: Discusses their correspondence and speculates that not all their letters reach each other. Discusses the recent British victories in taking Long Island and New York. Had hoped the victories would induce the British into an ill-planned and unsuccessful attack. Discusses the transportation of lumber. Asks his brother if he believes British General William Howe will attempt to end the war decisively this winter, if he believes France will assist the colonies, if he thinks the Continental Congress is taking proper actions to form the army. Notes that he will relay information about artillery pieces to Henry Jackson. Indicates that General Philip Schuyler has put in his resignation. Discusses selling various pieces of furniture.
Full Transcript: [draft]
Boston 20th October 1776 -
My dear Brother
I receiv'd yours of the 10th this afternoon by Mr. Thatcher. the Collo. recivd one of the same date yesterday, or rather ...his father as he has been at providence for some days past - You accuse me of not writing you often but I'm sure you won't continue to do it with propriety after you receive what I have wrote you this week which with this will make three - I really beleive neither you nor myself get all the letters we write to each other, what induces me to think so is that I frequently receive letters from you in which you make no mention of my letters of their contents -
I declare the Brittish troops have the times of late. I dare say they are sufficiently elated at the acquisition of Long Isld. & New York, more particularly the last as it is so capable of affording them such elegant winter Qtrs. I was in great hopes (indeed I continue to hope) that they [Flush'd] with their success would attempt something great, such as the total extirpations of our army by one blow & carrying with them nothing but the most sanguine Ideas of Victory & not taking those [2] precautions necessary - would lay themselves exposed to the attack of an army which attack if properly conducted on our side might be attended with at least such a shock to them as that they would hardly recover from during the course of this campaign - Harry you know I'm no soldier altho I wear a black Coat yet ev'ry man whether soldier or not, has a right to give his opinion; more especially when it is supported by those, whose opinions are sacred to the thinking part of mankind - enough of this - I think its rather an unlucky circumstance for us. the ships getting up the river just at this time, but cant the timber & boards from Albany be landed above our Forts up the River near where the Ships are building, & be brought from thence by Waggons &c to Camp - this & several other questions I mean to ask you which I hop you'l take the trouble to answer particularly Whether you think General Howe intends or expects (from what you can learn) to do anything decisive this winter - or whether keep still till Spring - Whether you think France will take an active part in favor of the Collonies - & lastly Whether you think the Congress is taking such methods for forming a New Army as are [3] (according to your Ideas) Capable of effecting it - I will inform the Collo. when he comes to Town concerning the guns - Doctor Stringer who does me the Honor of corresponding with me - desird me to give his regards to you -- & General Schuyler has sent his resignation to Congress - I can not have time to write Mrs Knox by this post - I have sold the Old Chaise for £13 - according to apprizrs. And the pair of Ovall Glasses - for £13.6.8. And ten leather Bottomd old Chairs which where Mr. Fluckers for £10 so that I have now upwards of £100 - I beg you would write me ev'ry thing interesting - I think you are rather partial -
Yrs. Affectionately
Wm Knox.
tis dark & I cant see whether I write well or Ill
[address leaf]
To
Collo. Henry Knox
at
Mount Washington
on York IslandSee More
People: Knox, William, 1756-1795
Knox, Henry, 1750-1806
Jackson, Henry, 1747-1809
Schuyler, Philip John, 1733-1804

Historical Era: American Revolution, 1763-1783
Subjects: FranceBattleBattle of Long Island (Brooklyn, Brooklyn Heights)Military HistoryRevolutionary WarGlobal History and US Foreign PolicyGlobal History and US Foreign PolicyBattleTransportationMilitary SuppliesContinental CongressCongressArtilleryGovernment and CivicsHome FurnishingsFinance
Sub Era: The War for Independence