Shaw, Samuel (1754-1794) [Artillery record book]
High-resolution images are available to schools and libraries via subscription to American History, 1493-1943. Check to see if your school or library already has a subscription. Or click here for more information. You may also order a pdf of the image from us here.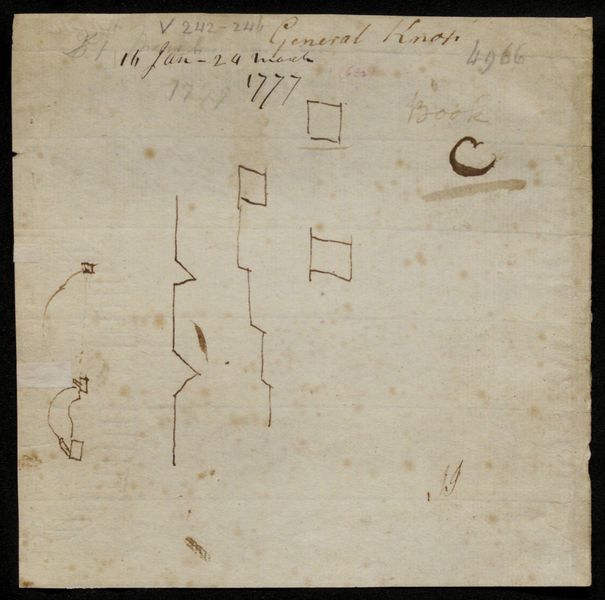 A high-resolution version of this object is available for registered users. LOG IN
Gilder Lehrman Collection #: GLC02437.00518 Author/Creator: Shaw, Samuel (1754-1794) Place Written: Morristown, New Jersey Type: Autograph document signed Date: 12 January -24 March 1777 Pagination: 16 p. ; 21 x 16 cm.
Summary of Content: Book of records for Knox's artillery regiment. Contains inventories of artillery, notes regarding regimental activities and some daily entries. Samuel Shaw created the book, which dates between 12 January 1777 and 24 March 1777. The first page, probably the cover page, contains sketches, some appear to be of cannon. Page 2 is a list of the amount of ammunition delivered to various officers. At bottom is a note informing Captain Lieutenant Joseph Crane that he is "considered as no longer an officer in the Corps of Artillery." States this document is a copy, and that the original was delivered to Captain Sebastian Bauman. Page 3 is a list of artillery with different brigades broken down by officer, dated 16 January 1777. Page 4 is titled, "Extracts from Mr. Knowle's Instructions from Genl Knox," also dated 16 January 1777. States that Samuel Shaw will deliver the accounts and "abstracts" of the regiment for July and August to Charles Knowles, so that Knowles can inspect them and compare them to those for September through December. Notes there are other regimental accounts that Knowles must obtain and examine. Page 5 is a memo listing a number of tasks to be done including asking Captain [Alexander] Hamilton if his men were entitled to a ten dollar bounty, to "get a return" of the men in action at Trenton and the cannons captured there, and to arrange for more cannon. Also requests that if General Greene should write Lieutenant Colonel Benjamin Flowers he should do so to the care of Jacob Duche, and that Colonel Flowers luggage be sent back to Philadelphia. Page 6 details orders for the movement of artillery units. Events include "an Iron 3 pounder" being sent with General Mifflin and "Capt Brown and 24 Men" being ordered to Princeton. Also records Captain Ayres and Captain Bruster leaving the ranks once their term of service had expired. They took all of their Pennsylvania Militia and all their horses with them, leaving none to pull the cannon. Page 7 is a list of artillery with different brigades broken down by officer, dated 22 January 1777. At bottom of page 7 there is a note that Captain Moulder's company will be returning to Pennsylvania with their two cannon, since General Nathanael Greene has decided there are no longer enough soldiers to man all the cannon. The discussion of the argument that occurred related to General Greene's orders continues on pages 8 - 10. Details an argument between Shaw and Major Thomas Proctor over whether or not the cannon should be sent away, which they eventually were. Mentions delivering a sword to Major Proctor so his friend can make a new scabbard. Page 10 also notes that General Greene ordered Captain Winthrop Sargent to join General Warner at Bound Brook and bring two brass three pounders. Page 11 is an "Estimate of Men which will be wanting for the following Pieces of Ordnance at the expiration of six weeks from the first of this Instant January." Lists the number of men necessary for each officer, the number they actually have, the number of men they are wanting, and the number of artillery each man has. Signed by Samuel Shaw at Morristown on 31 January 1777. Page 12 contains a number of notes, all of which relate to troop movements and the problem of finding enough men to man all the cannon. Includes mention of a detachment "of Capt. Hamilton's Co[mpan]y" marching on February 3 to join the detachment with General Sullivan. Pages 13 - 16 contain a number of notes, "Return of Brass & Iron ordnance at the different posts" 21 March 1777, and a list of the Continental Artillery officers "with Captain Bauman." The notes mention the movement of cannon to Philadelphia, recruitment, troop movement, and the need to pay certain officers. Extra horses and harnesses are needed for the artillery, Lieutenant Bean and other men "with the Late Capt Hamiltons Comp[an]y" have received their discharges, seven men from Hamilton's company "Qualifyed to be true to the Independent States of America," and Colonel Shaw set out for Boston. The closing portion of page 16 is in an unidentified hand.
People: Shaw, Samuel, 1754-1794
Bauman, Sebastian, 1739-1803
Crane, Joseph, 1722-1800
Knox, Henry, 1750-1806

Historical Era: American Revolution, 1763-1783
Subjects: Revolutionary WarRevolutionary War GeneralMilitary HistoryArtilleryContinental ArmyMuster Rolls and ReturnsAmmunitionFinanceSoldier's PayBattleTransportationMilitiaWeaponryArtisansRecruitmentOathTravel
Sub Era: The War for Independence