Jackson, Henry (1747-1809) to Henry Knox
High-resolution images are available to schools and libraries via subscription to American History, 1493-1943. Check to see if your school or library already has a subscription. Or click here for more information. You may also order a pdf of the image from us here.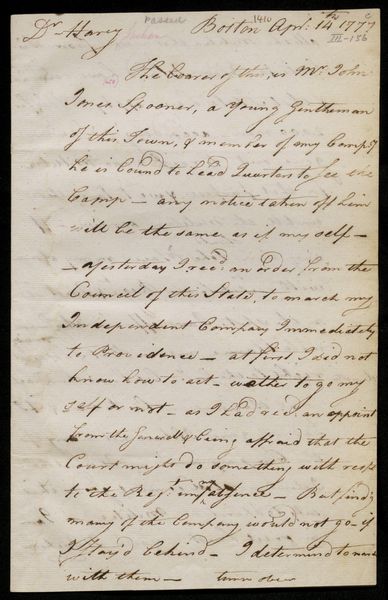 A high-resolution version of this object is available for registered users. LOG IN
Gilder Lehrman Collection #: GLC02437.00574 Author/Creator: Jackson, Henry (1747-1809) Place Written: Boston, Massachusetts Type: Autograph letter signed Date: 14 April 1777 Pagination: 2 p. : address : docket ; 29.2 x 18.3 cm.
Summary of Content: Says he has received orders "from the Council of this State to march my Independent Company Immediately to Providence." Rhode Island needs these men for defense until 2,000 militiamen can be raised, and Jackson worries that without him his men would not have gone. Also worries what will happen to his continental regiment while he is away, and hopes "the general" will not disapprove of his actions.
Background Information: Henry Jackson was a colonel in a continental regiment who later rose to the rank of brevet Brigadier-General.
Full Transcript: [draft]
...all the militia that march't from this State to Rhode Island have return'd & that State have apply to this for 2,000 men - accordingly orders are gone out to raise 2,000 ...militia for that purpose & we are to tarry there until the militia arrivd - if any thing should take place in my absence with respect to the Regt: & I not be on the spot. I am affraid the general will blame me but I hope you will set the matter right to the Genl: let know the attachment the company has to me - & if I had not gone I believe not many of the company would...See More
People: Knox, Henry, 1750-1806
Jackson, Henry, 1747-1809

Historical Era: American Revolution, 1763-1783
Subjects: Military HistoryContinental ArmyMilitiaRevolutionary WarRevolutionary War General
Sub Era: The War for Independence