Knox, Henry (1750-1806) to Lucy Knox
High-resolution images are available to schools and libraries via subscription to American History, 1493-1943. Check to see if your school or library already has a subscription. Or click here for more information. You may also order a pdf of the image from us here.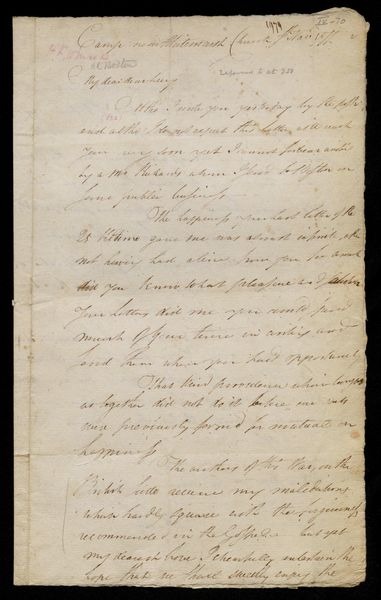 A high-resolution version of this object is available for registered users. LOG IN
Gilder Lehrman Collection #: GLC02437.00663 Author/Creator: Knox, Henry (1750-1806) Place Written: Whitemarsh, Pennsylvania Type: Autograph letter signed Date: 7 November 1777 Pagination: 2 p. : address ; 33.4 x 20.4 cm.
Recently received the first letter from Lucy in a month. Writes, "The [authors?] of this War, on the British side receive my maledictions which hardly square with the forgiveness recommended in the Gospel, but yet my dearest Love I cheerfully entertain the hope that we shall sweetly enjoy the Society of each other again and the blessings of it richly enhanc'd by knowing the afflictions of absence." Contains numerous other expressions of his love.
[draft]
Camp near Whitemarsh Church, 7th Novr 1777
My dear dear Lucy
Altho' I wrote you yesterday by the post and altho' I do not expect this Letter will reach you very soon yet I cannot forbear writing by a Mr Richards whom I send to Boston on some public business -
The happiness your Last letter of the 25 Ultimo gave me was almost infinite, after not having had a line from you for a month did you know what pleasure and satisfaction Your Letters did me you could spend much of Your time in writing and send them when you had opportunity.
That kind providence which brought us together did not do it before our souls were previously form'd for mutual un happiness.
The authors of this War, on the British side receive my maledictions which hardly square with the forgiveness recommended in the Gospel - but yet my dearest Love I chearfully entertain the hope that we shall sweetly enjoy the [2] Society of each other again, and the blessings of it richly enhanc'd by knowing the afflictions of absence -
Should this or any similar Letter fall into the hands of people who love less than my Lucy they will make a scoff at it - let them ridicule I have a witness within me like the Christian and our happiness of which their nigh dull souls never tasted - Man was form'd for Bliss which thro the depravity of passions few arrive - the great bulk of mankind give themselves up to the pursuit of improper objects [struck: in] the obtaing of which, disgusts and palls the mind.
I bless the day which heaven made You mine and I hope that providence which brought us together will give me an opportunity by a long connection of convincing you with a pure ardent affection how much I love and esteem You.
Give my Love to all friends - I shall hope to see you by Christmas or the beginning January. God bless you & your babe
H Knox
[address leaf]
Mrs. Lucy Knox
Boston
By Mr Richards