Anspach, Peter (fl. 1775-1783) to Henry Knox
High-resolution images are available to schools and libraries via subscription to American History, 1493-1943. Check to see if your school or library already has a subscription. Or click here for more information. You may also order a pdf of the image from us here.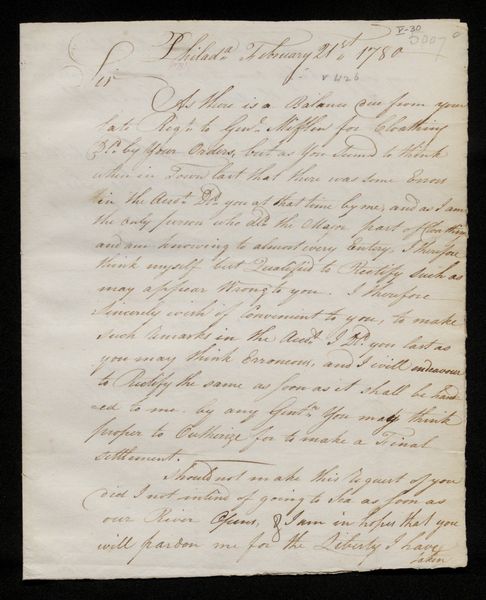 A high-resolution version of this object is available for registered users. LOG IN
Gilder Lehrman Collection #: GLC02437.00801 Author/Creator: Anspach, Peter (fl. 1775-1783) Place Written: Philadelphia, Pennsylvania Type: Autograph letter signed Date: 21 February 1780 Pagination: 2 p. : address ; 24.3 x 9.3 cm.
Anspach, Paymaster to the Quartermaster General's Department, discusses a discrepancy in Knox's account. Claims that Knox owes General Thomas Mifflin, former Quartermaster General, money for clothing. Anspach claims he can assist in rectifying the discrepancy. Apologizes for taking the liberty of tending to the account without Knox's prior approval, noting "... consider the difficulty that may very probably occur to you should you be oblig'd to settle the accot. with Genl. Mifflin or any of his Assts in my absence." Contains a note on page two signed by [J. W. Buckley?]: "I should be glad your [sic] empower the same person to settle Colo. Moylans Acct. I shall attend for that purpose at the same office."
[Draft]
Philada. February 21st 1780
Sir
As there is a Balance due from your later Regt. to Genl. Mifflin for Cloathing Dld. by your Orders, but as you seemed to think when in Town last that there was some Errors in the Accot. Dld. you at the time by me, and as I am theonly person who dld. the Major part of Cloathing and am knowing to almost every Entry, I therefore think myself best Qualified to Rectify such as may appear Wrong to you. I therefore sincerely wish if Convenient to you, to make such remarks in the Accot. I Dld. you last as you may think Erroneous, and I will endeavour to Rectify the same as soon as it shall be handed to me, by any Gentn. You may think proper to Outherize for to make a Final settlement.
[I] Should not make this request of you [if] I did not intend of going to Sea as soon as our River Opens, & I am in hopes that you will pardon me for the Liberty I have taken [2] when you Consider the Difficulty that may very probably occur to you should you be oblig'd to settle the Accot. with Genl. Miffling or any of his Assts. in my absence
I am Sir with the Greatest Respect
Your Hble Servt
Peter Anspach
To
Brigr. Genl.
Henry Knox
Sir
I should be glad you empower the same person to settle Colo. Morrisons Acct. I shall attend for that purpose at the same Office[.]
Your Mt Hu St
JW[Herschelsy?]
Genl. Knox
[address leaf]
Brigr. Genl. Henry Knox
@
Head Quarters
Hond. by Lieut.
Glentworth