Shaw, Samuel (1754-1794) to John Hancock
High-resolution images are available to schools and libraries via subscription to American History, 1493-1943. Check to see if your school or library already has a subscription. Or click here for more information. You may also order a pdf of the image from us here.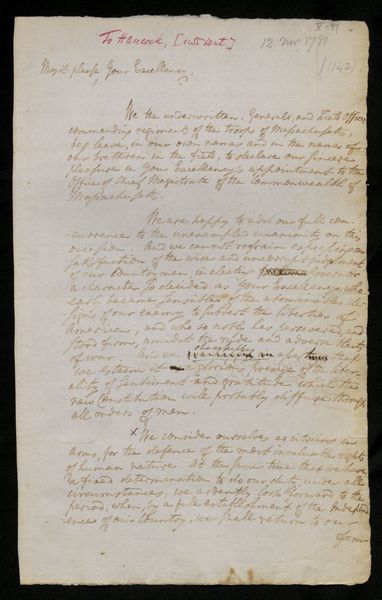 A high-resolution version of this object is available for registered users. LOG IN
Gilder Lehrman Collection #: GLC02437.00854 Author/Creator: Shaw, Samuel (1754-1794) Place Written: Totowa, New Jersey Type: Autograph document Date: circa 12 November 1780 Pagination: 2 p. ; 33.4 x 20.6 cm.
Draft of GLC02437.00853. Congratulates Hancock on becoming the Governor of Massachusetts and brings the suffering of the Massachusetts soldiers to Hancock's attention. Noted that "Instead of the foregoing-the one drafted by Col. Pickering was sent." This unsent draft varies in content from GLC02437.00853 the context of which is attributed to Timothy Pickering.
[Draft]
May it please Your Excellency,
We the underwritten, Generals, and Field Officers commanding regiments of the troops of Massachusetts, beg leave, in our own names and in the names of our brethren in the field, to declare our sincere pleasure in your Excellency's appointment to the Office of Chief Magistrate of the Commonwealth of Massachusetts.
We are happy to add our full concurrence to the unexampled unanimity on this occasion. And we cannot refrain expressing our satisfaction of the wise and uncorrupt judgement of our Countrymen, in electing Governor a character so decided as Your Excellency, who early became sensible of the abominable designs of our enemy to subvert the liberties of America, and who so nobly has persevered, and stood firm, amidst the ride and adverse blasts of war. And we chearfully assert that we esteem it a glorious presage of the liberality of sentiment and gratitude which the new Constitution will probably diffuse through all orders of men.
We consider ourselves as citizens in arms, for the defence of the most invaluable rights of human nature. At the same time that we have a fised determination to do our duty, under all circumstances, we ardently look forward to the period, when, by a full establishment of the Independence of our Country, we shall return to our fam- [2] families and friends, with the consciousness of having contributed to its prosperity. And we have no hesitation to believe, that Citizens, capable of framing and adopting to generous a Constitution, will receive us with a full proportion of affection.
Permit us to express our fullest confidence of Your Excellency's patronage and protection, and that you will, on all occasions, promote such measures as will render eligible the situation of the officers and soldiers in the field.
That you may long enjoy the smiles, and experience the gratitude, of your Country, is the ardent desire of
Your Excellency's
Most obedient servants,
Instead of the aforegoing - the one drafted by Col. Pickering was sent.