Knox, Lucy Flucker (ca. 1756-1824) to Henry Knox
High-resolution images are available to schools and libraries via subscription to American History, 1493-1943. Check to see if your school or library already has a subscription. Or click here for more information. You may also order a pdf of the image from us here.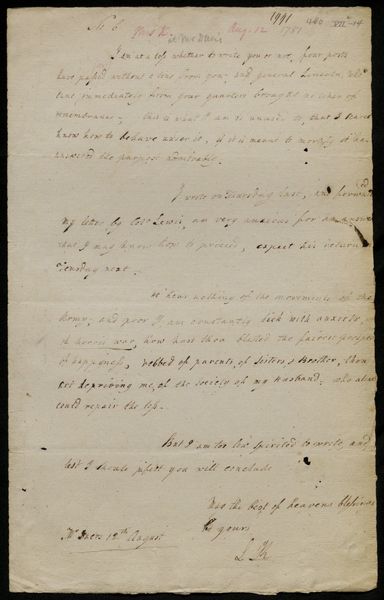 A high-resolution version of this object is available for registered users. LOG IN
Gilder Lehrman Collection #: GLC02437.01129 Author/Creator: Knox, Lucy Flucker (ca. 1756-1824) Place Written: s.l. Type: Autograph letter signed Date: 12 August 1781 Pagination: 1 p. : docket ; 33.7 x 21 cm.
Written by Lucy the wife of Brigadier General Knox, to her husband. Reports that four posts have come and gone without a letter from him. Says General Benjamin Lincoln also came from his quarters without any remembrances from him. Claims "this is what I am so unused to, that I scarce know how to behave under it., if it has meant to mortify it has answered the purpose admirably." Sent a letter last Thursday by Colonel Lewis and needs his answer to know how to proceed. Hears nothing of the army's movements and says she is "sick with anxiety, oh horrid war, how has thou blasted the fairest prospect of happiness, robbed of parents, of sisters, & Brother, thou art depriving me, of the society of my husband, who alone could repair the loss." Says she is in low spirits. Written from Mr. Duer's.
[draft]
No 6
I am at a loss whether to write you or not, four posts have passed without a line from you, and general Lincoln, who came immediately from your quarters brought no token of remembrance, this is what I am so unused to, that I scarce know how to behave under it, if it is meant to mortify it has answered the purpose admirably.
I wrote on Thursday last, and forwarded my letter by Colo Lewis, am very anxious for an answer that I may know how to proceed, expect his return on Teusday next.
We hear nothing of the movements of the Army, and poor I am constantly Sick with anxiety, oh horrid war, how hast thou blasted the fairest prospect of happiness, robbed of parents, of Sisters, & Brother, thou art depriving me, of the Society of my husband: who alone could repair the loss.
But I am too low spirited to write, and lest I should infect you will conclude
May the best of heavens blessings
be yours
Mr Duers 12th August
LK