Knox, William (1756-1795) to Henry Knox
High-resolution images are available to schools and libraries via subscription to American History, 1493-1943. Check to see if your school or library already has a subscription. Or click here for more information. You may also order a pdf of the image from us here.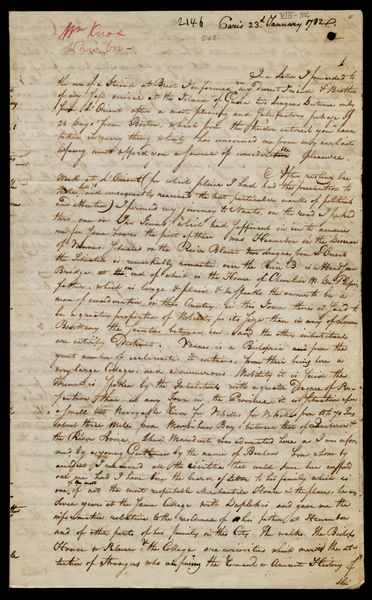 A high-resolution version of this object is available for registered users. LOG IN
Gilder Lehrman Collection #: GLC02437.01338 Author/Creator: Knox, William (1756-1795) Place Written: Paris, France Type: Autograph letter signed Date: 23 January 1782 Pagination: 8 p. ; 30.4 x 18.3 cm.
Summary of Content: Written by William Knox to his brother Brigadier General Henry Knox. Good travel description of France before the Revolution. Tells of his journey from L'Orient to Nantes. Arrived in Nantes on 1 December and stayed until 8 December. Goes on to describe his time in Anjou (he spells it Angou) province. Mentions the fine riding school and slate quarries. Says he visited Tours and describes their silk industry. After Tours, he traveled to Orleans with stops in Amboise and Blois. States that French is spoken with great precision in Blois. Left Orleans on 22 December and arrived in Paris the same day. Says he made very few excursions from Paris since arriving, except to visit Benjamin Franklin at Passy. Says "that very venerable & almost universally respected Character still enjoys a perfect state of Health, and all the apparant vivacity of fifty, there is not a foreign Minister apparently better received at Versailles, nor spoken of in all Kinds of Company with more respect, than that great Philosopher. I perhaps have still greater cause to speak of him in the most respectful terms as I have received and continue to receive more attention from him than possibly one half of the classes(?) referred to." Mentions a sumptuous dinner with gentleman at Choisy-le-Roi. Gives a sense of his time and daily life: "these silent hours of the morning strike me as most properly calculated for this kind of exercise [writing letters], and in which I find myself more at my ease than in any other part of the twenty four hours, for in the Day time I have friends to see, and never can write in the evening, and of course commonly pass in partly in society, partly at amusements, and partly in Books." Mentions spending agreeable time with Monsr. La Borde (La Borde's son was in the Royal Navy and had met William in Boston earlier) and with the Marquis Traval. Wants to make a trip to Rouen in Normandy in ten days or a fortnight. After that hopes to go to Lyons to view their silk manufacturers. Says La Borde got him an invitation to the court dinner at Versailles to celebrate the birth of the dauphin, "which did not take place before on account of the illness of Mad. Le Compton L'Artois, the Court was remarkably Brilliant and every body appeared happy." References receiving Henry's letter of 24 November, which was dropped off in Passy by Lafayette.
People:
Historical Era: American Revolution, 1763-1783
Subjects: FranceRevolutionary WarTravelEducationIndustryAgriculture and Animal HusbandryTextileLiterature and Language ArtsDiplomacyDiet and nutritionFriendshipHolidays and CelebrationsChildren and FamilyHealth and Medical
Sub Era: The War for Independence