Knox, Henry (1750-1806) to Lucy Knox
High-resolution images are available to schools and libraries via subscription to American History, 1493-1943. Check to see if your school or library already has a subscription. Or click here for more information. You may also order a pdf of the image from us here.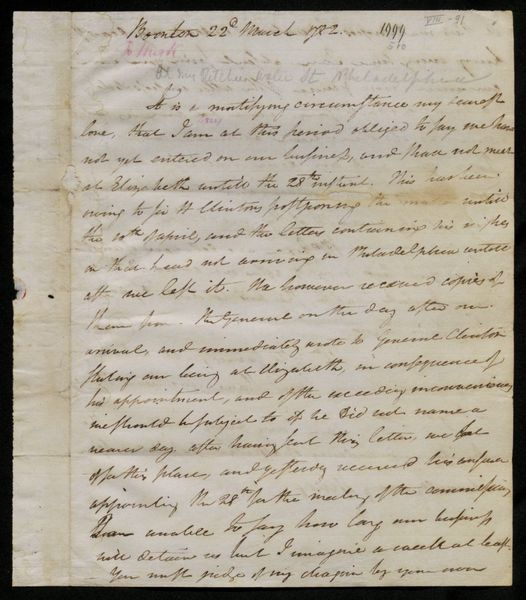 A high-resolution version of this object is available for registered users. LOG IN
Gilder Lehrman Collection #: GLC02437.01372 Author/Creator: Knox, Henry (1750-1806) Place Written: Boonton, New Jersey Type: Autograph letter signed Date: 22 March 1782 Pagination: 2 p. : 24.1 x 22.8 cm.
Explains that due to miscommunication with General Sir Henry Clinton, he is being detained in New Jersey. Had set out from Philadelphia toward Elizabeth, New Jersey, to attend a meeting of commissioners, but Clinton sent word to Philadelphia which arrived after he left. Clinton's letter postponed the meeting to 20 April, and when Knox finally received word, he wrote to Clinton to ask that due to "the exceeding inconveniences inflicted," he move the appointment up. Relates that they will now meet in Elizabeth on 28 April, but says this will detain them a week at least. Writes that he misses her: "every time I am absent from you I am convinced more & more of the utter improbability of living without you." Asks after the health of their "dear little pledges of natural love and joy" and hopes that Marcus has recovered from smallpox. Sends the compliments of the Lott family, General [Robert] Howe, and Colonel [Samuel] and Mrs. Ogden, who have just had a baby girl.
[draft]
Boonton 22d March 1782.
It is a mortifying circumstance my dearest love, that I am at this period obliged to say we have not yet entered on our business, and shall not meet at Elizabeth untill the 28th instant. This has been owing to Sir H Clintons postponing the matter untill the 20th of April, and the letters containing his wishes on that head not arriving in Philadelphia untill after we left it. We however receved [sic] copies of them from the General on the day after our arrival, and immediately wrote to General Clinton stating our being at Elizabeth, in consequence of his appointment, and of the exceeding inconveniences we should be subject to if he did not name a nearer day. After having sent this letter, we set off for this place, and yesterday received his answer appointing the 28th for the meeting of the [commissioners]. I am unable to say how long our business will detain us but I imagine a week at least. You must judge of my chagrin by [your own] [2] at this malapropos seperation. indeed my dearest Lucy, every time I am absent from you I am convinced more & more of the utter impossibility of Living without you. I am as anxious to see you as if I had been absent a campaign. I hope you and our dear little pledges of [mutual] love and joy [text loss]ell and that marcus c[text loss]illus has entirely recovered of the small pox.
M.rs Ogden was deliver'd of another fine girl two nights after we arrived here and is in perfect health, she and Colonel Ogden desires their love to you.
Mr Lotts family all desire their compliments to you. Genl Howe has been [there] a day or two.
I am my Lucy with all the purity and ardency of affection possible, your eternally loving HKnox.
Mrs Knox.