Lincoln, Benjamin (1733-1810) to Henry Knox
High-resolution images are available to schools and libraries via subscription to American History, 1493-1943. Check to see if your school or library already has a subscription. Or click here for more information. You may also order a pdf of the image from us here.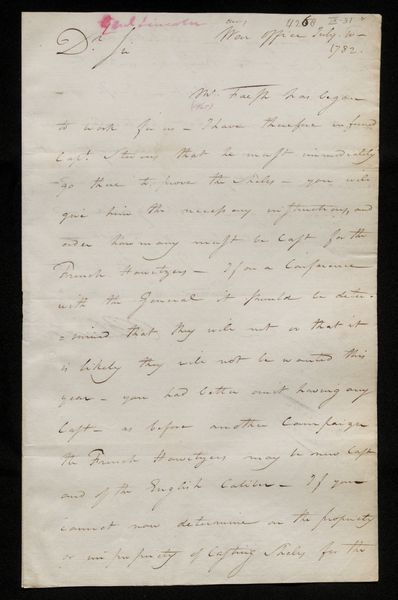 A high-resolution version of this object is available for registered users. LOG IN
Gilder Lehrman Collection #: GLC02437.01481 Author/Creator: Lincoln, Benjamin (1733-1810) Place Written: s.l. Type: Manuscript letter signed Date: 10 July 1782 Pagination: 2 p. : address : docket ; 33 x 20.5 cm.
Summary of Content: Written from the "War Office." Informs Knox that Mr. [John Jacob] Faesch has begun casting shells for them, and that Captain [William] Stevens "must immediately go there to prove the shells." Tells Knox to provide Stevens with instructions for how many shells to order cast for the French howitzers. Suggests that if, after a conference with "the General" [perhaps General George Washington], they feel they might not need the French shells right away, they should wait to make them in case they are able to recast the French howitzers and make them "of the English caliber." Also asks what items of brass ordnance they might need, and informs Knox that a Mr. Byers has gone to Springfield and hopefully soon will be ready to cast as well. See GLC02437.01457 for related information.
Full Transcript: War Office July 10 -
1782.
Dr. Sir
Mr. Faesch has began to work for us - I have therefore informed Capt. Stevens that he must immediately go there to prove the ...Shells - you will give him the necessary instructions, and order how many must be cast for the French Howitzers - If on a Conference with the General it should be determined that they will not in that it is likely they will not be wanted this year - you had better omit having any cast - as before another Campaign the French Howitzers may be now cast and of the English Caliber - If you cannot now determine on the propriety or impropriety of casting shells for the [2] French Howitzers you had better defer that part of the Business until the latter part of the Blast - I wish you would inform me what particular prices of Brass ordinance we shall most want in addition to those we have on hand - McByers has gone to Springfield and will soon I hope be ready to cast -
I am with perfect
Esteem your obt. sert.
B Lincoln
Majr. Genl. Knox

Duplicate
Original taken

[address leaf]
Honbe. Major Genl. Knox
Newburgh


[docket in Knox's hand]
From General Lincoln
10 July 1782
original intercepted by
The enemySee More
People: Knox, Henry, 1750-1806
Lincoln, Benjamin, 1733-1810
Washington, George, 1732-1799
Faesch, John Jacob, 1729-1799
Stevens, William, 1750-1801

Historical Era: American Revolution, 1763-1783
Subjects: Revolutionary WarRevolutionary War GeneralGovernment and CivicsMilitary HistoryContinental ArmyArtilleryAmmunitionIndustryPresident
Sub Era: The War for Independence