Lincoln, Benjamin (1733-1810) to Henry Knox
High-resolution images are available to schools and libraries via subscription to American History, 1493-1943. Check to see if your school or library already has a subscription. Or click here for more information. You may also order a pdf of the image from us here.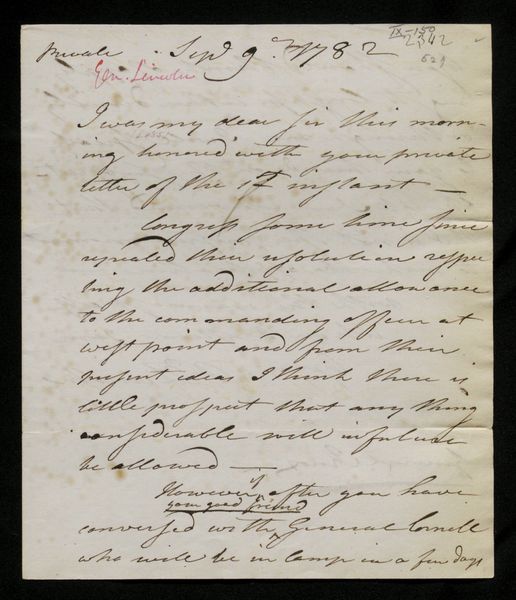 A high-resolution version of this object is available for registered users. LOG IN
Gilder Lehrman Collection #: GLC02437.01592 Author/Creator: Lincoln, Benjamin (1733-1810) Place Written: s.l. Type: Autograph letter signed Date: 9 September 1782 Pagination: 2 p. : docket ; 22.5 x 19 cm.
Marked "private." Writes that Congress has recently repeated its "solution respecting the additional allowance to the commanding officer at west point." Does not think there is any chance Congress will help them. Suggests Knox talk to his "good friend General [Ezekiel] Cornell" and either apply to Congress directly or through Lincoln. Promises he will "speak to your friends on the subject - though I am convinced that this is not the proper moment to make the application."
private Sept 9t 1782
I was my dear sir this morning honored with your private letter of the 1st instant -
Congress some time since repealed their resolution respecting the additional allowance to the commanding officer at west point and from their present ideas I think there is little prospect that any thing considerable will in future be allowed -
However [inserted: if] after you have conversed with [inserted: your good friend] General Cornell who will be in camp in a few days [2] you should think of applying to Congress either directly or through me, I will speak to your friends on the subject - though I am convinced that this is not the proper moment to make the application -
With the warmest affection
& esteem I am
Yours
B Lincoln
General Knox
[docket]
From General Lincoln 9th
September 1782