Knox, Henry (1750-1806) [Thoughts on court martial and the duty of judge advocate]
High-resolution images are available to schools and libraries via subscription to American History, 1493-1943. Check to see if your school or library already has a subscription. Or click here for more information. You may also order a pdf of the image from us here.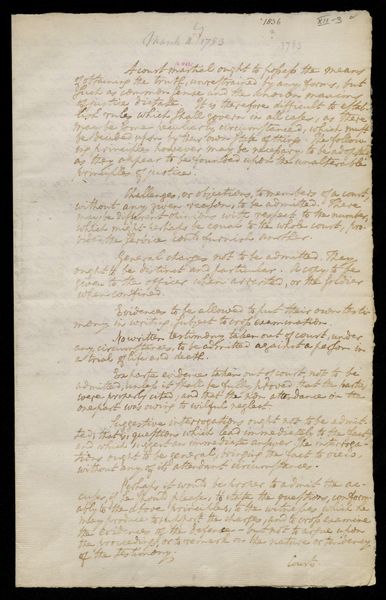 A high-resolution version of this object is available for registered users. LOG IN
Gilder Lehrman Collection #: GLC02437.01979 Author/Creator: Knox, Henry (1750-1806) Place Written: West Point, New York Type: Manuscript document Date: 4 March 1783 Pagination: 2 p. : docket ; 33.4 x 20.7 cm.
Summary of Content: Written in the hand of, and signed for Knox, by Samuel Shaw. Docketed by Knox. Major General Knox's guidelines and procedures on how a court martial ought to be conducted. Wants to allow challenges to members of the court without any given reason; is against general charges when they should be particular; those on trial can put their own testimony in writing subject to cross examination; no written testimony taken outside of court should be admitted against a person in a trial of life or death; ex parte evidence taken out of court not to be admitted; suggestive interrogations ought not to be admitted; believes it might be proper to admit the accuser state questions; thinks no quotations from law authorities should be allowed as they would lead to perplexities and errors; believes judge advocate should be under the immediate orders of the court. Goes into further instructions for the judge advocate.
Full Transcript: [draft]
March 4 1783
A court martial ought to possess the means of obtaining the truth, unrestrained by any forms, but such as common sense and the known maxims of justice dictate. ...It is therefore difficult to establish rules which shall govern in all cases, as there may be some peculiarly circumstanced, which must be decided upon by their own state of things. The following principles however may be necessary to be adopted as they appear to be founded upon the unalterable principles of justice.
Challenges, or objections, to members of a court, without any given reason, to be admitted. There may be different opinions with respect to the number, which might perhaps be equal to the whole court, provided the service could furnish another.
General charges not to be admitted. They ought to be distinct and particular. A copy to be given to the officer when arrested, or the soldier when confined.
Evidences to be allowed to put their own testimony in writing, subject to cross examination.
No written testimony taken out of court, under any circumstances, to be admitted against a person in a trial of life and death.
Ex parte evidence taken out of court, not to be admitted, unless it shall be fully proved that the parties were properly cited, and that the non attendance on the one part was owing to wilful neglect.
Suggestive interrogations ought not to be admitted; that is, questions which lead immediately to the fact, and which suggest an immediate answer. The interrogations ought to be general, bringing the fact to view, without any of its intended circumstances.
Perhaps it would be proper to admit the accuser, if he should please, to [take] the questions, conformably to the above principles, to the witnesses which he may produce to support the charges, and to cross examine the evidences of the defense - but not to argue upon the proceedings, or to remark on the nature or tendency of the testimony;
Courts [2]
Courts martial should suffer nothing to be urged on the part of the prosecution or defence, but what should be pertinent to the charge. If however an officer accused should use expressions [injuridus] to the character of another officer, he ought to be responsible for such expressions before another court martial. The injurious expressions cannot be less criminal, because a court martial happen to be influenced by prejudice or blinded by ignorance, to such a degree, as to be incapable of performing this duty with propriety.
No quotations from law-authorities to be admitted in a court martial, as they, would tend to involve the proceedings in endless perplexities and errors.
The judge advocate must be under the immediate orders of the court. He ought impartially to bring the whole truth before the court, whether it should support the prosecution or acquit the accused. He should assist the prisoner in his defence, and in every instance govern himself by the princples of equal justice. The judge advocate is said to be the prosecutor in behalf of the United States. But if his business ends with the prosecution, the institution is unequal and unjust. An office employed on one side only, without any counterbalance, is too absurd to be tolerated.

West Point 4 March 1783 HKnox.

[docket]
Thoughts on Courts Martial
and the duty of judge advocate
4 March 1783 - submitted
to a board of Genl officers
appointed by the Commander
in Cheif, to consider those
Subjects; and [assirt] their opinion
which was done in another
paper of April 83See More
People: Knox, Henry, 1750-1806
Shaw, Samuel, 1754-1794

Historical Era: The New Nation, 1783-1815
Subjects: Revolutionary WarRevolutionary War GeneralMilitary HistoryMilitary LawContinental ArmyDeath PenaltyCivil Rights
Sub Era: