Humphreys, David (1752-1818) to Henry Knox
High-resolution images are available to schools and libraries via subscription to American History, 1493-1943. Check to see if your school or library already has a subscription. Or click here for more information. You may also order a pdf of the image from us here.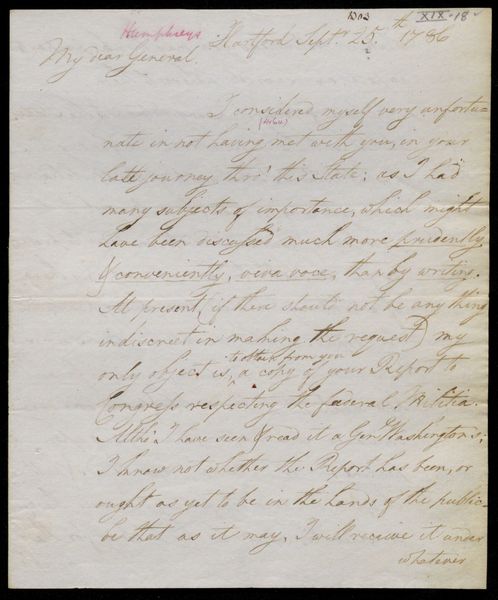 A high-resolution version of this object is available for registered users. LOG IN
Gilder Lehrman Collection #: GLC02437.03302 Author/Creator: Humphreys, David (1752-1818) Place Written: Hartford, Connecticut Type: Autograph letter signed Date: 25 September 1786 Pagination: 4 p. ; 22.9 x 18.9 cm.
Summary of Content: Colonel David Humphreys, who has been elected to the Connecticut Legislature, writes to Knox about his opinions about the state militia. Wants to obtain a copy of the report he wrote for Congress on the subject. Would like his opinions in order to prevent anything contradictory to them from being passed. Writes, "In the present tumultuous times, you will readily conceive, my dear General, how much the public safety & even our very existance [sic] as a nation, may depend upon placing our Militia in proper hands & putting it upon an eligible footing." Also describes the nature of the new Legislature: "We have a good number of our army friends in the present Assembly, such as, Genl Huntington, Colo. Wadsworth, Wyllys, Bradly & several others; who may not be personally known to you- The complection of the whole Legislature cannot yet be decided; but there seems to be some favourable attention in the sentiments of the people: nothing need be a stronger proof of this, than the appointment of Majr Judd to a seat in the Assembly, by a town, from which three years ago, he was obliged, literally, to fly for his life on account of commutation." Sends his love to Lucy Knox.
Full Transcript:
Hartford Septr. 25th. 1786
My dear General
I considered myself very unfortunate in not having met with you, in your late journey thro' this State; as I had many subjects of ...importance, which might have been discussed much more prudently & conveniently, viva voce, than by writing. At present, (if there should not be any thing indiscreet in making the request) my only object is, [inserted: to obtain from you] a copy of your Report to Congress respecting the foederal Militia. Altho' I have seen & read it a Genl Washingtons; I know not whether the Report has been, or ought as yet to be in the hands of the public - be that as it may, I will receive it under whatever [2] whatever restrictions you may think proper to impose, and sacredly adhere to them.
Having been, since my return to the State, elected into the Legislature; and finding it is probable the establishment of the Militia may come into consideration; I could wish to be possessed of your sentiments, in order to prevent as far as shall be in my power, any thing of a contrary tendency from being prematurely adopted. In the present tumultuous times, you will readily conceive, my dear General, how much the public safety & even our very existance as a nation, may depend upon placing our Militia in proper hands & putting it upon an eligible footing. I request these considerations may be my apology for the trouble [3] trouble I am now giving you.
We have a good number of our army friends in the present Assembly, such as Genl Huntington, Col.s Wadsworth, Wyllys, Bradly & several others; who may not be personally known to you - The complection of the whole Legislature cannot yet be decided; but there seems to be some favourable alteration in the Sentiments of the people: nothing need be a stronger proof of this, than the appointment of Majr Judd to a Seat in the Assembly, by a town, from which three years ago, he was obliged, literally, to fly for his life on account of commutation.
I beg you will be pleased to present my [4] my best respects to Mrs Knox, and address any commands you may have to me at New Haven, where I shall be during the Sitting of the Assembly, which will commence in a few days & continue thro' the months of Octr & Novr -
With sentiments of the warmest
Attachment & esteem
I have the honor to be
My dear General
Your Most obedt hble Servt
D. Humphreys.

The Honble Majr Genl KnoxSee More
People: Knox, Henry, 1750-1806
Humphreys, David, 1752-1818
Huntington, Jedediah, 1743-1818
Knox, Lucy Flucker, 1756-1824

Historical Era: The New Nation, 1783-1815
Subjects: Revolutionary War GeneralGovernment and CivicsMilitiaMilitary HistoryContinental CongressCongressSoldier's PayFinanceMobs and RiotsRebellionShays' Rebellion
Sub Era: Creating a New Government