Langdon, John (1741-1819) to Henry Knox
High-resolution images are available to schools and libraries via subscription to American History, 1493-1943. Check to see if your school or library already has a subscription. Or click here for more information. You may also order a pdf of the image from us here.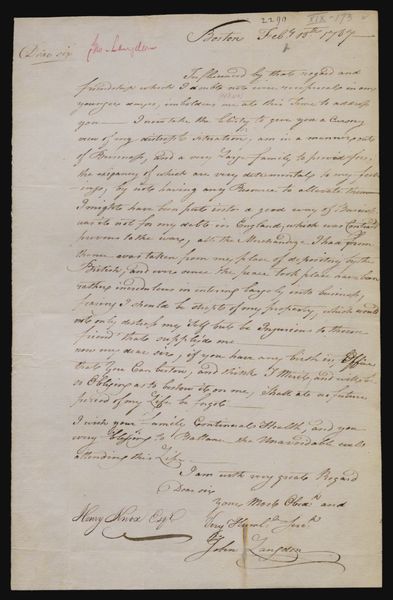 A high-resolution version of this object is available for registered users. LOG IN
Gilder Lehrman Collection #: GLC02437.03461 Author/Creator: Langdon, John (1741-1819) Place Written: Boston, Massachusetts Type: Autograph letter signed Date: 18 February 1787 Pagination: 1 p. : docket ; 31.2 x 20 cm.
Summary of Content: Asks Knox for assistance in providing for his family as he had a debt in England and "all the merchandize [sic] I had from thence was taken from my place of depository by the British ... " Also asks if Knox has any open positions, as he needs the work to support his family. Signer of the U.S. Constitution.
Background Information: Signer of the U.S. Constitution.
Full Transcript: Boston Feby 18th 1787
Dear sir
Influenced by that regard and Friendship which I doubt not were reciprocal in our younger dayes, imboldens me at this Time to address you - ...I now take the liberty to give you a Cursory view of my distress'd situation, am in a manner out of Business, and a very Large Family to provid for, the exigancy of which are very detrimental to my Feelings, by not having any Resource to allevate them - I might have been put into a good way of Business, was it not for my debt in England, which was [Contract'd] prevous to war, all the Merchandize I had from thence was taken from my place of depository by the British, and ever since the peace took place have been rather incredulous in entering largely into business, Fearing I should be stript of my property, which would not only distress my self but be Injurious to those friends that supply'd me -
now my dear sir, if you have any birth in Office that You Can bestow, and think I Merit, and will be so Obliging as to bestow it on me, Shall at no future friend of my Life be forgot -
I wish your Family Continual Health, and you every blessing to Ballance the Unavoidable evils attending this Life -
I am with very great Regard
Dear sir
Your Most Obed:t and
Very Humb:le Serv:t
John Langdon
Henry Knox Esqr.

[docket]
Capt John Langdon
Boston 18th February 1787
answered 25thSee More
People: Knox, Henry, 1750-1806
Langdon, John, 1741-1819

Historical Era: The New Nation, 1783-1815
Subjects: Revolutionary War GeneralMerchants and TradeCommerceDebtFinanceGlobal History and US Foreign PolicyGlobal History and US Foreign PolicyChildren and FamilyOffice Seeker
Sub Era: Creating a New Government