Lincoln, Benjamin (1733-1810) to Henry Knox
High-resolution images are available to schools and libraries via subscription to American History, 1493-1943. Check to see if your school or library already has a subscription. Or click here for more information. You may also order a pdf of the image from us here.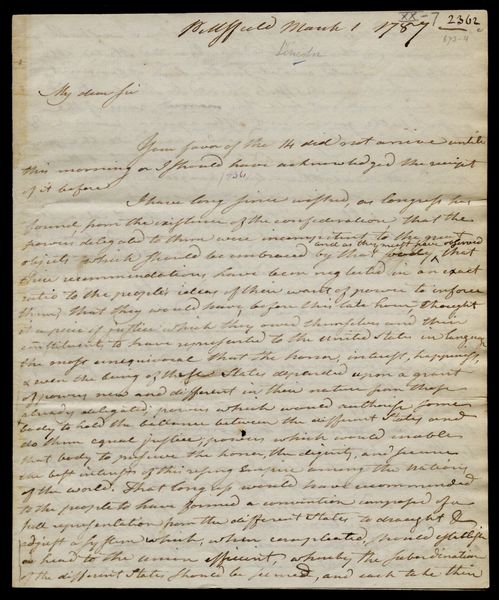 A high-resolution version of this object is available for registered users. LOG IN
Gilder Lehrman Collection #: GLC02437.03476 Author/Creator: Lincoln, Benjamin (1733-1810) Place Written: Pittsfield, Massachusetts Type: Autograph letter signed Date: 1-3 March 1787 Pagination: 6 p. : docket ; 22.7 x 18.7 cm.
Summary of Content: Discusses the convention (referring to the upcoming Constitutional Convention in Philadelphia) and his views of the people's ideas of changes Congress would bring about. "I have not the most distant idea that the people would adopt any recommendations of Congress in which the inlargement of their powers are included; they would immediately become jealous of them that the few were attempting to influence the many: sentiments like these would be thrown out .. " In relation to Shays' Rebellion, describes skirmishes with the rebels in Stockbridge and Barrington, Massachusetts. He has heard that Connecticut and New York have dispersed the sheltered rebels in their states and that the rebels may go up to Vermont. Believes that if Vermont shelters them, the state must be responsible for their conduct. Continues to discuss other aspects of the rebellion. Knox's docket refers to an enclosure, with remarks on the disfranchisement of Massachusetts rebels (see GLC02437.03477).
Full Transcript: [draft]
Pittsfield March 1 1787
My dear Sir

Your favor of the 14 did not arrive until this morning, or I should have acknowledged the receipt of it before
I have long since ...wished, as Congress has found from the existence of the confederation, that the powers delegated to them were inconsistent to the great objects which should be embraced by that body [inserted: and as they must have observed] that their recommendations, have been neglected in an exact ratio to the people's ideas of their want of power to enforce them, that they would have, before this late hour thought it a piece of justice which they owed themselves and their constituents to have represented to the United States in language the most unequivocal that the honor, interest, happiness, & even the being of these States depended upon a grant of power new and different in their nature from those already delegated; powers which would authorize some body to hold the ballance between the different states and do them equal justice; power which would enable that body to preserve the honor, the dignity, and [secure] the best interest of this rising Empire among the nations of the world. That Congress would have recommended to the people to have formed a convention composed of a full representation from the different states to draught & adjust a system which, when compleated, should establish a head to the union efficient, whereby the subordination of the different States should be secured, and each take their [2] proper stand as parts of the great whole. I wish they had gone further and told the United States, also, unless they would adopt such a line of conduct, or one, which in its effects should be similar to it, that they would not hold the marred ruins of the present feeble government after a given period & at that time they would render back all the powers which had been delegated to them and that they, should not think themselves chargeable for any ill consequences which might ensue. -
I have not the most distant idea that the people would adopt any recommendations of Congress in which the enlargement of their powers are included; they would immediately become jealous of them, that the few were attempting to enslave the many: sentiments like these would be thrown out and lead the people to spurn at the proposition. The recommendations of a convention are not liable to those constructions, as they would not be forming a system for themselves -
If Congress shall not finally think themselves authorized to recommend a convention for the purpose before mentioned, they have reasons to dissuade them to which I am a stranger - I shall not dwell on the subject, it is a touchy point and shall only add my most fervent wishes that if Congress have their objections to this matter [yet] persuaded as we are, that we cannot long exist under our present government, as it is now moulded we may [3] in time, in a way the most rational guard against the [ill consequences] of a total dissolution of [struck: it] [inserted: the little remains of [struck: it] it] [inserted and struck: present government] before we have provided a remedy; and that we may, before it is too late, be wise enough to establish a government of choice some government we must have, if it is not of choice it must be of chance.
Nothing very material has taken place here since my last, saving that on tuesday night last a body of the Rebel, entered the town of Stock bridge, perhaps 120 of them, made prisoners of a number of the good inhabitants, and plundered many of the [citizens], then moved to Barrington where they repeated the same outrages against law & justice, upon their approach the Barrington militia retired before them united with Sheffield under Col. Ashley - The Stockbridge & the Lenox militia followed them: [Ashley] tho' fewer in numbers [struck: thought] [inserted: thinking] himself in form to attack them moved towards & soon fell in with them, they hoped to [inserted: have] covered themselves by [strikeout] [inserted: placing] our friends in front this they had not time effectually to do, the skirmish lasted but a few minutes before the rebels were dispersed they fell back into the hands of the other militia who were coming up; two or three men were killed on a side & some wounded, among them is the leader of the party, one Hamlin, said at first to be mortally so [4] sixty or seventy of them were made prisoners & some of them are now coming in and surrendering themselves, this is a pretty affair and will have the most beneficial effects on the people of the county as well as those of a different kind on the rebels -
I have information, tho' not officially, from either of the Governments, that Connecticut & New York have dispersed the rebels who had taken shelter in their states [strikeout] something has caused [inserted: them] to leave their former posts and induced them to move northward into the State of Vermont where they expect to find protection: If Vermont covers them they must protect them as their own inhabitants; [when] they have adopted them, they must be responsible for their conduct, so far at least as to be answerable if they step on this side of the line and make depredations on the inhabitants of this State
3d: I have just received information by Maj'r [strikeout] Allen a late continental officer, who is on his return from Vermont that Shays, Parsons, & others, who have been leaders in the Rebellion are progressing toward [Otter] Creek, perhaps if they can be permitted they will remove [strikeout] within the British lines...See More
People: Knox, Henry, 1750-1806
Lincoln, Benjamin, 1733-1810

Historical Era: The New Nation, 1783-1815
Subjects: US ConstitutionRevolutionary War GeneralUS Constitutional ConventionContinental CongressCongressGovernment and CivicsMilitary HistoryMobs and RiotsRebellionShays' RebellionRefugeesMilitiaCriminals and OutlawsSuffrageLaw
Sub Era: Creating a New Government