Gorham, Nathaniel (1738-1796) to Henry Knox
High-resolution images are available to schools and libraries via subscription to American History, 1493-1943. Check to see if your school or library already has a subscription. Or click here for more information. You may also order a pdf of the image from us here.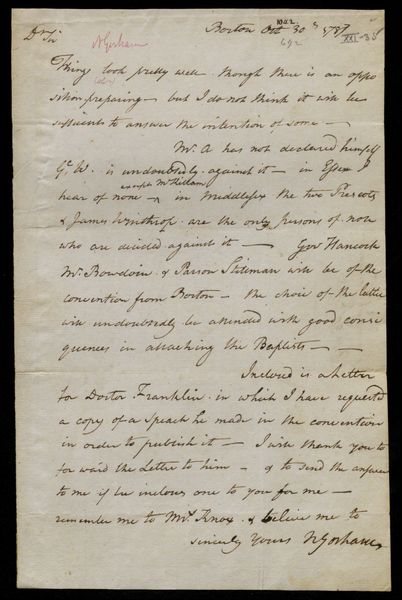 A high-resolution version of this object is available for registered users. LOG IN
Gilder Lehrman Collection #: GLC02437.03689 Author/Creator: Gorham, Nathaniel (1738-1796) Place Written: Boston, Massachusetts Type: Autograph letter signed Date: 30 October 1787 Pagination: 1 p. : docket ; 31.6 x 20.3 cm.
Summary of Content: Discusses the ratification of the Constitution and states that "[t]hings look pretty well. Though there is an opposition preparing - but I do not think it will be sufficient to answer the intention of some." Lists opponents and supporters of Constitution in Massachusetts, "Gov. Hancock [Mr.] Bowdoin & Parson Stillman will be of the convention from Boston - the choice of the latter will undoubtedly be attended with good consiquences in attaching the Baptists." Encloses a letter to Benjamin Franklin (not present) in which he asks for a copy of a speech Franklin made to the constitutional convention in order to publish it. Signer of the U.S. Constitution.
Background Information: Signer of the U.S. Constitution.
Full Transcript: [draft]
Boston Oct 30t 1787
Dr Sir
Things look pretty well, though there is an opposition preparing- but I do not think it will be sufficient to answer the intention of ...some.
Mr A has not declared himself Gl W. is undoubtedly against it - in Essex I hear of none except Mr Killam - in Middlesex the two Prescots & James Winthrop are the only persons of note who are decided against it - Gov Hancock Mr Bowdoin & Parson Stillman will be of the convention from Boston - the choice of the latter will undoubtedly be attended with good consiquences [sic] in attaching the Baptists -
Inclosed is a Letter for Doctor Franklin in which I have requested a copy of a Speach [sic] he made in the convention in order to publish it. I will thank you to for ward the Letter to him - & to send the answer to me if he incloses one to you for me. Remember me to Mrs. Knox & believe me to
Sincerely yours N Gorham

[docket]
[illegible] N Gorham
Octr 30th 1787
See More
People: Knox, Henry, 1750-1806
Gorham, Nathaniel, 1738-1796

Historical Era: The New Nation, 1783-1815
Subjects: US ConstitutionRatificationRevolutionary War GeneralGovernment and CivicsFederalistsPoliticsReligionUS Constitutional ConventionJournalismPrinting
Sub Era: Creating a New Government