Otis, James (1725-1783) [Copy of deed relating to Waldo patent]
High-resolution images are available to schools and libraries via subscription to American History, 1493-1943. Check to see if your school or library already has a subscription. Or click here for more information. You may also order a pdf of the image from us here.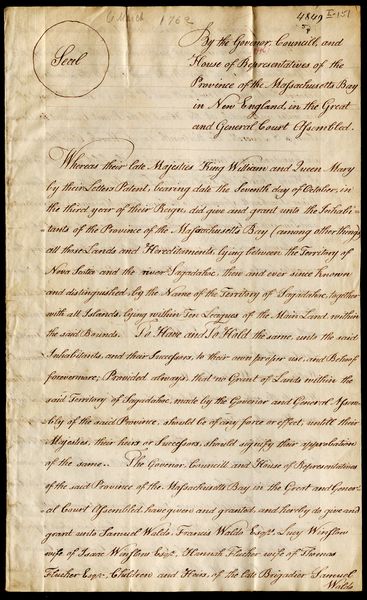 A high-resolution version of this object is available for registered users. LOG IN
Gilder Lehrman Collection #: GLC02437.09006 Author/Creator: Otis, James (1725-1783) Place Written: s.l. Type: Manuscript document signed Date: 6 March 1762 Pagination: 3 p. : docket ; 37.4 x 22.8 cm.
Summary of Content: Marked "copy," and all signed by the same hand. Deed from the Governor of Massachusetts, the Council, and the House of Representatives granting the children and heirs of the late Samuel Waldo a tract of land to be divided between them. Heirs include Samuel Waldo, Francis Waldo, Lucy Winslow (wife of Isaac Winslow), and Hannah Flucker (wife of Thomas Flucker). Signed by Governor Francis Bernard, A[ndrew] Oliver on behalf of the Council, and James Otis on behalf of the House of Representatives.
Background Information: It is unclear whether the Andrew Oliver who signed this document is the elder Oliver (1706-1774), a prominent Loyalist and Lieutenant governor of Massachusetts, or his son (1731-1799). Research on ...the son has not uncovered evidence of political activity, which is why the father is inferred to be the co-creator of the document.See More
People: Otis, James, 1725-1783
Bernard, Francis, Sir, 1712-1779
Oliver, Andrew, 1706-1774
Waldo, Samuel, 1695-1759
Waldo, Samuel, ca. 1723-1770
Waldo, Francis, ca. 1728-1784
Winslow, Isaac, 1709-1777
Winslow, Lucy, 1724-1768
Flucker, Hannah, 1726-1785
Flucker, Thomas, 1719-1783

Historical Era: Colonization and Settlement, 1585-1763
Subjects: EstateGovernment and CivicsWaldo PatentLand TransactionWomen's History
Sub Era: