Bollan, William (fl. 1750-1763) to Samuel Waldo et. al.
High-resolution images are available to schools and libraries via subscription to American History, 1493-1943. Check to see if your school or library already has a subscription. Or click here for more information. You may also order a pdf of the image from us here.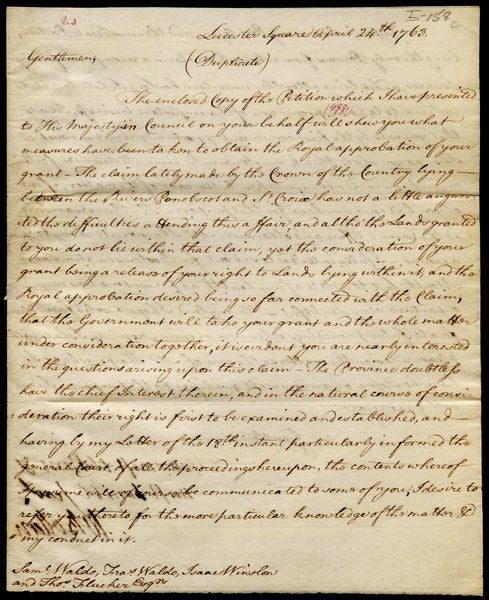 A high-resolution version of this object is available for registered users. LOG IN
Gilder Lehrman Collection #: GLC02437.09014 Author/Creator: Bollan, William (fl. 1750-1763) Place Written: London, England Type: Manuscript document signed Date: 24 April 1763 Pagination: 2 p. ; 23 x 18.5 cm.
Summary of Content: Marked "duplicate." Written from "Leicester Square," likely in London, England. Addressed to Samuel Waldo, Francis Waldo, Isaac Winslow, and Thomas Flucker. Writes, "The enclosed copy [not present] of the Petition which I have presented to His Majesty in Council on your behalf will shew you what measures have been taken to obtain the Royal approbation of your grant." Apparently is trying to counter the Crown's claim on lands between the Penobscot and St. Croix Rivers in Maine, which Waldo et. al. consider part of the Waldo patent. Also asks that they pay him as soon as is convenient.
People: Bollan, William, fl. 1750-1763
Waldo, Francis, ca. 1728-1784
Winslow, Isaac, 1709-1777
Flucker, Thomas, 1719-1783
Waldo, Samuel, ca. 1723-1770
Waldo, Samuel, 1695-1759

Historical Era: American Revolution, 1763-1783
Subjects: Land TransactionWaldo PatentEconomicsPetitionGovernment and CivicsFinanceBoundary or Property Dispute
Sub Era: Road to Revolution