Washington, George (1732-1799) to Henry Knox
High-resolution images are available to schools and libraries via subscription to American History, 1493-1943. Check to see if your school or library already has a subscription. Or click here for more information. You may also order a pdf of the image from us here.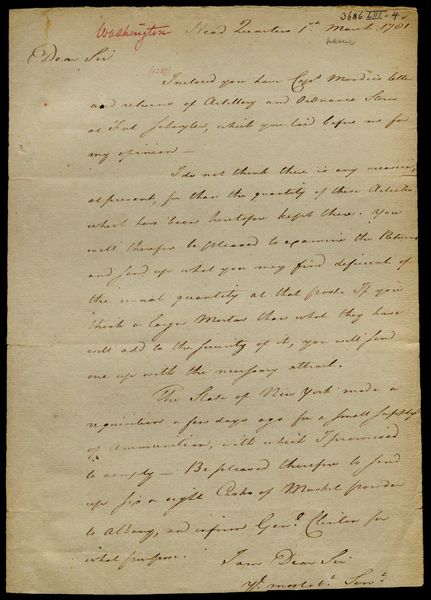 A high-resolution version of this object is available for registered users. LOG IN
Gilder Lehrman Collection #: GLC02437.09354 Author/Creator: Washington, George (1732-1799) Place Written: New Windsor, New York Type: Manuscript letter Date: 1 March 1781 Pagination: 1 p : docket ; 30 x 21 cm.
Summary of Content: Transmits a requisition from New York for ammunition and says to send only what stock is deficient to Fort Schuyler. Written at "Head Quarters." At bottom, a note in the hand of Samuel Shaw reads, "Answered and the papers returned to the man who brought them." Bottom of the letter clipped to remove Washington's signature. Docketed by Samuel Shaw, Knox's aid-de-camp.
Background Information: Signer of the U.S. Constitution.
Full Transcript: Head Quarters 1st. March. 1781
Dear Sir
Inclosed you have Capt. Moodies letter and returns of Artillery and Ordnance Stores at Fort Schuyler, which you laid before me for my opinion ...-
I do not think there is any occasion, at present, for than the quantity of these Articles which have been heretofore kept there. You will therefore be pleased to examine the Returns and send up what you may find deficient of the usual quantity at that post. If you think a larger Mortar than what they have will add to the security of it, you will send one up with the necessary attrail.
The State of New York made a requisition a few days ago for a small supply of Ammunition, with which I promised to comply - Be pleased therefore to send up six or eight Casks of Musket powder to Albany, and inform Genl. Clinton for what purpose.
I am Dear Sir
yr. most obt. Servt
[signature purloined]

[docket]
From
His Ex. Gen. Washington
[illegible] 1st March 1781.See More
People: Washington, George, 1732-1799
Knox, Henry, 1750-1806

Historical Era: American Revolution, 1763-1783
Subjects: PresidentRevolutionary WarRevolutionary War GeneralAmmunitionMilitary HistoryContinental Army
Sub Era: The War for Independence