Washington, George (1732-1799) to Henry Knox
High-resolution images are available to schools and libraries via subscription to American History, 1493-1943. Check to see if your school or library already has a subscription. Or click here for more information. You may also order a pdf of the image from us here.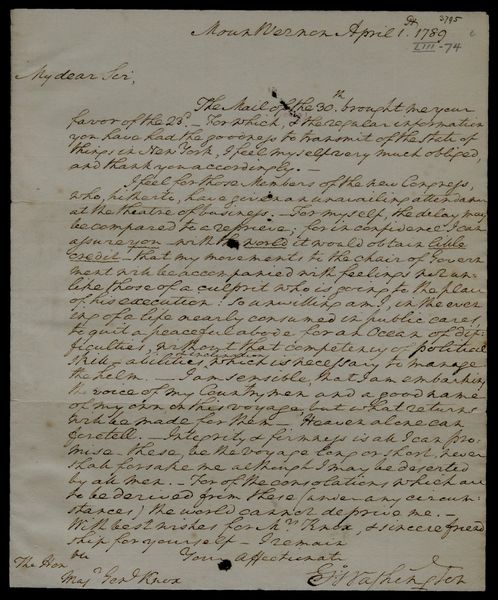 A high-resolution version of this object is available for registered users. LOG IN
Gilder Lehrman Collection #: GLC02437.09419 Author/Creator: Washington, George (1732-1799) Place Written: Mount Vernon, Virginia Type: Autograph letter signed Date: 1 April 1789 Pagination: 1 p. : docket ; 23.2 x 19.1 cm.
Summary of Content: One of Washington's most famous letters, written shortly before going to New York for his inauguration. Washington writes about his apprehensions on assuming the presidency: "my movements to the chair of Government will be accompanied with feelings not unlike those of a culprit who is going to the place of his execution: So unwilling am I, in the evening of a life nearly consumed in public cares, to quit a peaceful abode for an Ocean of difficulties, without that competency of political skill- abilities & inclination which is necessary to manage the helm..." Promises integrity and firmness at his post.
Background Information: Washington was sworn in as the nation's first president 30 April 1789. Signer of the U.S. Constitution.
Full Transcript: Mount Vernon April 1st. 1789
My dear Sir;
The Mail of the 30th. brought me your favor the 23d. - For which, & the regular information you have had the goodness to ...transmit of the state of things in New York, I feel myself very much obliged, and thank you accordingly. -
I feel for those Members of the new Congress, who, hitherto, have given an unavailing attendance at the theatre of business: - For myself, the delay may be compared to a reprieve; for in confidence I can assure you - with the world it would obtain little credit - that my movements to the chair of Government will be accompanied with feelings not unlike those of a culprit who is going to the place of his execution: so unwilling am I, in the evening of a life nearly consumed in public cares to quit a peaceful abode for an Ocean of difficulties, without that competency of political skill - abilities [inserted: & inclination] which is necessary to manage the helm. - I am sensible, that I am embarking the voice of my Countrymen and a good name of my own, on this voyage, but what returns will be made for them - Heaven alone can foretell. - Integrity & firmness is all I can promise - these, be the voyage long or short, never shall forsake me although I may be deserted by all men. - For of the consolations which are to be derived from these (under any circumstances) the world cannot deprive me. - With best wishes for Mrs. Knox, & sincere friendship for yourself - I remain
Your Affectionate
Go: Washington
The Honble
Majr Genl Knox
[docket]
from The President
Mount Vernon
1 April 1789
Original
No 7 -See More
People: Knox, Henry, 1750-1806
Washington, George, 1732-1799

Historical Era: The New Nation, 1783-1815
Subjects: PresidentInaugurationMount VernonGovernment and Civics
Sub Era: The Early Republic