Knox, Henry (1750-1806) to Horatio Gates
High-resolution images are available to schools and libraries via subscription to American History, 1493-1943. Check to see if your school or library already has a subscription. Or click here for more information. You may also order a pdf of the image from us here.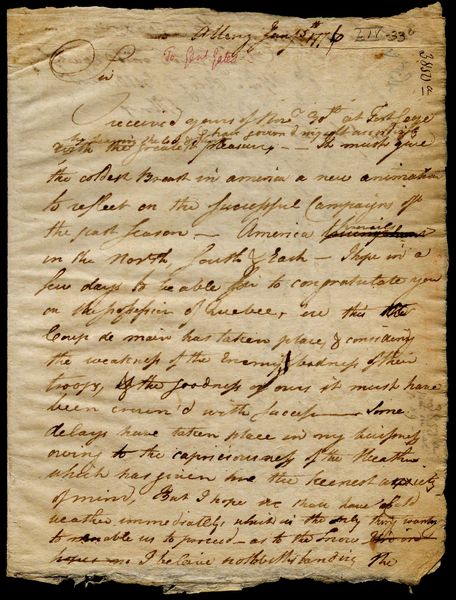 A high-resolution version of this object is available for registered users. LOG IN
Gilder Lehrman Collection #: GLC02437.09490 Author/Creator: Knox, Henry (1750-1806) Place Written: Albany, New York Type: Autograph letter signed Date: 5 January 1776 Pagination: 3 p. ; 22 x 16.4 cm.
Colonel Knox writes to General Gates, reflecting on "the successful campaigns of the past season." Hopes to be able to congratulate Gates in a few days on the possession of Quebec. Page three contains a struck draft of Knox's 5 January 1776 letter to George Washington. (See GLC02437.00238 for Knox's retained draft of the final letter.)
This letter was written during Knox's expedition from Fort Ticonderoga to Cambridge, Massachusetts. Knox used the artillery he acquired at Fort Ticonderoga to force the British to evacuate Boston.
Albany Jany 5th 1776
Sir
I received yours of Novr 30th at Fort George with the greatest pleasure - [inserted: I have govern'd myself accordingly by leaving the led & flint] It must give the coldest Breast in america a new animation to reflect on the successful Campaigns of the past season - America [strikeout] [inserted: prevails] in the North, South & East - I hope in a few days to be able Sir to congratulate you on the possession of Quebec, in this [struck: the] Coup de main has taken place, & considering the weakness of the Enemy, & badness of their troops, [struck: &] the goodness of ours it must have been [crown'd] with success - Some delays have taken place in my business owing to the capriciousness of the Weather which has given me the keenest anxiety of mind, But I hope we shall have Cold weather immediately, which is the only thing wanting to [strikeout] enable us to proceed - as to the snow [struck: I'm in hopes no] I believe notwithstanding the [2] Thaw -
We have a sufficiency [struck: to proceed] [inserted: for our purpose]
I am Sir [inserted: very] most Respectfully
Your Oblig'd Hbld Servt
HKnox
Genl Gates
[3] [struck page: Sir
It is with the utmost chagrin that I am oblig'd to date my letter from this place, at a time too when I hop'd to have been in Cambridge. I did myself the honor of addressing myself to your Excellency from Fort George on the 17.Ult]