Knox, Henry (1750-1806) to Lucy Knox
High-resolution images are available to schools and libraries via subscription to American History, 1493-1943. Check to see if your school or library already has a subscription. Or click here for more information. You may also order a pdf of the image from us here.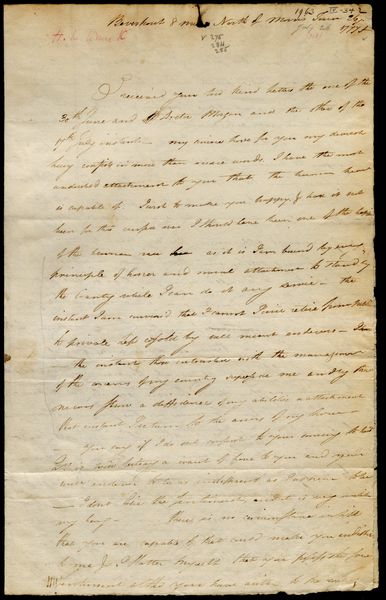 A high-resolution version of this object is available for registered users. LOG IN
Gilder Lehrman Collection #: GLC02437.10453 Author/Creator: Knox, Henry (1750-1806) Place Written: New Jersey Type: Autograph letter signed Date: 26 July 1777 Pagination: 4 p. ; 38.4 x 24.1 cm.
Written near Morristown, New Jersey. Laments his absence from Lucy. Writes "...had it not been for this cursed war I should have been one of the happi[est] of the human race as it is I am bound by every principle of honor and moral attachment to stand by the Country while I can do it any service- the instant I am convinc'd that I cannot I will retire from public to private life..." Assures her that his absence is not due to lack of love. Addresses her concerns for future financial stability. Discusses business matters, mentioning his friend Harry (Henry Jackson). Urges her to agree to sell their phaeton. Mentions the loss of Ty [Ticonderoga] and General Arthur St. Clair, a reference to St. Clair's recent retreat in the Battle of Ticonderoga. Speculates whether British General William Howe sails for Philadelphia or Boston. Mentions a letter from Howe to General John Burgoyne that was recently intercepted by Continental forces. Howe informed Burgoyne that the expedition up the North River (the Hudson) has been abandoned in favor of a British operation against Boston. Knox notes, "this letter was designed to fall in our hands in order to deceive- we suppose he will be at Philadelphia near as soon as we-"
[Draft]
[Beverpoint] 8 miles North of Morris Town 26 [text loss]
1777
I received your two kind Letter the one of the 30th June and [strikeout] Doctor Morgan and the other of the 17th July instant - my sincere Love for you my dearest Lucy consists in more than mere words. I have the most [undauted] [sic] attachment to you that the human heart is capable of. I wish to make you happy & had it not been for this cursed war I should have been one of the happiest of the human race [strikeout] as it is I am bound by every principle of honor and moral attachment to stand by the Country while I can do it any service - the instant I am convinc'd that I cannot I will retire from public to private Life consol'd by well meant endevors - [struck: I have] - the instant those intrusted with the management of the concerns of my country supersede me and by that means show a diffidence of my abilities or attachment that instant I return to the arms of my Lover - you say if I do not consent to your coming to head Qrs it will [betray] a want of Love to you and you will endevor to be as indifferent as I appear to be - I don't like the sentiment, and it is very unlike my Lucy - there is no circumstance in Life that you are capable of that could make you [indiff] [text loss] to me & I flatter myself that you possess the same sentiment altho you have written to the contrary [2] I long to see you with as much devoutness as is possible for you to do me - and my dearest Love may rest perfectly assur'd that I shall embrace the first moment to either send for her or come to her, that is possible and consistent with rationality - You are anxious about a future provision, and with reason my dear but you may rely upon it that [after] this Campaign if God should continue me I shall take some very vigorous measures to increase the property we already possess - I have some hopes from the property [rented] in the Ships, but that is precarious - I am exceedingly chagrined at Mr Will that he should have come away before he had finally settled and arrang'd all monies for my part of them - my friend Harry writes me word that he expects in a day or two to be call'd upon for 200 or 300 pounds [strikeout] the Ship at Newbury - which its impossible you should supply [struck: without] from the scanty pitance left to you by him - the sum you write of and those he said he left you, is widely different - but I suppose the incumbrances you speak of will reconcile the difference. - I know not how to make up this sum without your consent to part with the Phaeton which will sell for [L]200 and which will lose value every day - if you come to Head Qrs you must [strikeout] hire a carriage & I will send you horses - to get one to match the overgrown one you now have will cost [L]150 at least - If I should come home you may rely upon my possessing a Phaeton for your sake - the one you now have will by no means answer for a Jenny [3] especially through the rough roads of New England - I am sure this will satisfy my Lucy to part with it a present - if so the Colonel will dispose of it for you and I shall write him accordingly - but at your option entirely - The loss of Ty and the re-taking the six are circumstances more chagrining and distressing than dangerous - however they have too much of the former for me to speak of them with any kind of patience - all I have to say is that I firmly believe providence will carry america thro' all her difficulties, not withstanding all the rascality of [inserted: some of] those who are [strikeout] employ'd in her defense and the misfortunes of others - Genl St Clair was in my opinion very unhappy in being oblig'd to stake his reputation upon the defense of Ty with the force allotted him for that purpose - Genl Howe has sail'd from the hook, we suppose for Philadelphia therefore we are now [steering] this way - if he is not going there Boston must be his object - We intercepted a Letter from him to Genl Burgoyne purporting that the expedition up the North river is given up for one to Boston - this Letter was design'd to fall in our hands in order to deceive - we suppose he will be at Philadelphia near as soon as we - we are now four days march from it - upon the whole I know he ought in justice to his masters to go either up the N. River or the eastward & endevor to form a junction with Burgoyne therefore [struck: Philadelphia] [4] (if he is not a fool) he will operate accordingly - but we are bound to Philadelphia upon this supposition - and its [illegible] [reasonable] - I am sorry that I cant find an opportunity to send you the watch - a young Mr Appleton pass'd thro' the line as it was on the march to day but I could not stop the waggon without stopping the whole line - may your Guardian God and the God of your Harry soon return as to each other again and protect you Adieu H Knox
Mrs Knox