Washington, George (1732-1799) to Alexander McDougall re: plans for 1778 campaign, conditions in the army
High-resolution images are available to schools and libraries via subscription to American History, 1493-1943. Check to see if your school or library already has a subscription. Or click here for more information. You may also order a pdf of the image from us here.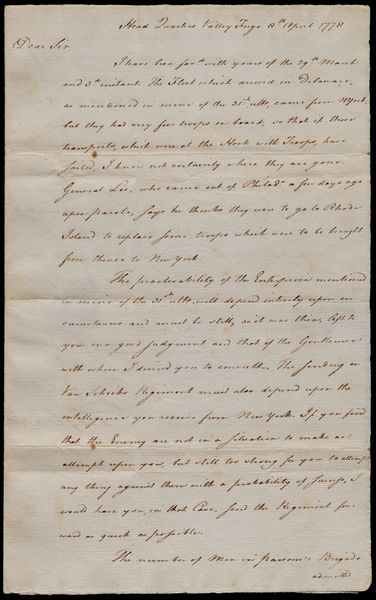 A high-resolution version of this object is available for registered users. LOG IN
Gilder Lehrman Collection #: GLC03104 Author/Creator: Washington, George (1732-1799) Place Written: Valley Forge, [Pa.] Type: Letter signed Date: 8 April 1778 Pagination: 2 p. + FF
Written as Commander in Chief. Also mentions his fears for a small pox outbreak in the army
Notes: Published in Fitzpatrick, John C. The Writings of George Washington. v. 11: 227-28. In the writing of Tench Tilghman.
Signer of the U.S. Constitution.
Head Quarters Valley Forge 8th April 1778
Dear Sir
I have been favd. with yours of the 29th: March and 3d: instant. The Fleet which arrived in Deleware, as mentioned in mine of the 31st: ulto, came from N York; but they had very few troops on board, so that if those transports, which were at the Hook with Troops, have sailed, I know not certainly where they are gone. General Lee, who came out of Philada. a few days ago upon parole, says he thinks they were to go to Rhode Island to replace some troops which were to be brought from thence to New York.
The practicability of the enterprize mentioned in mine of the 31st. ulto. will depend intirely upon circumstances and must be still, as it was then, left to your own good judgment and that of the Gentlemen with whom I desired you to consult. The sending on Van Schaicks Regiment must also depend upon the intelligence you receive from New York. If you find that the Enemy are not in a situation to make an attempt upon you, but still too strong for you to attempt any thing against them with a probability of success, I would have you, in that Case, send the Regiment forward as quick as possible.
The number of Men in Parson's Brigade admitted [2] to Furlough amazes me. Their terms must certainly be by this time expired, and I beg that Genl. Parsons may exert himself in having them collected and brought to their Regiments, as all the Officers of other Regiments who have men absent upon that account ought to [struck: have] do.
The Recruits who have not had the small Pox and who are intended for the Regiments with this Army ought not to halt or touch at the places where the Hospitals are. If they do, they will more than probable take the infection and be seized with the distemper upon the Road. An Officer may be posted at some convenient place in Connecticut to give them directions in this matter.
I am with great Regard
Dear Sir Your most obt. Sevt.
Go: Washington
Genl. McDougall
[address]
On public Service
Free
To Major General Mc. Dougall
at Fishkill
G. Washington
[docket]
General Washington of
8th. April 1778.
129 copied WWH