Graham, James (fl. 1679-1700) to Robert Livingston re: Lord Bellomont's testimony before Parliament
High-resolution images are available to schools and libraries via subscription to American History, 1493-1943. Check to see if your school or library already has a subscription. Or click here for more information. You may also order a pdf of the image from us here.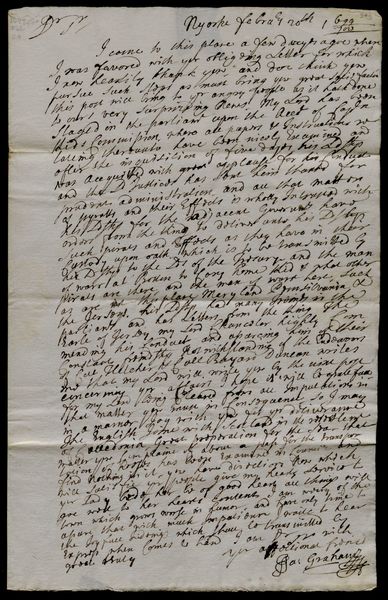 A high-resolution version of this object is available for registered users. LOG IN
Gilder Lehrman Collection #: GLC03107.00593 Author/Creator: Graham, James (fl. 1679-1700) Place Written: New York, New York Type: Autograph letter signed Date: 1700/02/20 Pagination: 1 p. + addr. 30.4 x 19.2 cm
Graham writes that Lord Bellomont had testified before Parliament for five days regarding the case of Captain William Kidd, and after having completed his testimony and being acquitted from any wrongdoings, Bellomont has issued orders that all pirates in the American colonies ("Maryland, Pennsilvania & the Jerseys") be transported to England. Docketed on address leaf.
New York, [N.Y.] 20 February 1700
D[ea]r Sir
I came to this plase a few dayes agoe when I was favored with yr obligeing Letter for which I now heartily thank you; and doe think you pursue such steps as must bring you great satisfaction this post will bring to yr angry people as it hath done to ours very surpriseing News. My Lord has been staged in the parliam[en]t upon the [illegible] of Capen [Captain] Kids Commission where all papers & Instructions recalling thereunto have been nicely Examined and after the inquisition of five dayes his L[or]dsh[i]p was accquitted with great applause for his Conduct and the L[or]d Justice has sent him thanks for prudent administration and all that matter of pyratts and their Effects is wholly Intrusted with his L[or]dsh[i]p for the adjacent Govern[ment] have orders from the King to deliver unto his L[or]dsh[i]p such pirats and Effects as they have in theer Custody upon oath which is to be transmitted by his L[or]dsh[i]p to the L[or]ds of the Tresury and the man of warr at Boston to Carry home Kid & what other pirates are there; and the man of warr here, such as are at this plase Maryland Pennsilvania & the Jerseys. his L[or]dsh[i]p had many Freinds in the par[liaments] and has Letters from the King The Earle of Jersey my Lord Chanceler highly Commending his Conduct and assureing him of their Constant freindship notwithstanding of the Endeavor of Coll Fletcher & Coll Bayard Duncan writes me that my Lord will write you by the nixt post concerning yr affairs I hope is [illegible] be gratefull for my Lord being Pleased from all imputations in that matter you must in Consequense so I may in a manner Joy with you for yr deliveranse The English Joine with Scotland in the [settlement] of Calledonia, Great preparations for the sea- that matter you Complaine of about a pass for the transportation of [illegible] has been Examined in Councill and find nothing in it, you have direction now which will satisfie yr people give my hearts service to yr Lady bide her be of good heart all things will goe well to her hearts content I am weary of the town which grows worse in humor, and have only time to assure that with much Impatiense I waite to hear the Joyfull Tideings which shall be transmitted by Express when Comes to hand I am D[ear] Sir with great truly
Yr affectionat freind
Ja[mes] Graham
[docket]
mannor of Livingston 11 march 1699/700 James Grahames Letter from N Yorke dated 20 feb.
[address]
To The Honorable Robert Livingston Esqur of his Maj[es]tys Councill at his Mannor of Livingston Present Albany