Livingston, Philip to Robert Livingston Jr. re: advice for Robert's studies
High-resolution images are available to schools and libraries via subscription to American History, 1493-1943. Check to see if your school or library already has a subscription. Or click here for more information. You may also request a pdf of the image from us here.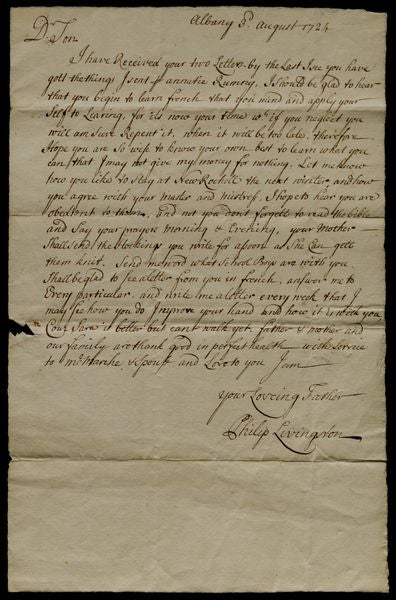 Summary of Content: Philip reminds Robert to mind his studies now, or he will grow to regret it when it is too late to learn. He asks if Philip would like to return to New Rochelle next winter, and if he gets along with his Master and Mistress. Philip also reminds Philip to read the Bible, to send his mother a letter in French, and to send him a letter every week so that he may observe how Robert's hand improves.
People:
Historical Era: Colonization and Settlement, 1585-1763
Subjects: Children and FamilyEducationReligionLiterature and Language Arts
Sub Era: