Schuyler, Philip John (1733-1804) Untitled
High-resolution images are available to schools and libraries via subscription to American History, 1493-1943. Check to see if your school or library already has a subscription. Or click here for more information. You may also order a pdf of the image from us here.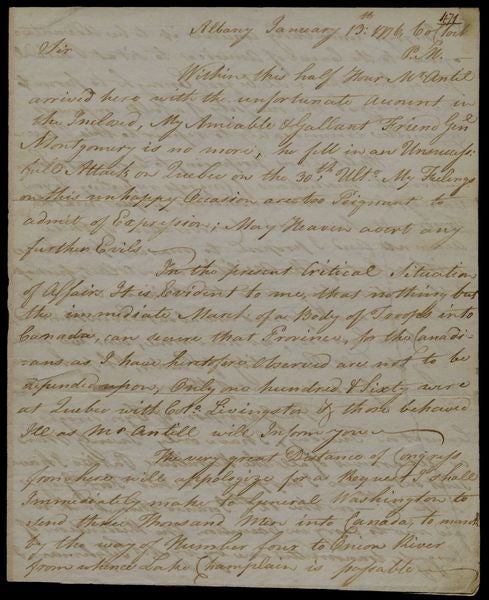 A high-resolution version of this object is available for registered users. LOG IN
Gilder Lehrman Collection #: GLC07139 Author/Creator: Schuyler, Philip John (1733-1804) Place Written: Albany, New York Type: Autograph endorsement Date: 13 January 1776 Pagination: 3 p. 23.4 x 18.9 cm
Manuscript copy of Philip Schuyler letter (probably made for forwarding to Washington), with 4 line endorsement by Washington: "Copy of Genl Schuyler's Letter to the Contl. Congress. 13th Jan. 1776." Schuyler announces the death of Richard Montgomery to John Hancock and asks for 3000 troops to send to Canada. He proposes to march to Tryon County against Tories there. Schuyler's letter was received January 17 (Burnett, Letters to Delegates 1: 317 note 4); two days later, Congress voted to send several battalions to Schuyler.
Signer of the U.S. Constitution.
Albany January 13th: 1776, 6 oClock
P.M. -
Sir
Within this half Hour Mr. Antil arrived here with the unfortunate Account in the Inclosed, My Amiable Gallant Friend Genl. Montgomery is no more, he fell in an Unsuccessful Attack on Quebec on the 30th: Ulto: my Feelings on this unhappy Occasion are too Poignant to admit of Expression; May Heaven avert any further Evils -
In the present Critical Situation of Affairs It is Evident to me, that nothing but the immediate March of a Body of Troops into Canada, can secure that Province, for the Canadians as I have heretofore Observed are not to be depended on, Obnly one hundred & Sixty were at Quebec with Colo: Livingston of those behaved Ill as Mr Antill will Inform you -
The very great Distance of Congress from here will appologize for a Request I shall Immediately make to General Washington to send thence Thomas and Men into Canada, to amrch by the way of Number four to Enion River from whence Lake Champlain is possible
[2]Congress undoubtedly conceives it to be Advantageous to to the Cause of America to sit at Philadelphia, but they will be good Enough to permit Me to suggest the necessity of a full empower'd Committee immediately to repair to this Place -
Whilst I was preparing to Carry into Execution the Resolutions of Congress respecting Tryon County, I received the two Hundred papers [?] Tryon, We have had a Corroboration of these accounts and I propose to march from hence with what of The Militia I can Collect, perhaps I shall something exceed the Forces in Number, whom we are Informed are about Seven Hundred, They have Cannon, we have none, and we have a very small Quantity of Powder, I hope however to give a Good Account of them -
The Garrison of Tyconderoga leaves it on Tuesday, I have only Twenty Men as yet arrived of all the Recruiting Parties I have Sent out - these I suppose marched Fort George on the 11th: - on the 12th: I ordered them back to aid me to carry in Execution the Resolution of Congress, transmitted me by by Mr Tilghman, I [3] shall send an Express to Countermand my Orders [& ?] to send them on to Tyonderoga -
The Hurry I am in will appologize for my not Answering your Letter sent me by Mr Tilghman of the other Gentlemen which I must defer to another Hour less Incumber'd than the Present -
If any Troops can be Spared from [Jersey ?] I intreat Congress to send them [?]. That Tyonderoga may have a garrison, The Money Arrived Yesterday & goes off to Morrow.
I am & c.
Ph Schuyler
The Honble John Hancock Esquire
[docket: in the hand of George Washington]
Copy of Genl. Schy
lers Letter to the
Cont. Congress
13th. Jan. 1776
[in another hand]
Acct. of Genl Montgomery's death