Washington, George (1732-1799) to Gov. William Greene re: procuring cannon from Rhode Island for campaign
High-resolution images are available to schools and libraries via subscription to American History, 1493-1943. Check to see if your school or library already has a subscription. Or click here for more information. You may also order a pdf of the image from us here.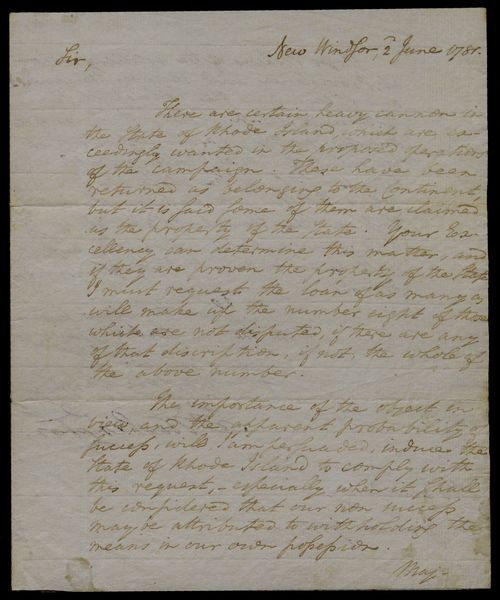 A high-resolution version of this object is available for registered users. LOG IN
Gilder Lehrman Collection #: GLC07183 Author/Creator: Washington, George (1732-1799) Place Written: New Windsor Type: Letter signed Date: 2 June 1781 Pagination: 2 p. + docket 23 x 18.9 cm
Summary of Content: Getting cannon for use in the New York campaign against the British: "The importance persuaded, induce the state of Rhode Island to comply with this request, especially when it shall be considered that our non success may be attributed to the withholding the means in our possession." Docketed.
Background Information: Signer of the U.S. Constitution.
Full Transcript: New Windsor, 2d June 1781.
Sir;
There are certain heavy cannon in the State of Rhode Island, which are exceedingly wanted in the proposed operations of the campaign. These have been ...returned as belonging to the Continent, but it is said some of them are claimed as the property of the State. Your Excellency can determine this matter, and if they are proven the property of the State I must request the loan of as many as will make up the number eight of those which are not disputed, if there are any of that discription, if not, the whole of the above number.
The importance of the object in view, and the apparent probability of success, will, I am persuaded, induce the State of Rhode Island to comply with this request, - especially when it shall be considered that our non success may be attributed to the withholding the means in our possession.
[2] Major Perkins of the artillery, who is at Providence, will receive the cannon and superintend the transportation of them to camp. The situation of the Quarter Master General's department, for want of money, will probably oblige him to apply to the State for assistance, which I hope will be given to him, to ensure the transportation of these and other articles which Major Perkins will have orders to bring on from Rhode Island.

I have the honor to be,
with the greatest respect.
Your Excellency's
most obed. Servt.
G:o Washington

His Excellency Governor Greene
[docket] From General Washington Respecting Eight Cannon dated 2nd. June 1781. [struck: receivd 1] Received 8th. Instant

See More
People: Greene, William, 1731-1809
Washington, George, 1732-1799

Historical Era: American Revolution, 1763-1783
Subjects: PresidentRevolutionary WarRevolutionary War GeneralMilitary HistoryArtilleryContinental ArmyGlobal History and CivicsForeign Affairs
Sub Era: The War for Independence