Gerry, Elbridge (1744-1814) to unknown
High-resolution images are available to schools and libraries via subscription to American History, 1493-1943. Check to see if your school or library already has a subscription. Or click here for more information. You may also order a pdf of the image from us here.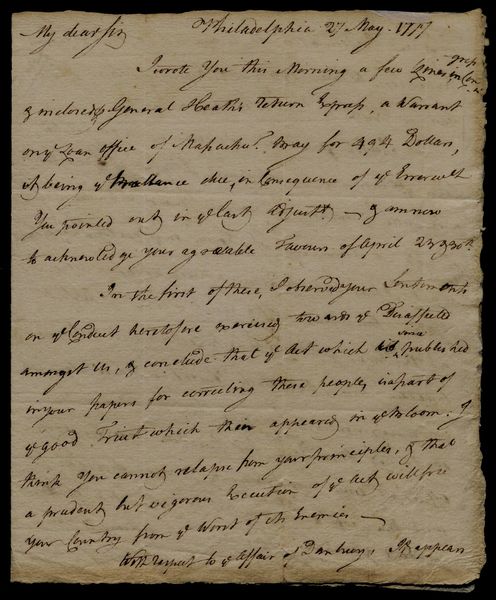 A high-resolution version of this object is available for registered users. LOG IN
Gilder Lehrman Collection #: GLC07273 Author/Creator: Gerry, Elbridge (1744-1814) Place Written: Philadelphia, Pennsylvania Type: Autograph letter signed Date: 27 May 1777 Pagination: 3 p. : docket ; 20.2 x 16.6 cm.
Summary of Content: Written by Gerry, a signer of the Declaration of Independence, as a Continental Congressman from Massachusetts to an unknown recipient, but probably an army officer in Massachusetts. Begins letter with financial information. Hopes a vigorous execution of the laws will correct those disaffected with the Revolution. Mentions mistaken information on the raid at Danbury, which took place 23-28 April 1777. Gerry says the British lost between 150-200 men, including Governor William Tryon. While the British stated they lost 154 killed and wounded, Tryon was not amongst them. The British were able to outmaneuver the Americans under Benedict Arnold and escape, but history has remembered the sharp fight they put up. Arnold was made Major General for his actions during the fighting. Gerry hopes quotas can be filled. Says that General Philip Schuyler has been put in charge of the Northern Department, which will probably lead to General Horatio Gates's resignation. Expresses his respect for Gates saying "This officer is of too much worth to be lost at this time." Mentions the Congressional debate that put Schuyler back in charge. Gates would be put back in charge of the Northern Department after Schuyler lost Fort Ticonderoga to Burgoyne. Postscript says Colonel Timothy Pickering was appointed Adjutant General of the army. Says the army is collecting fast and hopes to have 15,000 troops "on this side of the North River" in two weeks.
Background Information:
People: Tryon, William, 1729-1788
Arnold, Benedict, 1741-1801
Gates, Horatio, 1728-1806
Schuyler, Philip John, 1733-1804
Gerry, Elbridge, 1744-1814

Historical Era: American Revolution, 1763-1783
Subjects: Revolutionary WarContinental CongressCongressLoyalistLawFinanceBattleGlobal History and CivicsForeign AffairsDeathInjury or WoundContinental ArmyRevolutionary War GeneralVice President
Sub Era: The War for Independence