Hatchett, Samuel (fl. 1842) Cherokee Indian "Spoilatia" claim against U.S. Goverment (signed with cross)
High-resolution images are available to schools and libraries via subscription to American History, 1493-1943. Check to see if your school or library already has a subscription. Or click here for more information. You may also order a pdf of the image from us here.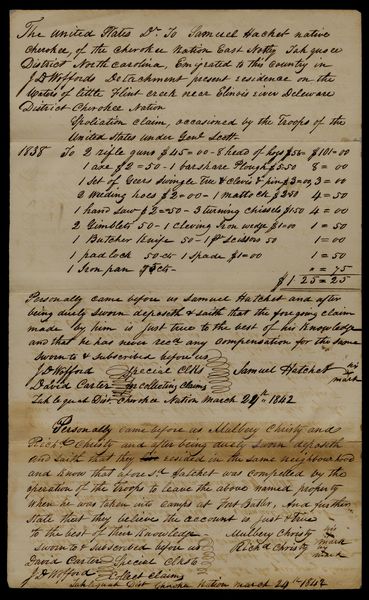 A high-resolution version of this object is available for registered users. LOG IN
Gilder Lehrman Collection #: GLC07310 Author/Creator: Hatchett, Samuel (fl. 1842) Place Written: Cherokee Nation Type: Manuscript document signed Date: 24 March 1842 Pagination: 1 p. + docket 33.1 x 20.2 cm
Claim for of $125.25 written after Winfield Scott and troops confiscated his property during the "Trail of Tears." Signed by Hatchchett with his mark, a cross ("+").
The United States Dr. To Samuel Hachet native Cherokee of the Cherokee Nation East [Notly Tah qus ee] District North Carolina, Emigrated to this Country in J D Woffords Detachment present Evidence on the Waters of little Flint creek near Elinois river Deleware District Cherokee Nation.
Spoliation claim, occasioned by the Troops of the United States under Genl Scott-
1838 To 2 rifle guns $45 = 00 - 8 head of hogs $56 = $101 = 00
1 axe $2 = 50 - 1 barshare Plough $5 = 50 8 = 00
1 set of Geers Swingle Tree [struck: &] clevis & pin $3 = 00, 3 = 00
2 Weeding hoes $2 = 00 - 1 mattock $2 = 50 4 = 50
1 hand saw $2 = 50 - 3 turning chissels $1.50 4 = 00
2 Gimblets 50 - 1 cleving Iron wedge $1 = 00 1 = 50
1 Butcher Knife 50 - 1 pr scissors 50 1 = 00
1 padlock 50 cts 1 spade $ 1 = 00 1 = 50
1 Iron pan 75 cts - 1 = 75
$1.25 = 25
Personally came before us Samuel Hatchet and after being duely sworn deposeth & saith that the foregoing claim made by him is just two to the best of his knowledge and that he has never recd any compensation for the same sworn to & subscribed before us
J D Wofford } Special Clks }Samuel Hatchet his
David Carter } for collecting claims } mark
[Tahlaquah] Dist. Cherokee Nation March 24th,, 1842
Personally came before us Mulbery Christy and Richd. Christy and after being duely sworn deposeth and saith that they [struck: live] resided in the same neighborhood and know that aforesd. Hatchet was compelled by the operation of the Troops to leave the above named property when he was taken into camps at Fort Butler, And further state that they believe the account is just & true to the best of their knowledge - } Mulbery Christy his
David Carter } Special Clks to } mark
J D Wofford } Collect claims } Richd Christy his
mark
[Tahlequah] Dist Cherokee Nation March 24th 1847
[docket]
Samuel Hatchets
Claim
No. 201~