Davis, Jefferson (1808-1889) [Document to Senate vetoing Confederate Congress Act allowing congressional appointments of midshipmen]
High-resolution images are available to schools and libraries via subscription to American History, 1493-1943. Check to see if your school or library already has a subscription. Or click here for more information. You may also order a pdf of the image from us here.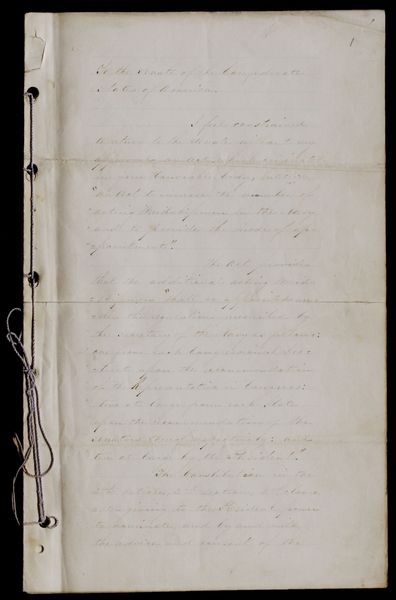 A high-resolution version of this object is available for registered users. LOG IN
Gilder Lehrman Collection #: GLC07359 Author/Creator: Davis, Jefferson (1808-1889) Place Written: s.l. Type: Manuscript document signed Date: 23 January 1865 Pagination: 8 p. : docket ; 32.8 x 20.7 cm.
A document from Davis to the Confederate Senate, in which he explains his reasons for considering the act, which would allow the House, Senate, and President to select midshipmen, unconstitutional because it will infringe on the president's sole authority to make such appointments. Claims that the act is "repugnant to the whole theory of our Republican Institutions, which are based on the fundamental idea of independent and distinct functions in each of the departments of government." Parses the language of the act in relation to the Confederate Constitution.
To the Senate of the Confederate
States of America.
I feel constrained to return to the Senate without my approval an Act which originated in your Honorable body, entitled, "an Act to increase the number of acting Midshipmen in the Navy and to provide the mode of appointment."
The Act provides that the additional acting Midshipmen "shall be appointed under the regulations prescribed by the Secretary of the Navy as follows: one from each Congressional District upon the recommendation of the Representative in Congress: two at large from each State upon the recommendation of the Senators thereof respectively: and ten at large by the President."
The Constitution in the 2nd Article, 2nd Section, 2nd clause, after giving to the President power to nominate, and by and with the advice and consent of the [2]
[docket]
Mesa Crest
Vetoing 8.14.2.
Jany, 25 1865.
Read.
House of Reps
Jany 26th 1865.