Washington, George (1732-1799) Deed of purchase of 196 acres adjoining Mt. Vernon from John & Catharine West
High-resolution images are available to schools and libraries via subscription to American History, 1493-1943. Check to see if your school or library already has a subscription. Or click here for more information. You may also order a pdf of the image from us here.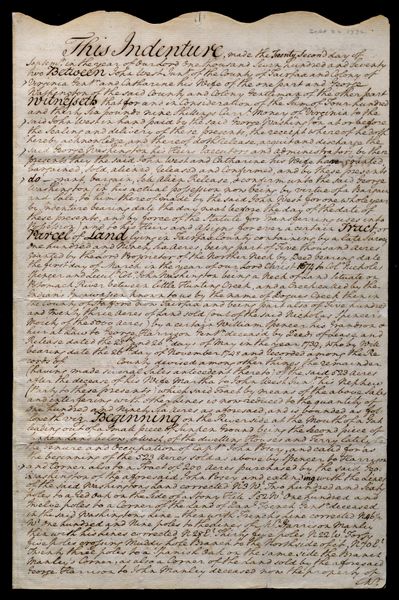 A high-resolution version of this object is available for registered users. LOG IN
Gilder Lehrman Collection #: GLC07470 Author/Creator: Washington, George (1732-1799) Place Written: Fairfax County, Virginia Type: Autograph document signed Date: 1772/09/22 Pagination: 3 p. + docket 36.7 x 23.5 cm
Summary of Content: Signed 12 times in text. Signers include John West Junr., Catharine West, G. Mason, Richard Anell Robert Bogges, and Briant Alliston.
Background Information: Signer of the U.S. Constitution.
Full Transcript: [inserted - different hand: Sept 22 1772]
This Indenture, made the Twenty Second day of Septemr. in the year of Our Lord One thousand Seven hundred and Seventy two Between John West ...Junr. of the County of Fairfax and Colony of Virginia Gentn. and Catharine his Wife of the one part and George Washington of the said County and Colony Gentleman of the other part Witnesseth that for and in Consideration of the Sum of Four hundred and thirty Six pounds nine Shillings Currt. Money of Virginia to the said John West in hand paid by the said George Washington at or before the Sealing and delivery of these presents, the receipt whereof he doth hereby acknowlegdge, and there of doth release, acquit and discharge the said George Washington his Heirs Executors and administrators, by these presents they the said John West and Catharine his Wife have granted, bargained, sold, aliened, released and Confirmed, and by these presents do - grant, bargain, Sell, Alien Release, & confirm unto the said George Washington (in his actual possession now being by virtue of a Bargain and Sale, to him thereof made by the said John West for one whole year by Indenture bearing date the day next before the day of the date of these presents, and by force of the Statute for Transferring uses into Possession) and to his Heirs and Assigns forever a certain Tract or Parcel of Land lying in Fairfax County containing by a late Survey one hundred and Ninety Six Acres, being part of Five thousand acres granted by the Lord Propietor of the Northern Neck by Deed bearing date the first day of March in the year of our Lord Christ 1674 to Colo Nicholas Spencer and Lieutt. Colo. John Washington being a Neck of Land Situate on Potomack River between little Hunting Creek, and a Creek called by the Indians Ipsawassen known to us by the name of Dogues Creek then in the County of Stafford now Fairfax and being part also of Five hundred and twenty three acres of Land sold (out of the said Nicholas Spencer's Moiety of the 5000 Acres) by a certain William Spencer his Grandson & heir at Law to George Harrison Gentn. deceas'd by Deeds of Lease and Release dated the 25th. and 26th. days of May in the year 1739; who by Will bearing date the 26th. day of November 1748 and recorded among the Records of County devised among other things the remainder (having made several Sales antecedent thereto) of the said 523 acres after the decease of his Wife Martha to John West Junr: his Nephew (Party to these presents) which said Tract by means of the above Sale and interfering with other Lines is now reduced to the quantity of one hundred and ninety Six acres as aforesaid, and is bounded as followeth viz. Beginning on the Riverside at the Mouth of a Gut leading out of a Small piece of Sunken Ground being the Second piece of Sunken Land below, & West, of the dwelling Houses and Ferry lately in the Tenure and Occupation of Captn. John Posey, and calld for as the beginning of the 523 Acres sold as above by Spencer to Harrison and Corner also to a Tract of 200 Acres purchased by the said Geo: Washington of the aforesaid John Posey and extending with the Line of the said Washington's Land corrected No 3 Wt. Two hundred and Sixty poles to a red oak on the Side of a Stony Hill S 52 Wt. One hundred and twelve poles to a Corner of the Land of Danl. French Gentn. deceased in the said Washington's Line - then with French's Line corrected N 46 ½ Wt. One hundred and Nine poles to the Lines of Mr. Harrison Manley then with his Lines corrected N 28 Et. Thirty five poles N 22 Wt. Forty five poles crossing Muddy hole Branch to the Northside of it, No 70 Et. Twenty three poles to a Spanish Oak on the same side the Branch Manley's Corner, as also a Corner of the Land sold by the aforesaid George Harrison to John Manley deceased now the property of Mr. [2] French's Estate. - Then with those Lines corrected So. 86 Et. Twenty two poles N 63 Et. four poles S 67 Et. Forty eight poles crossing Muddy hole Branch to a large White Oak in a Fork of it (being the Beginning Corner of the aforesaid Sale from Harrison to Manley, now French's Land) S 57 ½ Et. One hundred and Eight poles No 60 Et. Twenty four poles to the Line of the said George Washington dividing his Moiety of the original Tract of 5000 Acres from Spencer's Moiety there of - thence with that Line S 17 ½ Et. Two hundred and Sixty poles to the Intersection wh. the Courses called for by the aforesaid Deeds of Spencer to Harrison as the boundary of the said Tract next the River - then with those lines as express'd in the said Deeds to the Beginning at the Mouth of the Gut containing as before One hundred and Ninety Six Acres Also one other Tract or parcel of Land, late in the Possession of the aforesaid John Posey, and detaind by him under a Deed of Feossment from Thomas Marshall of the Provence of Maryland bearing date the 21st. of Septr. 1757 but always possess'd and accounted part of the 523 Acres purchased from William Spencer by the said George Harrison and accordingly claimd by the said John West (party to these presents) under his Will, upon the death of the aforesd. Martha who intermarried with the said John Posey after the decease of her first Husband Harrison being Bounded by the aforesaid Tract of One hundred and Ninety Six Acres on the North, the River Potomack on the South, and the Lands of the said George Washington on the East & West, containing Six Acres, be the same more or less, and all Houses, Buildings, Orchards, Ways, Waters Watercourses, Profits, Commodities, Hereditaments, and appurtenances whatsoever to the said Two Tracts belonging, or in any wise appertaining: And the Reversion and Reversion's Remainder & Remainder's, Rents Issues and Profits, thereof; and also all the Estate, Right, Title, Interest, Use Trust, Property, Claim and demand, whatsoever of them the said John West and Catharine his Wife, of, in, and to the said Premises. And all Deeds, Evidences, and Writings, touching or in any wise concerning the same. To Have and to hold the said two Tracts of Land hereby Conveyed, and all and Singular the Premises hereby Granted and Released; and every part & parcel thereof, with their and every of their appurtenances unto the said George Washington his Heirs and Assigns forever, to the only proper use and behoof of him the said George Washington and of his Heirs and Assigns forever. And the said John West and Catharine his Wife for themselves, their Heirs, Executors and Administrators do - Covenant, promise and Grant, to and with the said George Washington his Heirs and Assigns by these presents, that the said John West and Catharine his Wife now at the sealing and delivery of these presents are siezed of a good, and indefesible Estate of Inheritance in Fee simple of and in the Premises hereby grantd & Released; and that they have good power and Authority to grant and Convey the same to the said George Washington in manner and form aforesaid: And that the said Premises now are, and so forever hereafter shall remain, and be free and clear of all former Gifts, Grants, Bargains, Sales, Dower, Right, & Title of Dower Judgments, Executions, Titles, Troubles, Charges and Encumbrances whatsoever, made done committed, or suffered by the said John West & Catharine his Wife, or any other Person or persons whatsoever (the Quit rents hereafter to grow due & payable [3] to the Lord Proprietor of the Northern Neck, his Heirs and Successors for and in respect of the Premises only excepted and fore prized) And Lastly, that the said John West and Catharine his Wife and their Heirs the aforesaid Tract of One hundred and Ninety Six Acres with all and singular the Appurtenances thereunto belonging and hereby granted & released unto the said George Washington his Heirs and Assign's, against them the said John West & Catharine his Wife and their Heirs, and all and every other Person and Person's Whatsoever shall Warrant, and will forever defend by these presents. And the said other Tract or parcel of Six Acres of Land hereby also granted & Released, the said John & Catherine his Wife together with all and singular the appurtenances doth by these presents warrant, and will forever defend against any, and every Person claiming by, from, or under them, or either of them. In Witness whereof, the said John West and Catharine his Wife hath hereunto set their Hands and Seals the day and year first written. -

Sealed and Delivered John West junr.
}. -
In the Presence of Catharine West
G Mason
Richard Aness
Robert Boggess
[inserted: his mark Briant Alliston] BA

[verso]
At a Court held for the County of Fairfax 16th. November 1772 John West Junr. & Catharine his wife (she being first privately examined and thereto consenting) acknowledged this Release & Receipt to be their act & Deed which is ordered to be recorded
[illegible] J. Wagonor Junr. A. [illegible]

See More
People: Washington, George, 1732-1799

Historical Era: American Revolution, 1763-1783
Subjects: PresidentMount VernonLand TransactionWomen's History
Sub Era: Road to Revolution