Jackson, Andrew (1767-1845) to William Blount
High-resolution images are available to schools and libraries via subscription to American History, 1493-1943. Check to see if your school or library already has a subscription. Or click here for more information. You may also order a pdf of the image from us here.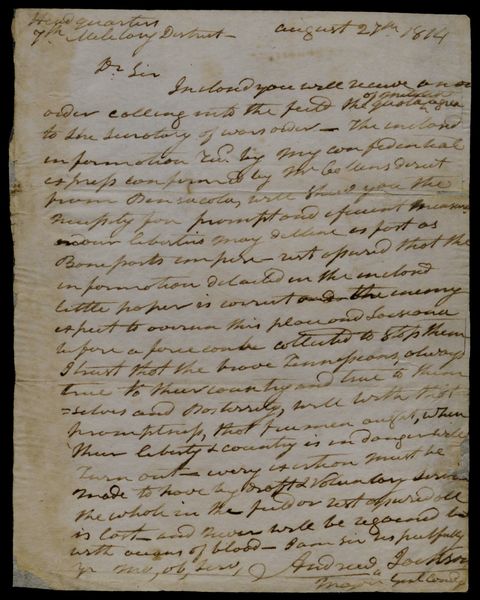 A high-resolution version of this object is available for registered users. LOG IN
Gilder Lehrman Collection #: GLC07547 Author/Creator: Jackson, Andrew (1767-1845) Place Written: s.l. Type: Autograph letter signed Date: 27 August 1814 Pagination: 1 p. : address ; 24.7 x 19.9 cm
Summary of Content: "The enemy expect to overrun... Louisiana before a force can be collected to stop them...every exertion must be made to have by draft & voluntary servic[e] the whole in the field or rest assured all is lost and never will be regained but with oceans of blood."
Background Information:
Full Transcript: Head quarters August 27th. 1814
7th. Military District -
Dr. Sir
Inclosed you will receive an [struck: or] order calling into the field the quota [inserted: of militia] agrea to the ...Secretary of Wars order - The inclosed information recd. by my confidential express confirmed by Mr Collins direct from Pensacola, will shew you the necessity for prompt and eficient measures [struck: and] our liberties may declare as fast as Boneparts empire - rest assured that the information detachd in the inclosed little paper is correct and the enemy expect to overun this place and Louisiana before a force can be collected to stop them. I trust that the brave Tennesseans, always true to their country and true to themselves and Posterrity, will with that promptness, that free men ought, when their liberty & country is in danger will turn out - every exertion must be made to have by draft & voluntary servi[text loss: ce] the whole in the field or rest assured all is lost - and never will be regained bu[t] with oceans of blood - I am sir respectfully Yr mt, ob, Serv,
Andrew Jackson
Major Genl Comdg

[address leaf]
Govn Blount
See More
People: Jackson, Andrew, 1767-1845
Blount, William, 1749-1800

Historical Era: The New Nation, 1783-1815
Subjects: War of 1812PresidentMilitary HistoryGlobal History and CivicsForeign AffairsBattle of New OrleansRecruitmentConscription
Sub Era: The Age of Jefferson & Madison