Greene, Nathanael (1742-1786) to Timothy Pickering
High-resolution images are available to schools and libraries via subscription to American History, 1493-1943. Check to see if your school or library already has a subscription. Or click here for more information. You may also order a pdf of the image from us here.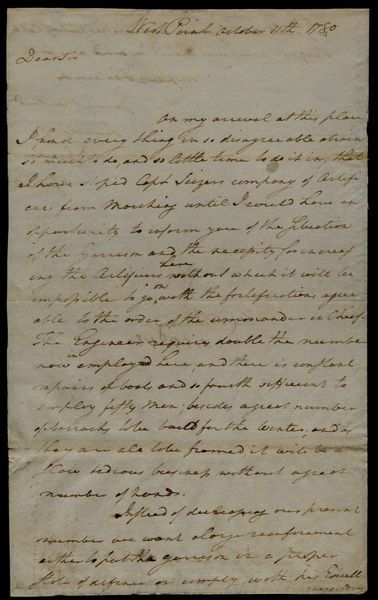 A high-resolution version of this object is available for registered users. LOG IN
Gilder Lehrman Collection #: GLC07667 Author/Creator: Greene, Nathanael (1742-1786) Place Written: West Point, New York Type: Autograph letter signed Date: 11 October 1780 Pagination: 2 p. : docket ; 33.1 x 20.2 cm.
Summary of Content: Writes to Pickering, who was his successor as Quartermaster of the Continental Army when Greene took command of West Point just after Benedict Arnold's treason. Expresses his dismay at the state of the garrison at West Point and requests supplies. "On my arrival at this place I found every thing in so disagreeable strain, so much to do, so little time to do it in ... " Advises that he has stopped Captain Seizer's artillery company from marching until they can get more manpower. Informs that more artificers are needed, that many boats need repair, and that winter barracks need to be built.
Background Information:
Full Transcript: West Point October 11th 1780
Dear Sir

On my arrival at this place I found every thing in so disagreeable strain so much to do, and so little time to do ...it in, that I have stoped Capt. Seizers company of Artificers from Marching until I could have an opportunity to inform you of the Situation of the Garrison and the necessity for increasing the Artificiers [inserted: here] without which it will be impossible to go [inserted: on] with the fortifications agreeable to the order of the commander in Chief. The Engineer requires double the number now [inserted: in] employ[struck: ed] here; and there is constant repairs of boats and so fourth sufficient to employ fifty men; besides a great number of barracks to be built for the Winter; and as they are all to be framed, it will be a slow tedious business without a great number of hands.
Instead of decreasing our present number we want a large reinforcement either to put the garrison in a proper state of defence or comply with his Excellency's order [2] I shall wait your answer respecting Capt Seizers companys marching: and am with
respect: esteem:
Your most Obedt
Humble Sv
N Greene
MGeneral
[address leaf]
To Colo Pickering
Oct. 11.1780

Col Timothy Pickering [struck: D] 2 NY
[docket]
To
Colonel Pickering
Oct. 11.1780
44
fortify[illegible] West-Point
See More
People: Greene, Nathanael, 1742-1786
Pickering, Timothy, 1745-1829

Historical Era: American Revolution, 1763-1783
Subjects: Revolutionary WarRevolutionary War GeneralMilitary HistoryWest Point (US Military Academy)Military SuppliesMilitary CampArtisansConstructionContinental Army
Sub Era: The War for Independence