Adams, John (1735-1826) To: Charles F. Adams.
High-resolution images are available to schools and libraries via subscription to American History, 1493-1943. Check to see if your school or library already has a subscription. Or click here for more information. You may also order a pdf of the image from us here.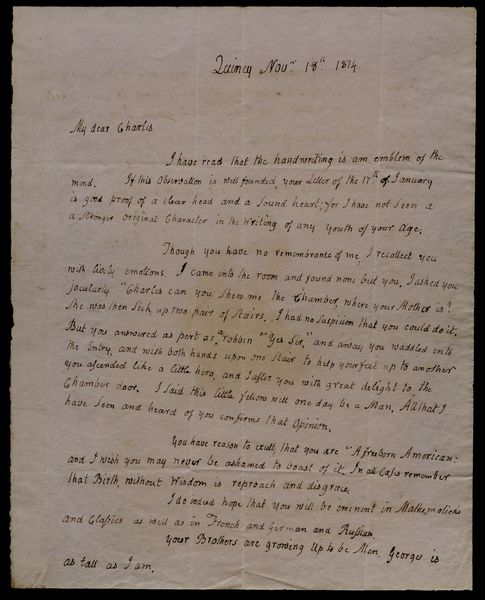 A high-resolution version of this object is available for registered users. LOG IN
Gilder Lehrman Collection #: GLC07947 Author/Creator: Adams, John (1735-1826) Place Written: Quincy Type: Autograph letter signed Date: 1814/11/18 Pagination: 2 p. 24.8 x 19.6 cm.
Summary of Content: "You have reason to exult, that you are a 'freeborn American' and I wish you may never be ashamed to boast of it. In all cases remember, that birth, without wisdom, is reproach and disgrace."
Background Information:
Full Transcript: Quincy Nov 18th 1874

My dear Charles

I have read that the handwriting is an emblem of the mind. If this observation is well founded, your Letter of the 17th of ...January is good proof of a clear head and a sound heart; for I have not seen a stringer original Character in the Writing of any youth your age.
Though you have no remeberance of me, I recollect you with lively emotions. I came into the room and found none but you. I asked you jocularly " Charles can you Show me the Chamber, where your mother is? She was then Sick, up two pair of Stairs. I had no suspicion that you could do it. But you answered as pert as [inserted:a] robbin "Yes Sir," and away you waddled imto the Entry, and with both hands upon one Stair to help yourself up to another you ascended like a little hero, and I after you with great delight to the Chamber door. I said this little fellow will one day be a Man. All that I have seen and heard of you confirms that Opinion.

You have reason to exult that you are "A freeborn American" and I wish you may never be ashamed to boast of it. In all cases remeber that Birth, without Wisdom is reproach and disgrace.
I do indeed hope that you will be eminent in Mathematicks and Clasics as well as in French and German and Russian.
Your Brothers are frowing up to be Men. George is as tall as I am. [2]
You have an inexpressible advantage over them in the case of your Father and Mother. My Love and Blessing to them, to your Uncle and Aunt Smith, and to my Great grand Daughter. I am in a promising Way to have plentifull crop of Great grand children, for your Cozens [sic] Caroline and Abigail are lately married

I cannot express to you my dear Boy, nor to any one else the ardour of the desire to see you all, which glows in the bosom of your Grandfather.
John Adams

Master Charles Francis Adams
Petersburg



See More
People: Adams, John, 1735-1826
Adams, Charles Francis, 1807-1886

Historical Era: The New Nation, 1783-1815
Subjects: PresidentChildren and FamilyVice President
Sub Era: The Age of Jefferson & Madison