Weiner, Sylvia (1912-2008) to Morris "Moe" Weiner
High-resolution images are available to schools and libraries via subscription to American History, 1493-1943. Check to see if your school or library already has a subscription. Or click here for more information. You may also order a pdf of the image from us here.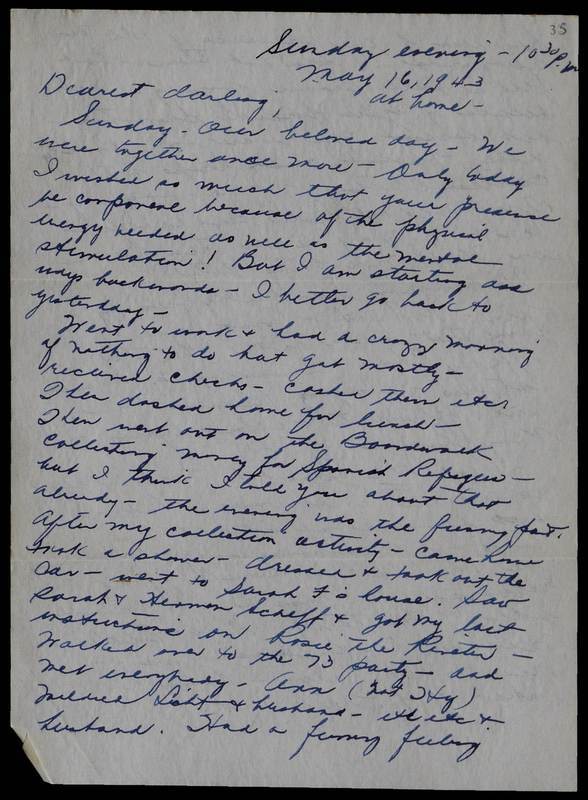 A high-resolution version of this object is available for registered users. LOG IN
Gilder Lehrman Collection #: GLC09414.0035 Author/Creator: Weiner, Sylvia (1912-2008) Place Written: [Brooklyn, New York] Type: Autograph letter signed Date: 16 May 1943 Pagination: 6 p. ; 18 x 13.5 cm.
Summary of Content: Sylvia took the car out and got her last instruction on "Rosie the Riveter." Went over to the party where the program was a Truth or Consequences game and then singing Russian songs by those dressed in Russian costumes. Then she came on; and did a Fanny Brice routine.
Background Information: Sears & Roebuck-Department store chain.
Spanish Loyalists-also known as the Republicans who fought in the Spanish Civil War 1936-1939 against Francisco Franco leader of the Nationalists.
"Rosie the Riviter"- Cultural ...icon representing the American women who worked in war factories during World War II.
Fanny Brice- (1891-1951) Comedian, singer, theater and film actress, known as the creator and star of the radio comedy series, The Baby Snooks Show. Inspiration for Broadway Show-Funny Girl.
"Mission to Moscow"- Motion picture starring Walter Huston about US Ambassador to Russia,under FDR, Joseph Davies.
WAAC- The Women's Army Corps (WAC) was the women's branch of the United States Army. It was created as an auxiliary unit, the Women's Army Auxiliary Corps (WAAC) on 15 May 1942.
Dodgers- National League Baseball team located in Brooklyn New York, 1884-1957.
Cubs- National League Baseball team located in Chicago, Illinois, 1876-Present.
See More
People: Weiner, Morris "Moe" (1909-1988)
Weiner, Sylvia (1912-2008)
Davies, Joseph Edward, fl. 1943
Huston, Walter, 1884-1950
Brice, Fanny, 1891-1951

Historical Era: Great Depression and World War II, 1929-1945
Subjects: MarriageSoldier's LetterWorld War IIWomen's HistoryMilitary HistoryWoman AuthorEntertaining and HospitalityPoetryMusicHumor and SatireArt, Music, Theater, and FilmMerchants and TradeRefugeesSports and Games
Sub Era: World War II