Forbes, Edwin (1839-1895) A Slave Cabin
High-resolution images are available to schools and libraries via subscription to American History, 1493-1943. Check to see if your school or library already has a subscription. Or click here for more information. You may also request a pdf of the image from us here.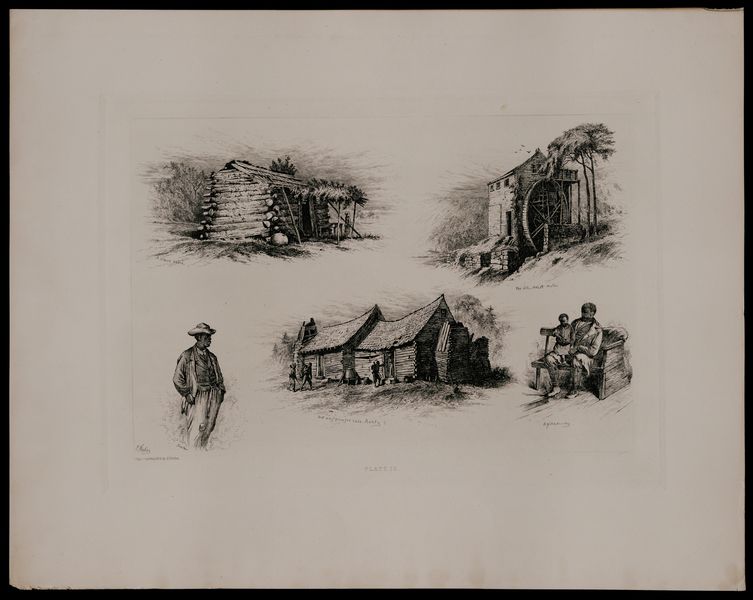 Gilder Lehrman Collection #: GLC02199.10 Author/Creator: Forbes, Edwin (1839-1895) Place Written: New York, New York Type: Print Date: 1876 Pagination: 1 etching : b&w ; 46.9 x 59.6 cm.
Summary of Content: Marked "Plate 10." Contains 3 images. Upper left image is titled "A Slave Cabin," and shows a shabby wooden shack with a makeshift canopy for a porch. Upper right image is titled "The Old Grist Mill," and shows a large clapboard mill with a very tall waterwheel and a stone foundation. Bottom image is titled "'Got any pies for sale, Aunty?'" and shows a Union soldier straggling from the line of march in a search of luxuries. The cabin the soldier is at has a roof that is caving in. The bottom picture is flanked on one side by the image of a slave named "Sam" and flanked on the other by an image titled "A Picaninny" and shows a slave child and grandfather. Actual size of the image without the margins is 27.3 x 40.5 cm. Outline from matting is faintly visible. Titles taken from the table of contents.
Background Information: Created by Forbes, a member of the French Etching Club, while he travelled with the Union Army from 1862-1865. Born in New York City, Forbes became a Civil War reportorial ...artist for Leslie's Illustrated newspaper, joining the staff at age 22 in 1861.See More
People: Forbes, Edwin, 1839-1895

Historical Era: Civil War and Reconstruction, 1861-1877
Subjects: Civil WarMilitary HistoryUnion ForcesArt, Music, Theater, and FilmPrintingAfrican American HistorySlaveryMillDiet and nutritionMilitary CampMilitary ProvisionsChildren and FamilyArchitecture
Sub Era: Reconstruction