Wilberforce, Lincoln, and the Abolition of Slavery
This exhibition presents a variety of original documents and images highlighting the story of the abolition of slavery between 1787 and 1865 in England and America. Each item has its own historic significance as well as a place in the broader progress of abolitionist thinking, from the moment William Wilberforce joined the British abolition campaign through the signing of the Emancipation Proclamation. Although its implementation proceeded in fits and starts, abolitionism was an idea whose force ultimately proved unstoppable across the English-speaking world. —James G. Basker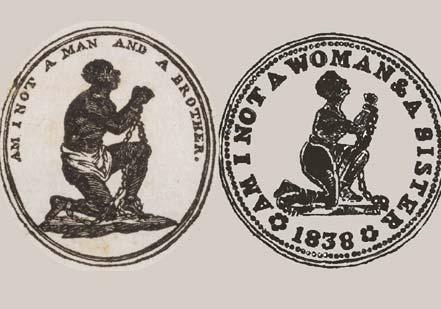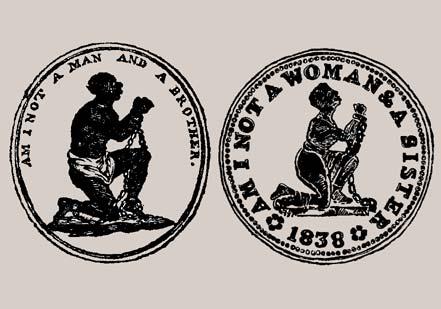 Created by Josiah Wedgwood in 1787 for the British Abolition Society, "Am I Not A Man and A Brother" represented the anti-slavery movement on both sides of the Atlantic. This version was printed in London in 1788 in a book by Philadelphia abolitionist Anthony Benezet.
American abolitionists used the iconic image of "Am I Not A Woman and A Sister," from the early 1800s until the Civil War. This sketch is based on an 1838 medallion, depicting the slave as a woman.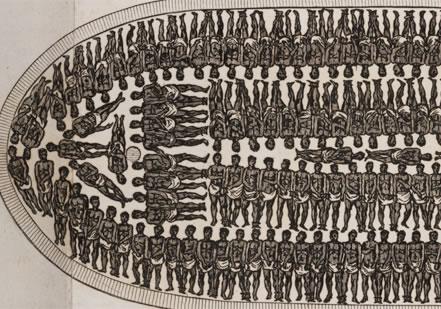 An illustration from Thomas Clarkson's landmark book about the abolition of the slave trade, this diagram displays kidnapped Africans packed on board a slave ship crossing the Atlantic.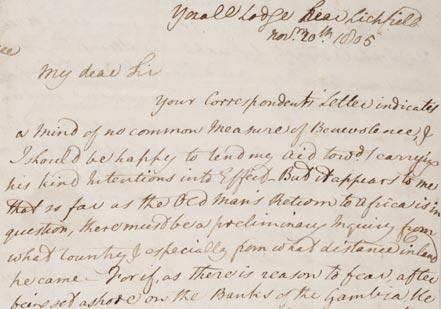 In this 1805 letter, published here for the first time, Wilberforce advised a fellow abolitionist on the best way to emancipate an elderly slave and to prevent his re-enslavement by predatory slavetakers.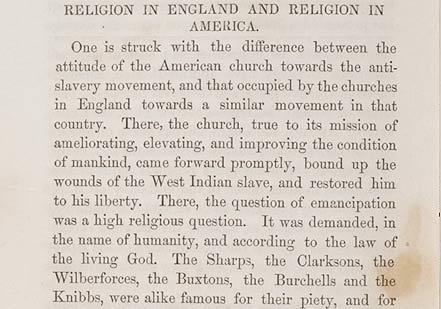 Writing late in life (he was to die in 1833) to the Secretary of the Anti-Slavery Society, Wilberforce endorsed the Society's activities and encouraged them to appoint stalwart "enemies to the Slave trade & Slavery" as their leaders. He also welcomed the launch of a new abolitionist journal, but worried that the public was wearying of the subject.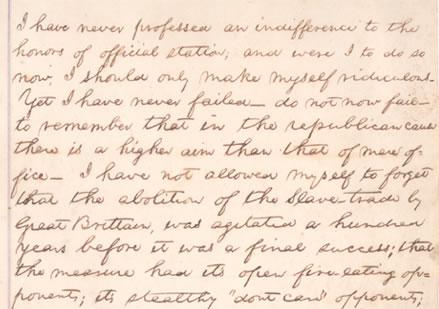 Just six years after Frederick Douglass invoked the memory of Wilberforce, Lincoln also reminded Americans of the successful abolition movement in England: "School-boys know that Wilbe[r]force . . . helped the [abolitionist] cause forward; but who can now name a single man who labored to retard it?"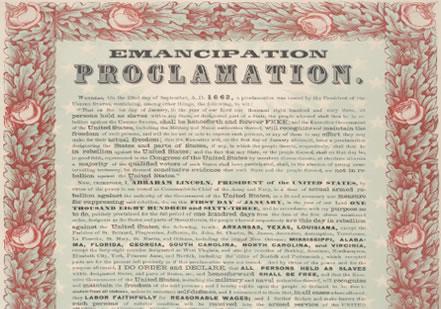 Issued January 1, 1863, the Emancipation Proclamation was a carefully crafted document in which Lincoln, as commander in chief, implemented emancipation as a military act against the states in rebellion.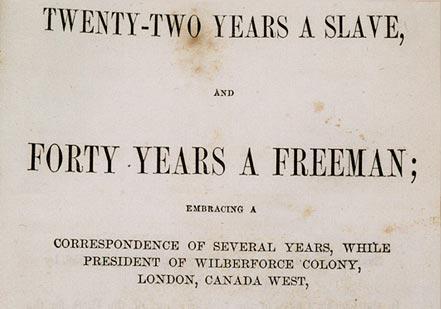 The Wilberforce Colony flourished under Austin Steward's leadership during the early and mid-1830s. His autobiography records his own flight to freedom and the struggles of other former slaves who found sanctuary in the Wilberforce Colony.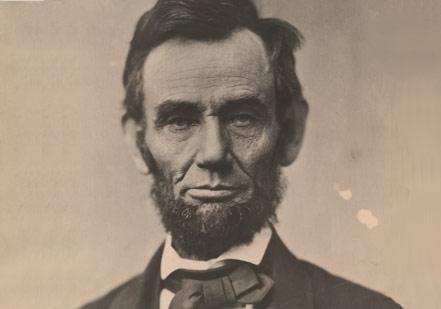 President Lincoln at the age of 54, in a photograph taken just eleven days before he delivered the Gettysburg Address.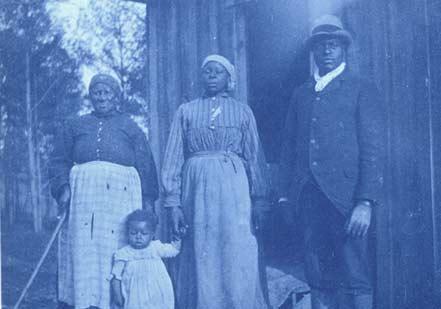 This photograph depicts a free black family living in the post–Civil War American South. The dignity and pride in their bearing suggest how consciously they were throwing off the legacy of slavery for themselves and their children.
Metadata
Make Gilder Lehrman your Home for History
---
Already have an account?
Please click here to login and access this page.
How to subscribe
Click here to get a free subscription if you are a K-12 educator or student, and here for more information on the Affiliate School Program, which provides even more benefits.
Otherwise, click here for information on a paid subscription for those who are not K-12 educators or students.
Make Gilder Lehrman your Home for History
---
Become an Affiliate School to have free access to the Gilder Lehrman site and all its features.
Click here to start your Affiliate School application today! You will have free access while your application is being processed.
Individual K-12 educators and students can also get a free subscription to the site by making a site account with a school-affiliated email address. Click here to do so now!
Make Gilder Lehrman your Home for History
---
Why Gilder Lehrman?
Your subscription grants you access to archives of rare historical documents, lectures by top historians, and a wealth of original historical material, while also helping to support history education in schools nationwide. Click here to see the kinds of historical resources to which you'll have access and here to read more about the Institute's educational programs.
Individual subscription: $25
Click here to sign up for an individual subscription to the Gilder Lehrman site.
Make Gilder Lehrman your Home for History
---
Upgrade your Account
We're sorry, but it looks as though you do not have access to the full Gilder Lehrman site.
All K-12 educators receive free subscriptions to the Gilder Lehrman site, and our Affiliate School members gain even more benefits!