The Western Sanitary Commission reports on suffering in the Mississippi Valley, 1863
A primary source by James E. Yeatman
View this item in the Collection.
In 1863 in the war-torn South, thousands were homeless and starving. Some of those most in need of aid were newly liberated slaves.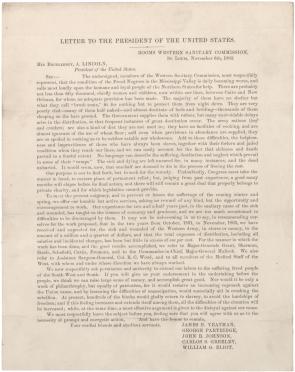 The Western Sanitary Commission was organized on September 5, 1861, by General John C. Fremont and D.L. Dix, a philanthropist from St. Louis, Missouri. The commission modeled itself after the United States Sanitary Commission (USSC), a federally endorsed organization that unified efforts of benevolent societies. The USSC and the WSC assumed similar roles: they set up hospitals and administered medical services, housed orphans, and improved sanitary and dietary conditions in military camps and prisons. But there was a major difference between the organizations: the WSC was not considered an official branch of the USSC and did not receive federal funding.
In October 1863, members of the WSC traveled to the Mississippi Valley to assess the situation there. Shocked by the suffering in communities of freedmen along the river, the commission alerted the senior officers who in turn wrote to Lincoln on November 6, stating, "No language can describe the suffering, destitution and neglect which prevail in some of their 'camps.'" They described a region upended by the war; families were displaced, the sick were dying, and many were left without food, water, or shelter: "There are probably not less than fifty thousand, chiefly women and children, now within our lines, between Cairo and New Orleans, for whom no adequate provision has been made."
The WSC requested Lincoln's endorsement for their endeavors: "We now respectfully ask permission and authority to extend our labors to the suffering freed people of the South-West and South. If you will give us your endorsement in the undertaking before the people, we think we can raise large sums of money, and accomplish great good." Their appeal to "offer our humble but active services, asking no reward of any kind, but the opportunity and encouragement to work" was accepted. The WSC accumulated $30,000 in clothing and other necessary materials as well as $13,000 in cash to assist the communities along the Mississippi. In recognition of his contributions, Lincoln later asked the WSC president, James Yeatman, to lead the Freedman's Bureau.
A full transcript is available.
Questions for Discussion
You are seeing this page because you are not currently logged into our website. If you would like to access this page and you are not logged in, please login or register for a gilderlehrman.org account, and then visit the link that brought you to this notice. Thanks!
Metadata
Make Gilder Lehrman your Home for History
---
Already have an account?
Please click here to login and access this page.
How to subscribe
Click here to get a free subscription if you are a K-12 educator or student, and here for more information on the Affiliate School Program, which provides even more benefits.
Otherwise, click here for information on a paid subscription for those who are not K-12 educators or students.
Make Gilder Lehrman your Home for History
---
Become an Affiliate School to have free access to the Gilder Lehrman site and all its features.
Click here to start your Affiliate School application today! You will have free access while your application is being processed.
Individual K-12 educators and students can also get a free subscription to the site by making a site account with a school-affiliated email address. Click here to do so now!
Make Gilder Lehrman your Home for History
---
Why Gilder Lehrman?
Your subscription grants you access to archives of rare historical documents, lectures by top historians, and a wealth of original historical material, while also helping to support history education in schools nationwide. Click here to see the kinds of historical resources to which you'll have access and here to read more about the Institute's educational programs.
Individual subscription: $25
Click here to sign up for an individual subscription to the Gilder Lehrman site.
Make Gilder Lehrman your Home for History
---
Upgrade your Account
We're sorry, but it looks as though you do not have access to the full Gilder Lehrman site.
All K-12 educators receive free subscriptions to the Gilder Lehrman site, and our Affiliate School members gain even more benefits!