Reagan Speech: "Tear down this wall," 1987
A primary source by Ronald Reagan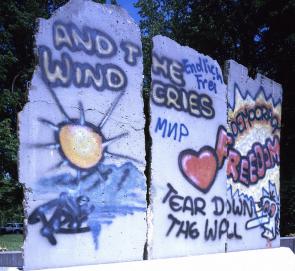 President Ronald Reagan's "Tear Down This Wall" speech marked his visit to the Brandenburg Gate in Berlin on June 12, 1987, following the G7 summit meeting in Venice. As Reagan spoke, his words were amplified to both sides of the Berlin Wall, reaching both East and West Germans. The President noted recent Soviet progress toward "a new policy of reform and openness," but wondered, "Are these the beginnings of profound changes in the Soviet state? Or are they token gestures, intended to raise false hopes in the West, or to strengthen the Soviet system without changing it?" Reagan declared that the Berlin Wall offered the Soviets and their president, Mikhail Gorbachev, an opportunity to make a "sign" of their sincerity and "advance dramatically the cause of freedom and peace." The "sign" Reagan proposed was simple: "Mr. Gorbachev, tear down this wall!"
A full transcript is available.
Excerpt
In the 1950s, Khrushchev predicted: "We will bury you." But in the West today, we see a free world that has achieved a level of prosperity and well-being unprecedented in all human history. In the Communist world, we see failure, technological backwardness, declining standards of health, even want of the most basic kind--too little food. Even today, the Soviet Union still cannot feed itself. After these four decades, then, there stands before the entire world one great and inescapable conclusion: Freedom leads to prosperity. Freedom replaces the ancient hatreds among the nations with comity and peace. Freedom is the victor.
And now the Soviets themselves may, in a limited way, be coming to understand the importance of freedom. We hear much from Moscow about a new policy of reform and openness. Some political prisoners have been released. Certain foreign news broadcasts are no longer being jammed. Some economic enterprises have been permitted to operate with greater freedom from state control.
Are these the beginnings of profound changes in the Soviet state? Or are they token gestures, intended to raise false hopes in the West, or to strengthen the Soviet system without changing it? We welcome change and openness; for we believe that freedom and security go together, that the advance of human liberty can only strengthen the cause of world peace. There is one sign the Soviets can make that would be unmistakable, that would advance dramatically the cause of freedom and peace.
General Secretary Gorbachev, if you seek peace, if you seek prosperity for the Soviet Union and Eastern Europe, if you seek liberalization: Come here to this gate! Mr. Gorbachev, open this gate! Mr. Gorbachev, tear down this wall!
Ronald Reagan, "Tear Down this Wall" speech at the Brandenburg Gate of the Berlin Wall, West Berlin, June 12, 1987.
Questions for Discussion
You are seeing this page because you are not currently logged into our website. If you would like to access this page and you are not logged in, please login or register for a gilderlehrman.org account, and then visit the link that brought you to this notice. Thanks!
Metadata
Make Gilder Lehrman your Home for History
---
Already have an account?
Please click here to login and access this page.
How to subscribe
Click here to get a free subscription if you are a K-12 educator or student, and here for more information on the Affiliate School Program, which provides even more benefits.
Otherwise, click here for information on a paid subscription for those who are not K-12 educators or students.
Make Gilder Lehrman your Home for History
---
Become an Affiliate School to have free access to the Gilder Lehrman site and all its features.
Click here to start your Affiliate School application today! You will have free access while your application is being processed.
Individual K-12 educators and students can also get a free subscription to the site by making a site account with a school-affiliated email address. Click here to do so now!
Make Gilder Lehrman your Home for History
---
Why Gilder Lehrman?
Your subscription grants you access to archives of rare historical documents, lectures by top historians, and a wealth of original historical material, while also helping to support history education in schools nationwide. Click here to see the kinds of historical resources to which you'll have access and here to read more about the Institute's educational programs.
Individual subscription: $25
Click here to sign up for an individual subscription to the Gilder Lehrman site.
Make Gilder Lehrman your Home for History
---
Upgrade your Account
We're sorry, but it looks as though you do not have access to the full Gilder Lehrman site.
All K-12 educators receive free subscriptions to the Gilder Lehrman site, and our Affiliate School members gain even more benefits!