Sergeant Francis Fletcher of the 54th Massachusetts on equal pay for black soldiers, 1864
A primary source by Francis Fletcher
View this item in the Collection.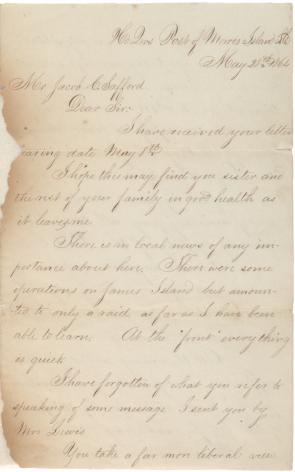 Francis H. Fletcher, a 22-year-old clerk from Salem, Massachusetts, enlisted as a private in Company A of the 54th Massachusetts Infantry Regiment on February 13, 1863. One year after the regiment left Boston with great fanfare, Fetcher wrote to his friend Jacob C. Safford regarding the discrimination and hardships black soldiers encountered when they were denied the same pay as white soldiers.
The 54th Massachusetts is famous for steadfastly refusing the government pay of $7 per month instead of the $13 per month paid to white soldiers. Abolitionists and black leaders opposed the inequality in pay. After many delays, Congress finally passed a bill to equalize pay for black Union soldiers on June 15, 1864. In September 1864 the men of the 54th Massachusetts were retroactively paid in full for their eighteen months of service. Written two weeks before the passage of the congressional bill, Fletcher's letter expresses his resentment clearly and eloquently:
You take a far more liberal view of things than you could in my situation. Just one year ago to day our regt was received in Boston with almost an ovation, and at 5 P. M. it will be one year since we were safely on board transport clear of Battery Wharf and bound to this Department: in that one year no man of our regiment has received a cent of monthly pay all through the glaring perfidy of the U.S. Gov't.

I cannot any more condemn nor recite our wrongs, but console myself that One who is able has said vengeance is mine and I will repay.

All the misery and degradation suffered in our regiment by its members' families is not atoned for by the passage of the bill for equal pay.
Fletcher served in the 54th Massachusetts until the regiment disbanded at the end of the war. He was promoted to sergeant, the highest rank a black soldier could achieve at the time, and mustered out of service on August 20, 1865, in Mount Pleasant, South Carolina. Jacob C. Safford from Ipswich, Massachusetts, is listed as "black" on the draft rolls, but there is no record of him serving in the Army.
A full transcript is available.
Questions for Discussion
You are seeing this page because you are not currently logged into our website. If you would like to access this page and you are not logged in, please login or register for a gilderlehrman.org account, and then visit the link that brought you to this notice. Thanks!
Metadata
Make Gilder Lehrman your Home for History
---
Already have an account?
Please click here to login and access this page.
How to subscribe
Click here to get a free subscription if you are a K-12 educator or student, and here for more information on the Affiliate School Program, which provides even more benefits.
Otherwise, click here for information on a paid subscription for those who are not K-12 educators or students.
Make Gilder Lehrman your Home for History
---
Become an Affiliate School to have free access to the Gilder Lehrman site and all its features.
Click here to start your Affiliate School application today! You will have free access while your application is being processed.
Individual K-12 educators and students can also get a free subscription to the site by making a site account with a school-affiliated email address. Click here to do so now!
Make Gilder Lehrman your Home for History
---
Why Gilder Lehrman?
Your subscription grants you access to archives of rare historical documents, lectures by top historians, and a wealth of original historical material, while also helping to support history education in schools nationwide. Click here to see the kinds of historical resources to which you'll have access and here to read more about the Institute's educational programs.
Individual subscription: $25
Click here to sign up for an individual subscription to the Gilder Lehrman site.
Make Gilder Lehrman your Home for History
---
Upgrade your Account
We're sorry, but it looks as though you do not have access to the full Gilder Lehrman site.
All K-12 educators receive free subscriptions to the Gilder Lehrman site, and our Affiliate School members gain even more benefits!