George Washington discusses Shays' Rebellion and the upcoming Constitutional Convention, 1787
A primary source by George Washington
View this item in the Collection.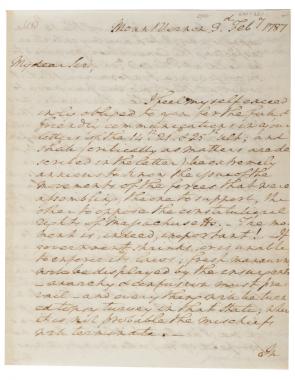 On January 25, 1787, Daniel Shays and his insurrectionists confronted a Massachusetts state militia force outside the Springfield armory. Shays' Rebellion had begun in the summer of 1786, when Shays, a former Continental Army captain, and other western Massachusetts veterans and farmers formed an insurrection against the government for failing to address their economic grievances. Upon the confrontation at the Springfield armory, the state militia forced Shays and his followers to retreat to Worcester County, where they would be dispersed on February 4, leading to the end of the rebellion.
On February 3, George Washington wrote to Henry Knox, conveying his thoughts on both the recent rebellion in Massachusetts and the Philadelphia Convention. Of Shays' Rebellion, Washington wrote, "if three years ago any person had told me that at this day, I should see such a formidable rebellion against the laws & constitutions of our own making as now appears I should have thought him a bedlamite - a fit subject for a mad house." He wrote that if the government "shrinks, or is unable to enforce its laws . . . anarchy & confusion must prevail."
Washington did not wish to attend the Philadelphia Convention because he doubted what might be accomplished. He admitted that "powers are wanting" in government but wondered how such powers would be derived. He commented on Knox's plan for building a central national government, calling it "energetic, and I dare say, in every point of view is more desirable than the present one." However, pressure from friends like Knox, associates, and fellow Virginians such as James Madison and Virginia Governor Edmund Randolph—as well as Washington's intention to "do for the best, and to act with propriety"—led the future president to attend the convention.
A full transcript
is available.
Excerpt
The moment is, indeed, important! – If government shrinks, or is unable to enforce its laws; fresh maneuvers will be displayed by the insurgents – anarchy & confusion must prevail – and every thing will be turned topsy turvey in that State; where it is not probable the mischiefs will terminate.
In your letter of the 14th. you express a wish to know my intention respecting the Convention, proposed to be held at Philada, in May next. – In confidence I inform you, that it is not, at this time, my purpose to attend it. – When this matter was first moved in the Assembly of this State, some of the principal characters, of it wrote to me, requesting to be permitted to put my name in the delegation. – To this I objected – They again pressed, and I again refused; assigning among other reasons my having declined meeting the Society of the Cincinnati at that place, about the same time; & that I thought it would be disrespectful to that body (to whom I ow'd much) to be there on any other occasion. – Notwithstanding these intimations, my name was inserted in the Act; and an official [inserted: communication] thereof made by the Executive to me; to whom, at the same time [inserted: that] I expressed my sense of the confidence reposed in me, I declared, that as I saw no prospect of my attending, it was my wish that my name might not remain in the delegation, to the exclusion of another. – To this I have been requested, in emphatical terms, not to decide absolutely, as no inconvenience would result from the non-appointment of another, at least for sometime. – Thus the matter stands, which is the reason of my saying to you in confidence that at present I retain my first intention – not to go.
Questions for Discussion
You are seeing this page because you are not currently logged into our website. If you would like to access this page and you are not logged in, please login or register for a gilderlehrman.org account, and then visit the link that brought you to this notice. Thanks!
Metadata
Make Gilder Lehrman your Home for History
---
Already have an account?
Please click here to login and access this page.
How to subscribe
Click here to get a free subscription if you are a K-12 educator or student, and here for more information on the Affiliate School Program, which provides even more benefits.
Otherwise, click here for information on a paid subscription for those who are not K-12 educators or students.
Make Gilder Lehrman your Home for History
---
Become an Affiliate School to have free access to the Gilder Lehrman site and all its features.
Click here to start your Affiliate School application today! You will have free access while your application is being processed.
Individual K-12 educators and students can also get a free subscription to the site by making a site account with a school-affiliated email address. Click here to do so now!
Make Gilder Lehrman your Home for History
---
Why Gilder Lehrman?
Your subscription grants you access to archives of rare historical documents, lectures by top historians, and a wealth of original historical material, while also helping to support history education in schools nationwide. Click here to see the kinds of historical resources to which you'll have access and here to read more about the Institute's educational programs.
Individual subscription: $25
Click here to sign up for an individual subscription to the Gilder Lehrman site.
Make Gilder Lehrman your Home for History
---
Upgrade your Account
We're sorry, but it looks as though you do not have access to the full Gilder Lehrman site.
All K-12 educators receive free subscriptions to the Gilder Lehrman site, and our Affiliate School members gain even more benefits!