Washington Encourages a Prospective Immigrant: The Economic Potential of the States in 1796
by Mary-Jo Kline and Theodore J. Crackel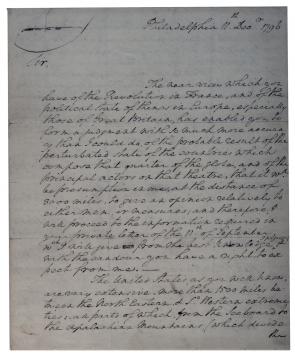 During his second presidential term, George Washington enjoyed a lively correspondence with Sir John Sinclair, member of Parliament and leader of Britain's scientific agriculture movement, on matters of mutual interest to the two planter-politicians. In February 1796, Washington wrote Sinclair of his plans to rent out several of his farms at Mt. Vernon once he retired to private life. To Washington's surprise, the Scotch baronet expressed interest in himself becoming Washington's neighbor. On September 11, Sinclair wrote privately that he did "not much like the present aspect of Europe" and had "some thoughts, in case of accidents, to secure an asylum for [his] family in america." He feared the spread of the French Revolutionary spirit; he despised Pitt's government in England; and he was dismayed by the kingdom's growing debt in the face of war with France. "[T]hese points united," he wrote, "furnish but a gloomy prospect, to a thinking native of this country." He asked Washington's advice on purchasing an estate in America and showed special interest in the Mt. Vernon farms, "as they seem to be in an eligible part of the country."[1]
When Washington replied on December 11, his presidency was drawing to an end, and he had ample time to prepare what was, in effect, a lengthy sales prospectus for the distinguished Briton. Tactfully avoiding any comments on politics abroad, the President happily proceeded to "the information" on American lands and farming that Sinclair had requested. No one was better qualified.
Washington's service on the Virginia and Pennsylvania frontiers in the French and Indian War, his campaigns in the Revolution, and his formal tours of the nation as president had required him to visit almost every corner of what had become the "United States." His own direct observation of all regions of the country made Washington probably the most knowledgeable commentator on the new nation. The first four pages of his twelve-page letter are devoted to a survey of the people and lands he had helped make independent.
Washington then turns to Sinclair's specific questions. He focuses on the prices of land in the states from New York southward, explaining the apparent paradox of Pennsylvania farms fetching higher prices than those in "Maryland and Virginia, although they are not of superior quality." He reminds Sinclair that he has already mentioned two reasons for higher land prices in Pennsylvania–land there is divided into smaller farms, most "more improved" than what is available in the South, and that Philadelphia has traditionally been "in a greater degree than any other, the recepticle of emigrants." Newcomers who land at that port, he laments, "rarely look beyond the limits of the State."[2]
The section that follows particularly captures the attention of modern readers. Washington offers additional reasons "not a little operative" in making Pennsylvania lands more attractive, and therefore more expensive. First, Pennsylvania, traditionally a welcoming spot for immigrants, had long made it easy for foreigners to become citizens. Congressional standardization of the naturalization process nationwide eliminated this consideration, but Washington suggests a second, more stubborn, barrier.
Immigrant farmers would pay more for farms in Pennsylvania than in Virginia and Maryland, he admits with obvious regret, "because there are Laws here for the gradual abolition of Slavery, which neither of the two States abovementioned have, at present, but which nothing is more certain than that they must have, & at a period not remote." The President was absolutely right in recognizing that newcomers had no wish to settle where they would compete with large plantations worked by slave labor. But he was tragically overoptimistic in his prediction that Virginia and Maryland would soon end slavery within their borders.
Washington concludes the letter with the suggestion that Sinclair seriously consider land along the Potomac River, which Washington believed would "in a few years, be in greater demand, and in higher estimation than in any other part of the United States," once the capital was established at Washington, DC. As for the Mt. Vernon farms that tempted the baronet, the President dared "not hope for" the honor of having Sinclair as a mere tenant and was unwilling to divide the farms by selling one.
His determination to protect the integrity of his Mt. Vernon holdings underscores the practical wisdom underlying this entire letter. Washington's forty years as a sharp observer of the entire American landscape and population inform his long summary of the nation's society and economy. He does not evade the painful reality of slavery, which he had come to see in a new light—a poison to the moral climate of his home state and a threat to its economic development. His willingness to embrace modern agricultural techniques advanced by Sinclair and others made Mt. Vernon and its farms an integrated model of modern agriculture.
Let us remember that it was Washington's use of modern farming and management methods that made him a uniquely successful planter with an estate free of inhibiting debt. While some planters claimed that responsibilities to creditors prevented them from freeing their slaves, Washington could do as he chose. In the will he drafted two and half years after this letter, he freed his own African American slaves, doubtless hoping to set an example for other southern slaveholders. Washington's goal was not achieved for another sixty-five years, and then only through a civil war that nearly destroyed the nation he had helped found.
---
[1] Sir John Sinclair to George Washington, September 11, 1796. George Washington Papers at the Library of Congress, 1741–1799: Series 4. General Correspondence, 1697–1799.
[2] Washington to Sinclair, December 11, 1796. The Gilder Lehrman Collection of the Gilder Lehrman Institute of American History, New York, GLC08095.
---
Theodore J. Crackel is editor emeritus of the Papers of George Washington, based at the University of Virginia. In 1993, he launched and headed "The Papers of the War Department, 1784–1800"—an effort to reconstitute, and make available digitally, records that had been destroyed in a fire in 1800. Mary-Jo Kline formerly worked for the Adams Papers at the Massachusetts Historical Society and headed the Papers of Aaron Burr at the New-York Historical Society.
Make Gilder Lehrman your Home for History
---
Already have an account?
Please click here to login and access this page.
How to subscribe
Click here to get a free subscription if you are a K-12 educator or student, and here for more information on the Affiliate School Program, which provides even more benefits.
Otherwise, click here for information on a paid subscription for those who are not K-12 educators or students.
Make Gilder Lehrman your Home for History
---
Become an Affiliate School to have free access to the Gilder Lehrman site and all its features.
Click here to start your Affiliate School application today! You will have free access while your application is being processed.
Individual K-12 educators and students can also get a free subscription to the site by making a site account with a school-affiliated email address. Click here to do so now!
Make Gilder Lehrman your Home for History
---
Why Gilder Lehrman?
Your subscription grants you access to archives of rare historical documents, lectures by top historians, and a wealth of original historical material, while also helping to support history education in schools nationwide. Click here to see the kinds of historical resources to which you'll have access and here to read more about the Institute's educational programs.
Individual subscription: $25
Click here to sign up for an individual subscription to the Gilder Lehrman site.
Make Gilder Lehrman your Home for History
---
Upgrade your Account
We're sorry, but it looks as though you do not have access to the full Gilder Lehrman site.
All K-12 educators receive free subscriptions to the Gilder Lehrman site, and our Affiliate School members gain even more benefits!
Metadata