Alexander Hamilton and the Creation of the United States
Alexander Hamilton has been enjoying a renaissance. Indeed, Americans in the twenty-first century may admire Hamilton more than any generation since the founders themselves. An immigrant from the Caribbean, a disadvantaged orphan who became a war hero, a self-made man who rose to become a framer of the Constitution and architect of the American financial system, and ahead of his time in his opposition to slavery, Hamilton offers the modern reader much to admire.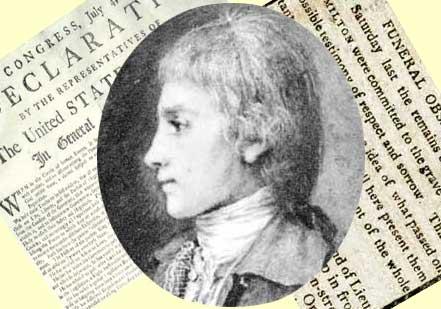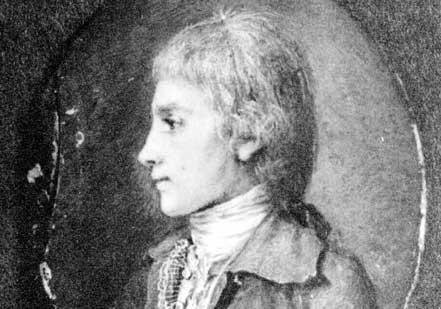 Hamilton's impoverished childhood and immigrant origins made him unusual among the leading members of the founding generation.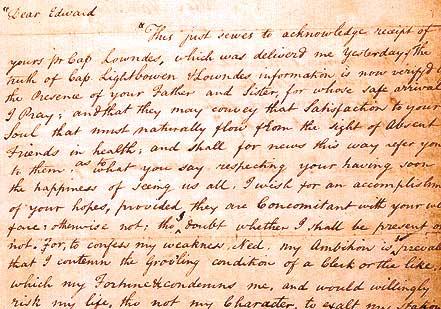 As a young orphan, clerking for trader Nicholas Cruger in St. Croix, Hamilton wrote this, his earliest surviving letter, to his friend Edward Stevens, who was studying at King's College in New York: "My Ambition is so prevalent that I contemn the grov'ling condition of a Clerk. . . I wish there was a War." By 1773, Hamilton himself had gone to New York and was studying at King's College (now Columbia University).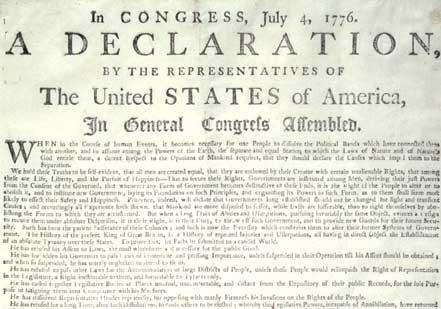 When the Revolution broke out, Hamilton immediately became a soldier on the American side. On July 9, 1776, when the Declaration was read aloud to the American troops stationed in New York, Hamilton was among them. Other copies of the Declaration were sent out to the thirteen states for reprinting and dissemination. This copy is the sole survivor of a Charleston, South Carolina printing from August 1776. By publishing his name, the patriotic printer, Peter Timothy, literally put his life on the line.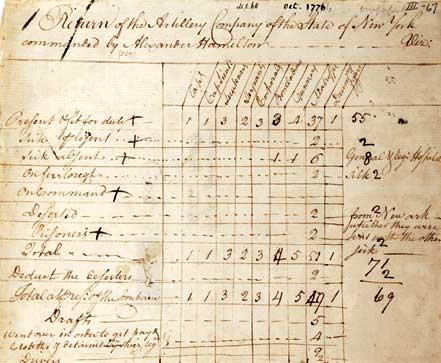 Hamilton began his military career as a volunteer when he was a student at King's (now Columbia) College. Later promoted to Captain, he fought bravely even as the American forces were driven out of Manhattan and across New Jersey to Valley Forge.
George Washington noticed Hamilton and appointed him to his staff as aide-de-camp, where he remained until 1781. Desperate to win glory in this war, Hamilton demanded to be allowed to fight, and was finally given the command he sought, leading an attack at Yorktown, Virginia, on October 14, 1781.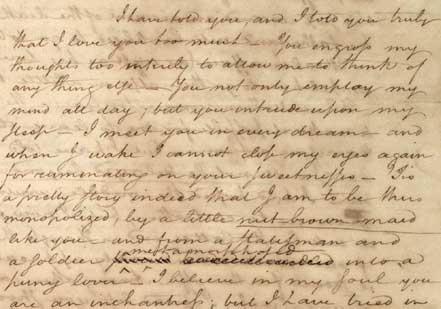 In this intimate letter to Elizabeth Schuyler, Hamilton casts himself as both a lover and a statesman. His charm succeeded; he and Elizabeth were married on December 14, 1780. With this marriage, Hamilton joined one of the wealthiest, most socially prominent families in New York, and Elizabeth became the wife of a man widely recognized as a brilliant and patriotic rising star.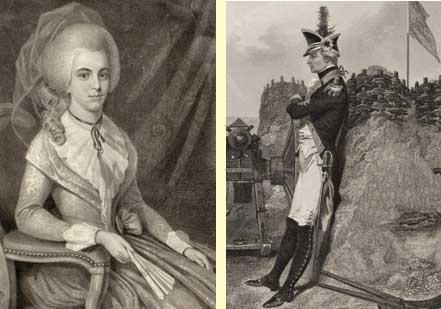 The details of this engraving of Elizabeth Schuyler Hamilton, based on a portrait by Ralph Earl, suggest her wealthy family background. (New-York Historical Society)
This detail from an engraving of Alexander Hamilton in the Trenches is based on a painting by Alonzo Chappel (1857). (Gilder Lehrman Collection)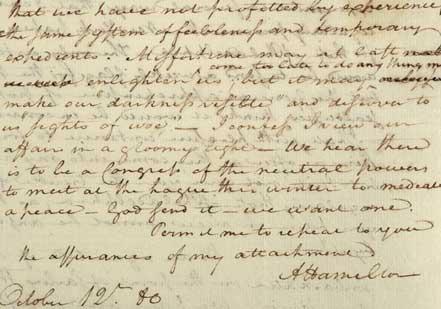 As George Washington's aide-de-camp through much of the Revolutionary War, Hamilton experienced firsthand both the ineffectuality of a weak central government and the desperate need for funds to support vital national purposes. In this letter to a French ally, Hamilton vents his frustrations, and shows signs of his future belief in a strong federal government.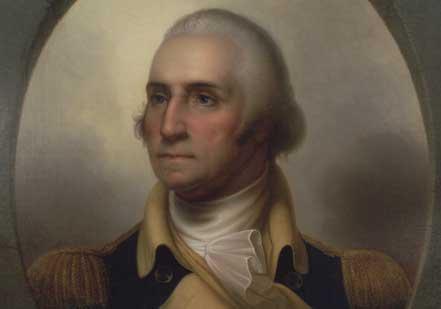 George Washington recognized the brilliance of young Hamilton and immediately brought him into his orbit. For a quarter of a century they formed a powerful partnership. Washington chose Hamilton as his first Treasury Secretary and allowed him free reign for his extraordinary nation-building skills. As a strong fatherly presence, Washington also provided the stability that the hyperactive Hamilton sometimes lacked.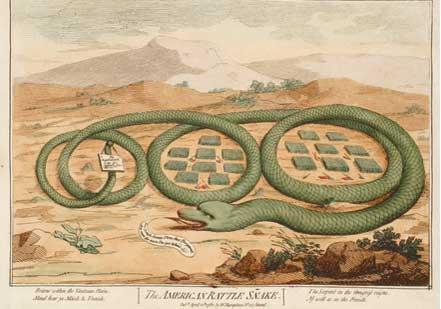 When this cartoon was published in Great Britain in 1782, two British armies had surrendered to the Americans: General Burgoyne's at Saratoga, New York, in 1777 and General Cornwallis's at Yorktown, Virgnia, in 1781, where Colonel Hamilton led the American attack on the last British redoubt. As the cartoon suggests, after the surrender at Yorktown, the British will to fight subsided drastically and the war was effectively over.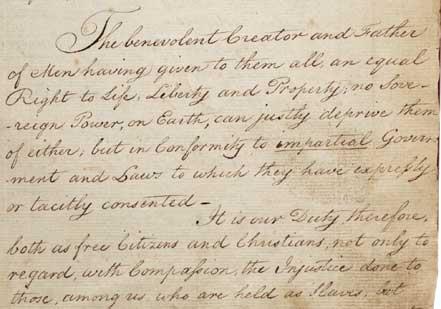 Having grown up amidst the horrors of slavery in the West Indies, Hamilton was one of thirty-two New Yorkers who founded the New-York Manumission Society in 1785. As this document shows, the Society was devoted to the abolition of slavery and the protection of free blacks.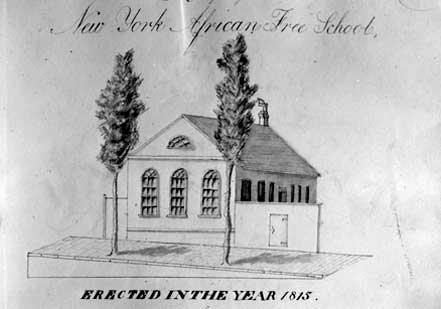 One of the Manumission Society's first projects was founding the African Free School in New York City in 1787, which provided education for African Americans, free and enslaved. This sketch of the 1815 school building by one of its young students is from the African Free School Records, Vol. IV, 1816-1826.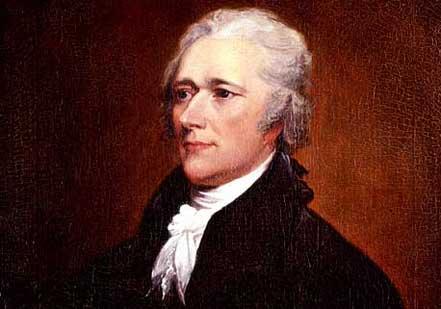 The weakness of the national government under the Articles of Confederation, ratified in 1781, worried experienced leaders like George Washington and Alexander Hamilton. Hamilton was a driving force behind the Constitutional Convention, held in Philadelphia in the summer of 1787. While Hamilton's speeches often drew criticism, his behind-the-scenes maneuvering ensured that the Convention resulted in a strong national constitution.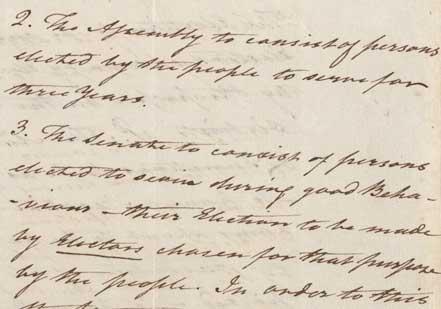 These manuscript notes are attributed to John Lansing Jr., who, with Hamilton and Robert Yates, initially represented New York at the Convention. But Lansing and Yates went home early, disturbed by the federalist tendencies of the delegates. As a delegate from New York, Hamilton passionately advocated many federalist ideas, some of them controversial. Lansing undoubtedly disliked what Hamilton was advocating in this speech on June 18, 1787: a stronger legislature, and an executive (or president) and senators elected for life "to serve during good Behaviour."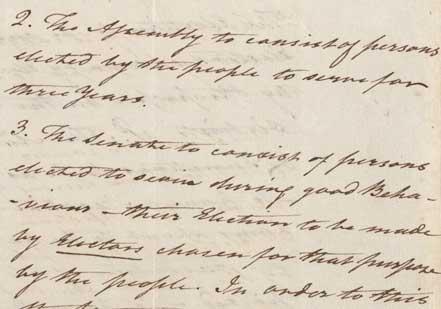 Hamilton's vision of a unified country became reality between the printing of this working draft of the U.S. Constitution in August 1787 and the printing of the final version (next slide) on September 17, 1787. In the Preamble to this preliminary version, the delegates still described themselves as representatives of "the States of New-Hampshire, Massachusetts, Rhode-Island..." etc. Six weeks later, when they issued the final version, they had reconceived themselves as representatives of "the People of the United States."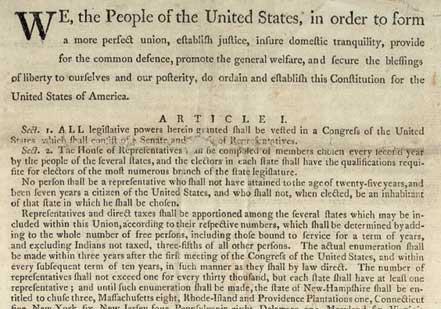 Once the Constitution was signed on September 17, 1787, it was sent out to all the states for ratification. Nine states had to approve before the Constitution could go into effect. Federalists, who supported the Constitution, and Anti-Federalists waged a fierce battle in the newspapers and state conventions throughout the country. Hamilton was a champion of the Constitution and wrote nearly two-thirds of the 85 Federalist Papers of 1787-1788, which are generally viewed as the factor that turned the tide of public opinion and led to ratification.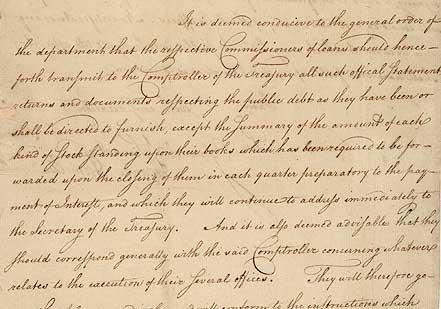 Chosen by President Washington as his Treasury Secretary, the indefatigable Hamilton pushed a stream of reports, acts, and institutions through Congress to create a firm fiscal foundation for the new nation. Among his first measures was the federal assumption of state debts, a radical plan that would both establish a sound credit rating internationally and tie individual debtors to the success of the federal, rather than state, government. On the very day Congress approved a key element in his controversial plan, Hamilton sent this circular to implement new procedures that would place state debt under federal authority.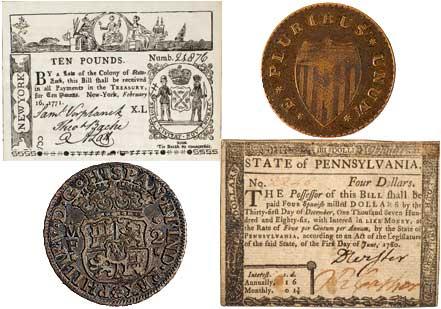 An essential part of Hamilton's plan was to eliminate the chaos of currencies common in eighteenth-century North America. Here are specimens of currency in circulation at the time: paper notes from New York (left) and Pennsylvania (right) and coins minted in Mexico (left) and New Jersey (right). All were legal tender in the 1780s.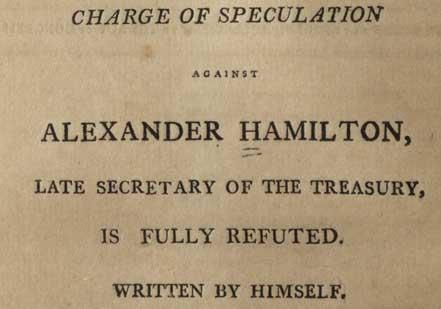 In 1792, evidence of payments to con man James Reynolds came to light, and Hamilton was suspected of financial misconduct as Secretary of the Treasury. When the accusations were made public in 1796, Hamilton swiftly produced evidence that, far from engaging in "improper pecuniary speculation" with James Reynolds, his "real crime [was] an amorous connection with his wife." In the pamphlet Observations on Certain Documents, to exonerate himself, he made public his affair, reprinting love letters to Maria Reynolds and detailing their assignations, as well as the Reynoldses' plot to blackmail him. The gesture was brave, but the damage to his reputation was disastrous.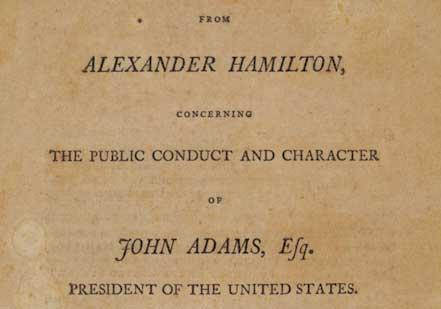 With Hamilton's Federalist party losing support to Thomas Jefferson's Republican party, Hamilton vented his frustration with President John Adams and his policies by criticizing him in a supposedly private letter circulated in 1800. But the letter, which noted Adams's "great and intrinsic defects," leaked out and was widely distributed in October 1800. Friends and political allies were shocked and dismayed, while his enemies gleefully took advantage of Hamilton's gaffe. Adams finished third in the presidential race of 1800.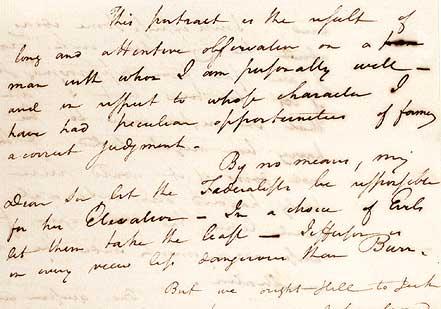 The presidential election of 1800 provided Hamilton with a dilemma: a tie between Thomas Jefferson, a man whose principles were in direct opposition to Hamilton's own, and Aaron Burr, a man Hamilton believed to have no principles at all. As the House of Representatives prepared to vote to break the deadlock, Hamilton conducted a furious letter-writing campaign to urge fellow Federalists to vote for Jefferson whom, on balance, Hamilton found "less dangerous than Burr." Burr never forgot that Hamilton had campaigned to deny him the presidency.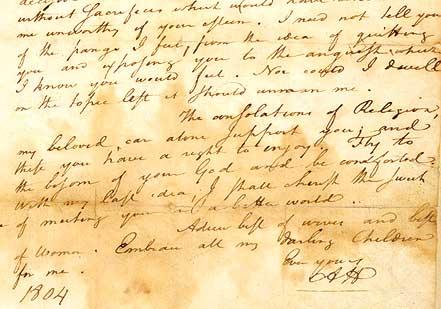 The long-standing enmity between Aaron Burr and Alexander Hamilton came to a head in the spring of 1804. After an exchange of letters and meetings between intermediaries, the duel was set for July 11, 1804, in Weehawken, New Jersey. Elizabeth Hamilton and the children were at the family's country estate, The Grange, and knew nothing of what was happening. In New York City, Hamilton wrote a final letter to Elizabeth, to be opened only in the event of his death, explaining why he felt he had to fight the duel and taking an emotional farewell from her and his children.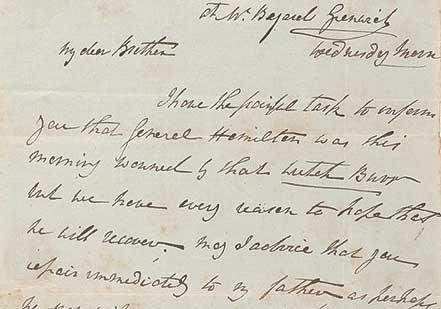 Within hours of the duel, Angelica Schuyler Church, Elizabeth Hamilton's sister and Hamilton's close friend and correspondent, wrote to her brother Philip Schuyler to break the news. Her handwriting suggests her level of distress. Her hope that Hamilton would survive proved futile, and he died the following morning, surrounded by family and friends, after a night of agony.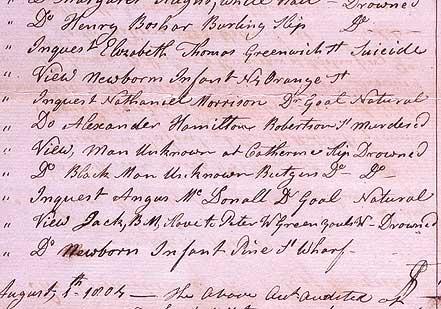 The report of the New York City coroner for August 1804—the verdict of the inquest into Hamilton's death was murder.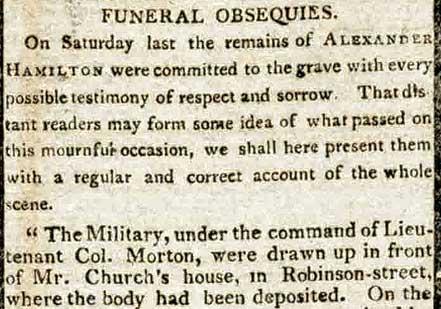 Gouverneur Morris, Hamilton's old friend, gave the funeral oration. As Hamilton's funeral cortege made its way to Trinity Church in lower Manhattan, thousands of New Yorkers lined the streets for one of the largest public funerals in the nation's history.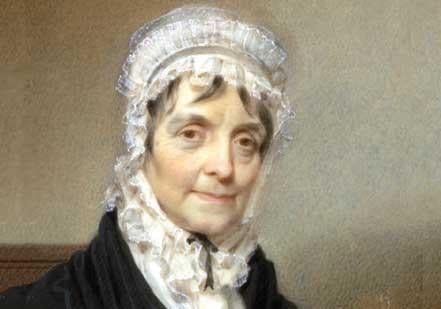 Hamilton's death left Elizabeth a widow, struggling to support seven children. She remained fervently loyal to his memory and survived him by 50 years, dying in 1854 at the age of 97.
To find out more about the life and times of Alexander Hamilton, visit the New-York Historical Society's exhibition website: http://www.alexander hamiltonexhibition.org
Metadata
Make Gilder Lehrman your Home for History
---
Already have an account?
Please click here to login and access this page.
How to subscribe
Click here to get a free subscription if you are a K-12 educator or student, and here for more information on the Affiliate School Program, which provides even more benefits.
Otherwise, click here for information on a paid subscription for those who are not K-12 educators or students.
Make Gilder Lehrman your Home for History
---
Become an Affiliate School to have free access to the Gilder Lehrman site and all its features.
Click here to start your Affiliate School application today! You will have free access while your application is being processed.
Individual K-12 educators and students can also get a free subscription to the site by making a site account with a school-affiliated email address. Click here to do so now!
Make Gilder Lehrman your Home for History
---
Why Gilder Lehrman?
Your subscription grants you access to archives of rare historical documents, lectures by top historians, and a wealth of original historical material, while also helping to support history education in schools nationwide. Click here to see the kinds of historical resources to which you'll have access and here to read more about the Institute's educational programs.
Individual subscription: $25
Click here to sign up for an individual subscription to the Gilder Lehrman site.
Make Gilder Lehrman your Home for History
---
Upgrade your Account
We're sorry, but it looks as though you do not have access to the full Gilder Lehrman site.
All K-12 educators receive free subscriptions to the Gilder Lehrman site, and our Affiliate School members gain even more benefits!