Slavery in the New York State census, 1800
View this item in the Collection.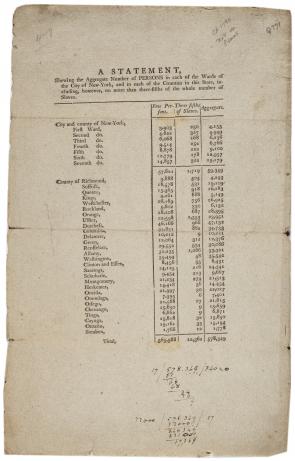 While numbers do not explain the everyday realities of slavery in the eighteenth century, they do provide a sense of the pervasiveness of the peculiar institution even in a northern state like New York. This broadside provides figures from the 1800 census in New York. It offers a breakdown of the free population of each county in the state as well as three-fifths of the number of slaves present. The US Constitution permitted 60 percent, or three-fifths, of slaves to be counted toward the total population of each state in a compromise designed to provide the southern states with greater representation in Congress and the Electoral College.
It is well known that the "three-fifths clause" of the Constitution enhanced southern claims to power. However, what is less known is the North's complicity in slavery, which is illustrated through these census numbers. While New York's leaders had passed a bill for the gradual abolition of slavery in 1799, it was not fully implemented until 1827. Therefore, New York included 60 percent of those held in bondage within its borders in the census counts of 1800, 1810, and 1820. The number of slaves in New York was minuscule compared to the number held in the South, however; the three-fifths of slaves (equaling 12,362 persons in the census) counted in New York in 1800 was not enough for even half a seat in the House of Representatives.
Questions for Discussion
You are seeing this page because you are not currently logged into our website. If you would like to access this page and you are not logged in, please login or register for a gilderlehrman.org account, and then visit the link that brought you to this notice. Thanks!
Metadata
Make Gilder Lehrman your Home for History
---
Already have an account?
Please click here to login and access this page.
How to subscribe
Click here to get a free subscription if you are a K-12 educator or student, and here for more information on the Affiliate School Program, which provides even more benefits.
Otherwise, click here for information on a paid subscription for those who are not K-12 educators or students.
Make Gilder Lehrman your Home for History
---
Become an Affiliate School to have free access to the Gilder Lehrman site and all its features.
Click here to start your Affiliate School application today! You will have free access while your application is being processed.
Individual K-12 educators and students can also get a free subscription to the site by making a site account with a school-affiliated email address. Click here to do so now!
Make Gilder Lehrman your Home for History
---
Why Gilder Lehrman?
Your subscription grants you access to archives of rare historical documents, lectures by top historians, and a wealth of original historical material, while also helping to support history education in schools nationwide. Click here to see the kinds of historical resources to which you'll have access and here to read more about the Institute's educational programs.
Individual subscription: $25
Click here to sign up for an individual subscription to the Gilder Lehrman site.
Make Gilder Lehrman your Home for History
---
Upgrade your Account
We're sorry, but it looks as though you do not have access to the full Gilder Lehrman site.
All K-12 educators receive free subscriptions to the Gilder Lehrman site, and our Affiliate School members gain even more benefits!