William Walker may be largely forgotten today, but to Americans in the 1850s, he was a major celebrity, one of many so-called filibusters who would swoop into Central American countries to conquer and spread the ideals of American-style democracy—exploits neatly summed up by the often-used phrase of the era, "manifest destiny."
Walker was not the most successful filibuster, but he was the most flamboyant and certainly the only one to tangle with Cornelius Vanderbilt, the American steamship and railroad magnate. The illustrations in this series are drawn from Frank Leslie's Illustrated Newspaper, a popular periodical of the mid-nineteenth century that offered pictorial summaries of the day's news. For more on Walker, Vanderbilt, and the filibusters, see T.J. Stiles's essay in the June 2009 issue of History Now.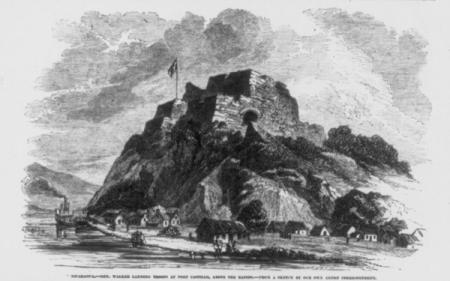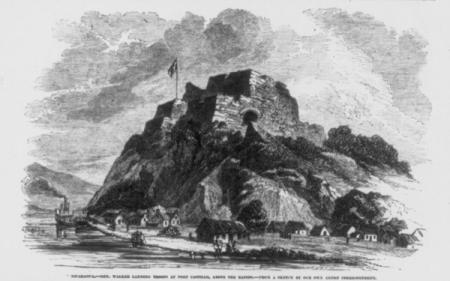 Walker and his men were contracted to keep the peace by the ruling Nicaraguan Democratic Party. Walker, along with some sixty men, landed near the city of San Juan del Sur in the small Central American country on May 3, 1855. Already a veteran filibuster, Walker had survived a disastrous attempt to conquer parts of Mexico in 1853. This drawing depicts the site of Walker's landing on the western coast of Nicaragua. (Courtesy of the Library of Congress)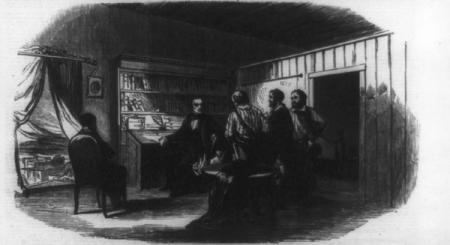 Walker was known as a reckless commander, but in Nicaragua that characteristic was joined by remarkable good luck. Soon after he arrived, the commander of the Democratic Party's forces died and Walker was placed in charge. Landing his men at the rear of the city of Granada, Walker soon captured the city and forced the surrender of Conservative general Ponciano Corral. New president Patricio Rivas installed Walker as head of the army. The drawing above depicts Walker meeting with Rivas and government officials at Walker's house in Granada. (Courtesy of the Library of Congress)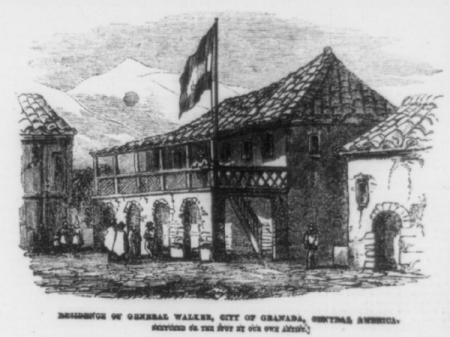 This sketch depicts Walker's house in Granada. With Corral installed as minister of war under the weak Rivas, Walker moved to eliminate his chief rival for power over the army. (Courtesy of the Library of Congress)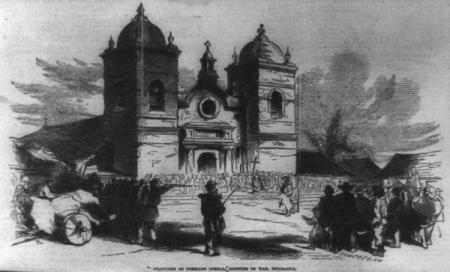 On November 8, 1855, following a trial and conviction on charges of treason, Walker presided over Corral's execution by firing squad in Granada's central plaza. (Courtesy of the Library of Congress)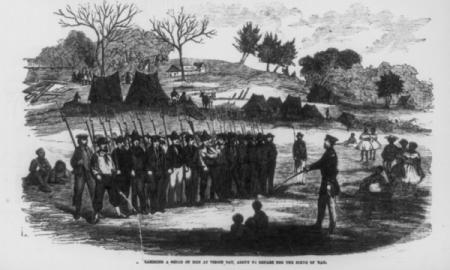 After assuming command of the army, one of Walker's top priorities was to maintain the flow of volunteer troops from the United States—the only way he could retain his tenuous hold on power. His machinations with the Accessory Transit Corporation ensured that a steady flow of Americans to Nicaragua would continue. All that came to an end in 1856, however, when Cornelius Vanderbilt persuaded the US government to withdraw its recognition of Walker's regime, as he had by then succeeded Rivas to the Nicaraguan presidency. Vanderbilt then sent American mercenaries to Costa Rica, where they trained with Costa Rican troops for an invasion of Nicaragua. The above sketch depicts American mercenaries training in Costa Rica. (Courtesy of the Library of Congress)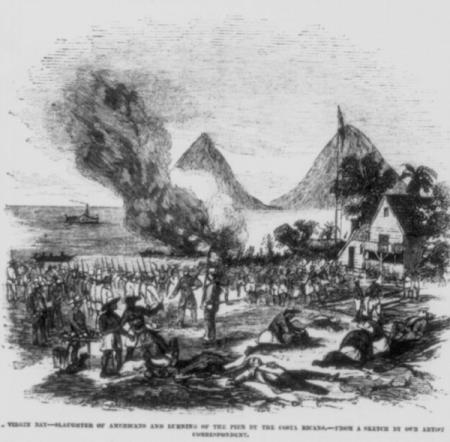 In April 1856, Costa Rica, with the help of Vanderbilt's mercenaries, launched an invasion of Nicaragua, defeating Walker and occupying the city of Rivas. This sketch depicts the Costa Rican assault on Walker's troops. (Courtesy of the Library of Congress)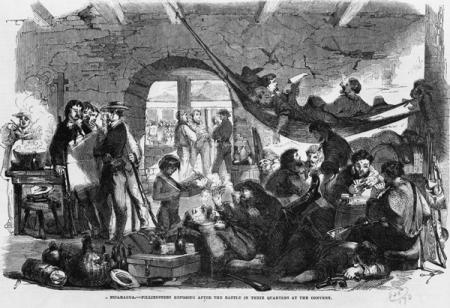 Walker surrendered to the US Navy in May 1857. He was brought back to the United States, where he was greeted as a hero, and soon left for another filibustering expedition, this time to Honduras. It was in Honduras that Walker's luck finally ran out. He was captured and, on September 12, 1860, executed by firing squad.
The above sketch depicts Walker's men at rest after arriving in Nicaragua.
With the beginning of the Civil War, the filibusters faded into a distant (and some might say distorted) memory of adventurers like Walker chasing military glory and spreading the gospel of American democracy throughout Central America. But in Central America itself, Walker and other filibusters like him are remembered as symbols of American aggression and imperialism.
Metadata
Make Gilder Lehrman your Home for History
---
Already have an account?
Please click here to login and access this page.
How to subscribe
Click here to get a free subscription if you are a K-12 educator or student, and here for more information on the Affiliate School Program, which provides even more benefits.
Otherwise, click here for information on a paid subscription for those who are not K-12 educators or students.
Make Gilder Lehrman your Home for History
---
Become an Affiliate School to have free access to the Gilder Lehrman site and all its features.
Click here to start your Affiliate School application today! You will have free access while your application is being processed.
Individual K-12 educators and students can also get a free subscription to the site by making a site account with a school-affiliated email address. Click here to do so now!
Make Gilder Lehrman your Home for History
---
Why Gilder Lehrman?
Your subscription grants you access to archives of rare historical documents, lectures by top historians, and a wealth of original historical material, while also helping to support history education in schools nationwide. Click here to see the kinds of historical resources to which you'll have access and here to read more about the Institute's educational programs.
Individual subscription: $25
Click here to sign up for an individual subscription to the Gilder Lehrman site.
Make Gilder Lehrman your Home for History
---
Upgrade your Account
We're sorry, but it looks as though you do not have access to the full Gilder Lehrman site.
All K-12 educators receive free subscriptions to the Gilder Lehrman site, and our Affiliate School members gain even more benefits!