Confirming governors for territories of Cuba, Puerto Rico, and the Philippines, 1901
A primary source by Theodore Roosevelt
View this item in the Collection.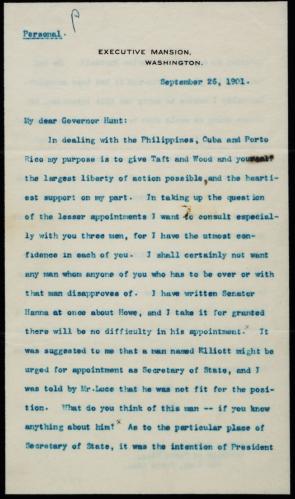 President Theodore Roosevelt wrote this letter to William H. Hunt, the governor of Porto Rico (as Puerto Rico was known at the time), just twelve days after he assumed the presidency following President William McKinley's assassination. In it, Roosevelt seeks to promote stability and continuity in the government.
During this transitional period, Roosevelt assured Hunt, the territorial governors would be given the "largest liberty of action possible, and the heartiest support on my part" and sought advice on appointing a secretary of state. "[I]t was the intention of President McKinley to appoint Mr. Charles Hartzell. He had tendered the place to him and it had been accepted. Naturally I desire to carry out this intention, but before doing so would wish to ask whether you know of any objection to it – and in asking you for your opinion I am sure I am doing precisely as the late President intended to do." Apparently not learning anything objectionable about Hartzell, Roosevelt did appoint him secretary of state.
Hunt was recalled from Puerto Rico in 1904 and made a judge on the US district court in Montana and later on the Ninth Circuit of the court of appeals. The territorial governors of two other Spanish possessions taken during the Spanish American War, the Philippines and Cuba, were William H. Taft and Leonard Wood. Taft ably administered the Philippines, despite an on-going insurgency that continued until 1916, and returned to join Roosevelt's cabinet as secretary of war in 1904. Leonard Wood led a controversial reorganization of Cuban government and society during his governorship, which lasted until 1902. He later went to the Philippines and in 1906 was the leader of one of the largest massacres of insurgents in the Moro Province, where 600 men, women, and children became casualties. Despite the controversy surrounding Wood, Taft would appoint him Army chief of staff in 1910.
Questions for Discussion
You are seeing this page because you are not currently logged into our website. If you would like to access this page and you are not logged in, please login or register for a gilderlehrman.org account, and then visit the link that brought you to this notice. Thanks!
Metadata
Make Gilder Lehrman your Home for History
---
Already have an account?
Please click here to login and access this page.
How to subscribe
Click here to get a free subscription if you are a K-12 educator or student, and here for more information on the Affiliate School Program, which provides even more benefits.
Otherwise, click here for information on a paid subscription for those who are not K-12 educators or students.
Make Gilder Lehrman your Home for History
---
Become an Affiliate School to have free access to the Gilder Lehrman site and all its features.
Click here to start your Affiliate School application today! You will have free access while your application is being processed.
Individual K-12 educators and students can also get a free subscription to the site by making a site account with a school-affiliated email address. Click here to do so now!
Make Gilder Lehrman your Home for History
---
Why Gilder Lehrman?
Your subscription grants you access to archives of rare historical documents, lectures by top historians, and a wealth of original historical material, while also helping to support history education in schools nationwide. Click here to see the kinds of historical resources to which you'll have access and here to read more about the Institute's educational programs.
Individual subscription: $25
Click here to sign up for an individual subscription to the Gilder Lehrman site.
Make Gilder Lehrman your Home for History
---
Upgrade your Account
We're sorry, but it looks as though you do not have access to the full Gilder Lehrman site.
All K-12 educators receive free subscriptions to the Gilder Lehrman site, and our Affiliate School members gain even more benefits!