Christmas in Kuwait, 1990
A primary source by Brett G. Coughlin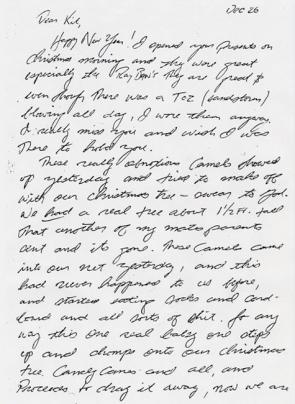 Cpl. Brett G. Coughlin arrived with Delta Company in Saudi Arabia at the port of Al Jubail on September 13, 1990. For the next three months the company trained in the northern desert of Saudi Arabia. By Christmas, its headquarters were near the Al-Wafra oil fields of southern Kuwait. Coughlin wrote this Christmas letter to his girlfriend, Catherine, whom he later married.
A full transcript is available.
Transcript
Dec. 26
Dear Kit,
Happy New Year! I opened your presents on Christmas morning and they were great especially the Ray Ban's They are great & even though there was a Toz (sandstorm) blowing all day, I wore them anyway. I really miss you and wish I was there to hold you.
These really obnoxious camels showed up yesterday and tried to make off with our Christmas tree – swear to God. We had a real tree about 1 ½ ft. tall that another of my mates parents sent and its gone. These camels came into our net yesterday, and this had never happened to us before, and started eating socks and cardboard and all sorts of shit. So anyway this one real balsy one steps up and chomps onto our Christmas tree. Candy canes and all, and Proceeds to drag it away, now we are Pissed off right? So we chase this dirty Camel out of the net and he doesn't drop it, he's really set on making our tree breakfast, so we start growling at him, and he drops it, then another guy gets some popcorn and leads all 9 of them to the next tank down (we were pissed at the guys on that tank anyway and anything to keep these hellbound camels away) Not your run of the mill Christmas mourning! Hope yours was less eventful. I took pictures so maybe those will convince you. [struck: Anyway I can't wait to see you [illegible]]
I love you
Brett
Questions for Discussion
You are seeing this page because you are not currently logged into our website. If you would like to access this page and you are not logged in, please login or register for a gilderlehrman.org account, and then visit the link that brought you to this notice. Thanks!
Metadata
Make Gilder Lehrman your Home for History
---
Already have an account?
Please click here to login and access this page.
How to subscribe
Click here to get a free subscription if you are a K-12 educator or student, and here for more information on the Affiliate School Program, which provides even more benefits.
Otherwise, click here for information on a paid subscription for those who are not K-12 educators or students.
Make Gilder Lehrman your Home for History
---
Become an Affiliate School to have free access to the Gilder Lehrman site and all its features.
Click here to start your Affiliate School application today! You will have free access while your application is being processed.
Individual K-12 educators and students can also get a free subscription to the site by making a site account with a school-affiliated email address. Click here to do so now!
Make Gilder Lehrman your Home for History
---
Why Gilder Lehrman?
Your subscription grants you access to archives of rare historical documents, lectures by top historians, and a wealth of original historical material, while also helping to support history education in schools nationwide. Click here to see the kinds of historical resources to which you'll have access and here to read more about the Institute's educational programs.
Individual subscription: $25
Click here to sign up for an individual subscription to the Gilder Lehrman site.
Make Gilder Lehrman your Home for History
---
Upgrade your Account
We're sorry, but it looks as though you do not have access to the full Gilder Lehrman site.
All K-12 educators receive free subscriptions to the Gilder Lehrman site, and our Affiliate School members gain even more benefits!