Charles Guiteau's reasons for assassinating President Garfield, 1882
A primary source by Charles J. Guiteau
View this item in the Collection.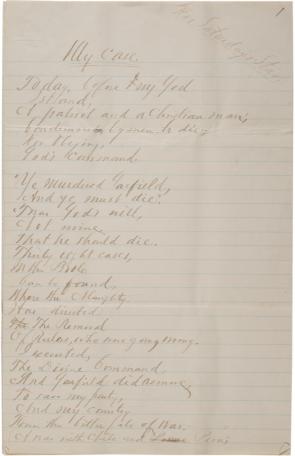 Charles Julius Guiteau employed the unusual medium of poetry to plead his innocence while on trial for assassinating President James Garfield. Guiteau's odd behavior in court made him a media sensation, and the Gilded Age press eagerly published much of his irrational verse. While this poem was never printed, Guiteau was obviously worried about his historical legacy. The verse illustrates his obsession with fame.
The poem is a unique look into the mind of one of American history's more eccentric characters. Suffering perhaps from schizophrenia, Guiteau, an attorney, felt he was owed a government job for the few speeches he made in support of Garfield during the 1880 presidential campaign. After repeated attempts to obtain an ambassadorship, he was told by Secretary of State James Blaine never to return. This dismissal sent Guiteau into angry spasms of revenge that led him to shoot Garfield in 1881. Here Guiteau recapitulates his overtures and laces his poem with extreme religious imagery, calling the assassination a "Divine command." He attempts to satisfy his martyred ego and to vindicate his actions to posterity, writing "I saved our party and our land." Guiteau compares his plight to Moses', writing "God kept Moses. / He will me. / I fear no man!"
A full transcript
is available.
Excerpt
I executed
the Divine command.
And Garfield did remove,
To save my party,
and my country
From the bitter fate of War.
Questions for Discussion
You are seeing this page because you are not currently logged into our website. If you would like to access this page and you are not logged in, please login or register for a gilderlehrman.org account, and then visit the link that brought you to this notice. Thanks!
Metadata
Make Gilder Lehrman your Home for History
---
Already have an account?
Please click here to login and access this page.
How to subscribe
Click here to get a free subscription if you are a K-12 educator or student, and here for more information on the Affiliate School Program, which provides even more benefits.
Otherwise, click here for information on a paid subscription for those who are not K-12 educators or students.
Make Gilder Lehrman your Home for History
---
Become an Affiliate School to have free access to the Gilder Lehrman site and all its features.
Click here to start your Affiliate School application today! You will have free access while your application is being processed.
Individual K-12 educators and students can also get a free subscription to the site by making a site account with a school-affiliated email address. Click here to do so now!
Make Gilder Lehrman your Home for History
---
Why Gilder Lehrman?
Your subscription grants you access to archives of rare historical documents, lectures by top historians, and a wealth of original historical material, while also helping to support history education in schools nationwide. Click here to see the kinds of historical resources to which you'll have access and here to read more about the Institute's educational programs.
Individual subscription: $25
Click here to sign up for an individual subscription to the Gilder Lehrman site.
Make Gilder Lehrman your Home for History
---
Upgrade your Account
We're sorry, but it looks as though you do not have access to the full Gilder Lehrman site.
All K-12 educators receive free subscriptions to the Gilder Lehrman site, and our Affiliate School members gain even more benefits!