Hard Times: The Great Depression in New York's Lower East Side
Americans everywhere felt the terrible effects of the Great Depression, but in the cities, millions of people living in close quarters were thrown out of work and into even deeper poverty than they had known before the economy's collapse. These photographs, which appear in this issue of History Now courtesy of the Lower East Side Tenement Museum in New York City, capture both the hardships and happiness of everyday life on New York's Lower East Side during the 1930s.
After immigrating to the United States from Sicily in the early 1920s, Adolpho and Rosario Baldizzi moved to 97 Orchard Street in New York's crowded, overwhelmingly immigrant Lower East Side. They lived at 97 Orchard, along with their children, Josephine and John, from 1928 until 1935--the height of the Depression. In 1988, the apartments at 97 Orchard Street began to be restored and the Tenement Museum was founded, recreating the Baldizzi home as it looked in 1935. You can read more about the Baldizzi family, listen to an oral history recorded by Josephine Baldizzi, and see more photographs of 97 Orchard Street and the Lower East Side at the Tenement Museum's website.
This online exhibition is produced in partnership with the Lower East Side Tenement Museum.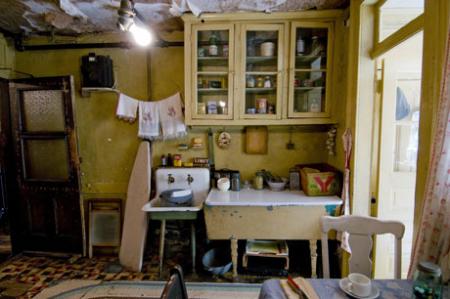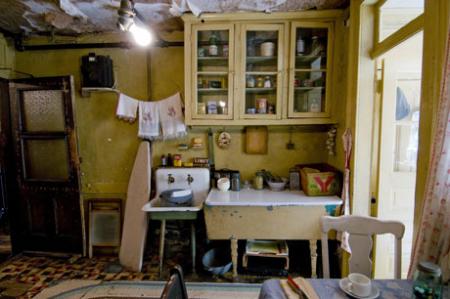 "I remember sitting around the table in the kitchen under the window and we would - my mother would have made us a fried egg or something on a roll with butter. And my father would put the ketchup on it. That was a treat every Saturday. Had to be Saturday or a Sunday, we would sit around and enjoy that roll with the butter. My mother'd be moving around, always cooking, serving, doing things, busy as a bee, never sitting down." - Josephine Baldizzi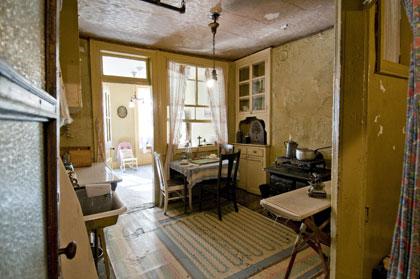 "The sink is where we washed dishes, where we washed our bodies (Josephine laughs slightly), and there was a little tub next to it and maybe once a week, my mother would heat up the water and give us a bath - both of us in one tub. Every morning she would stand in front of the sink and strip to the waist, and go like this (scrubbing sound) you know, wash her, scrub herself. And, you know, she was extra clean, my mother. So that was very important to her, that we would be just as clean as she was." - Josephine Baldizzi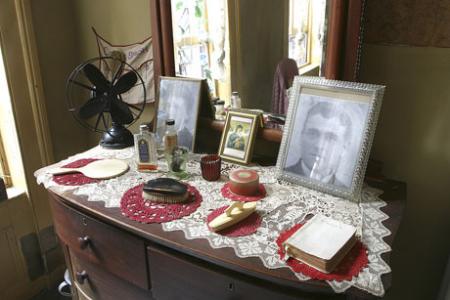 "In the back room, my brother and I slept on a folding bed. And every night, my mother would open it up, or….or my father, and my brother would sleep in one end, I slept at another end. And every morning, we'd have to fold it up, cover it very nicely, put it back against the wall." - Josephine Baldizzi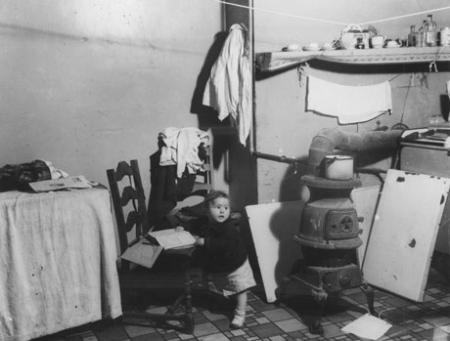 "In the kitchen, at the table, when we weren't eating, we used to play games. My father would play cards with us: checkers, Chinese checkers and riddles. He would write things down, and draw pictures of things, and we had to figure them out. And that was another way we passed our time. He always made sure we had things to do. And he taught us how to play all the card games, rummy and….things like that." - Josephine Baldizzi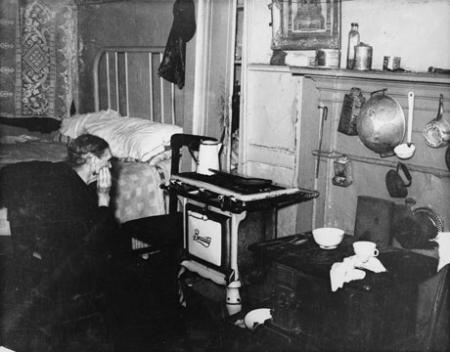 "And in the kitchen over the sink is a shelf that has Linet Starch, Bon Ami, and she used to have this pink soap and steel wool…I guess to polish her pots. Because they called my mother "Shine-em-up Sadie." She loved to shine her pots! - Josephine Baldizzi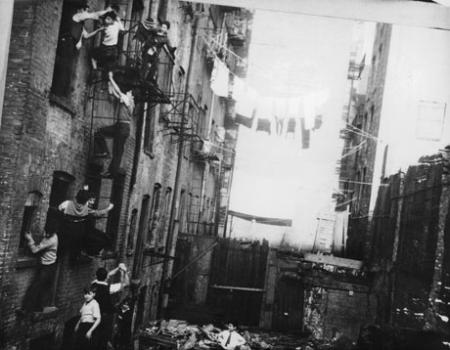 "In the back room, there was a shaft, a window facing a shaft and then there was, across the way, was another window. And back there was the….the Rosenthals lived there. I can still see Mrs. Rosenthal in the airshaft window, waving to me, motioning for me to come in and to turn on the lights because it was the Sabbath, the Jewish holiday, and they weren't allowed to touch the electricity. And it made me very proud to have to do that. I used to feel good that she chose me to do that job for her. And I can still see her till today, the vision of her in that window. It has never left my memory." - Josephine Baldizzi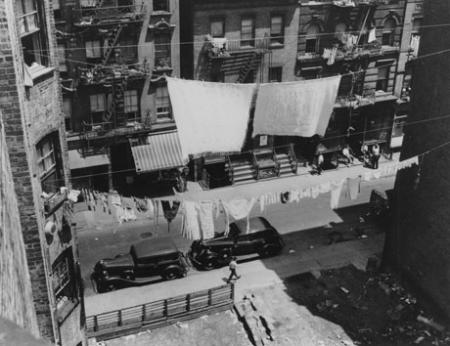 "…and the Bon Ami used to go on the windows…it became so dusty all over you got double work. And the Linet Starch, do I remember Linit Starch, because it cut my neck and my brother's neck the way my mother used to starch our clothes. The shirts and the dresses and her housedresses. Everything! Linens were starched, stiff, they stood up by themselves" - Josephine Baldizzi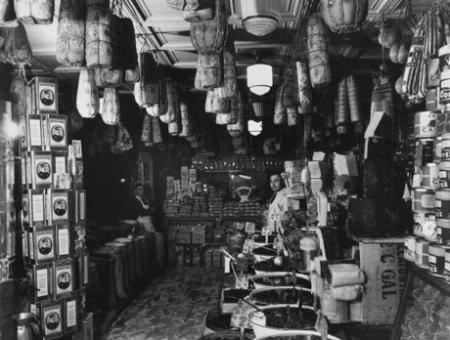 "And sometimes, in the trunk, must have been my mother's clothing and hats and whatever, we would take it out and wear it and put them on, high heels, you know (chuckles) and have a lot of fun. And Rita Bonofiglio, who lived upstairs in the tenement, she used to come down and play with us, too. We'd be three of us. And we would fight - I wanted to be Claudette Colbert, she wanted to be Claudette Colbert. And we had a ball. We just enjoyed that, doing that." - Josephine Baldizzi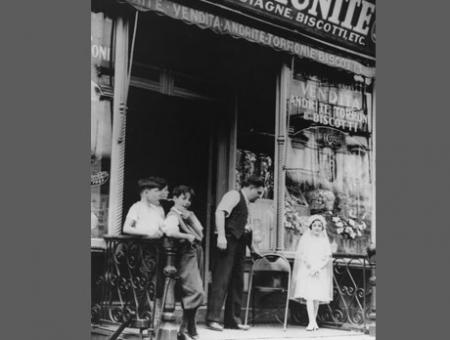 "The other thing in that bedroom was a trunk that my brother and I enjoyed playing with…..when I say playing, I mean standing on top of it and that was our stage. And I became Claudette Colbert, he became somebody else. Whatever movie that was out, we were acting, and we would do like a song and dance or something, whatever was amusing to us." - Josephine Baldizzi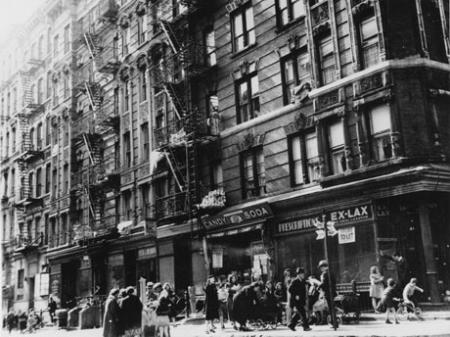 "The radio, always playing: Italian music, Italian soap operas, and my mother crying all the time (chuckles). She used to miss her family. She left her whole family in Italy, came here as a young girl and she never saw them again for many, many years later, she never saw her mother or her father again." - Josephine Baldizzi
Metadata
Make Gilder Lehrman your Home for History
---
Already have an account?
Please click here to login and access this page.
How to subscribe
Click here to get a free subscription if you are a K-12 educator or student, and here for more information on the Affiliate School Program, which provides even more benefits.
Otherwise, click here for information on a paid subscription for those who are not K-12 educators or students.
Make Gilder Lehrman your Home for History
---
Become an Affiliate School to have free access to the Gilder Lehrman site and all its features.
Click here to start your Affiliate School application today! You will have free access while your application is being processed.
Individual K-12 educators and students can also get a free subscription to the site by making a site account with a school-affiliated email address. Click here to do so now!
Make Gilder Lehrman your Home for History
---
Why Gilder Lehrman?
Your subscription grants you access to archives of rare historical documents, lectures by top historians, and a wealth of original historical material, while also helping to support history education in schools nationwide. Click here to see the kinds of historical resources to which you'll have access and here to read more about the Institute's educational programs.
Individual subscription: $25
Click here to sign up for an individual subscription to the Gilder Lehrman site.
Make Gilder Lehrman your Home for History
---
Upgrade your Account
We're sorry, but it looks as though you do not have access to the full Gilder Lehrman site.
All K-12 educators receive free subscriptions to the Gilder Lehrman site, and our Affiliate School members gain even more benefits!