"Jefferson is in every view less dangerous than Burr": Hamilton on the election of 1800
A primary source by Alexander Hamilton
View this item in the Collection.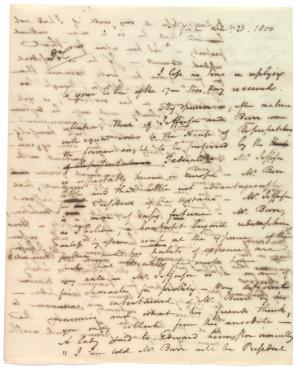 The presidential election of 1800 had resulted in a tie between the two Democratic Republicans, Thomas Jefferson and Aaron Burr. The founders had not foreseen the rise of political parties and the effects that development would have on the operations of the Electoral College. As that body was created at the Constitution Convention of 1787, each elector had two votes to cast and had to cast his votes for different individuals. The candidate receiving the highest number would become president; the candidate with the second highest number would become vice president. (Only after the adoption of the Twelfth Amendment in 1804 did electors vote separately and specifically for president and vice president.)
The presidential election of 1800 provided Alexander Hamilton, former secretary of the treasury, with a dilemma: a tie between Thomas Jefferson, a man whose principles were in direct opposition to Hamilton's own, and Aaron Burr, a man Hamilton believed to have no principles at all. As the House of Representatives prepared to vote to break the deadlock, Hamilton conducted a furious letter-writing campaign to urge fellow Federalists to vote for Jefferson. In this letter to Harrison Gray Otis, a Massachusetts Congressman, Hamilton writes that "In a choice of Evils let them take the least – Jefferson is in every view less dangerous than Burr."
A full transcript is available.
Excerpt
Mr. Jefferson, though too revolutionary in his notions, is yet a lover of liberty and will be desirous of something like orderly Government – Mr. Burr loves nothing but himself – thinks of nothing but his own aggrandizement – and will be content with nothing short of permanent power [struck: and] in his own hands – No compact, that he should make with any [struck: other] passion in his [struck: own] breast except [struck: his] Ambition, could be relied upon by himself – How then should we be able to rely upon any agreement with him? Mr. Jefferson, I suspect will not dare much Mr. Burr will [inserted in margin: dare every thing in the sanguine hope of effecting every thing –]
Questions for Discussion
You are seeing this page because you are not currently logged into our website. If you would like to access this page and you are not logged in, please login or register for a gilderlehrman.org account, and then visit the link that brought you to this notice. Thanks!
Metadata
Make Gilder Lehrman your Home for History
---
Already have an account?
Please click here to login and access this page.
How to subscribe
Click here to get a free subscription if you are a K-12 educator or student, and here for more information on the Affiliate School Program, which provides even more benefits.
Otherwise, click here for information on a paid subscription for those who are not K-12 educators or students.
Make Gilder Lehrman your Home for History
---
Become an Affiliate School to have free access to the Gilder Lehrman site and all its features.
Click here to start your Affiliate School application today! You will have free access while your application is being processed.
Individual K-12 educators and students can also get a free subscription to the site by making a site account with a school-affiliated email address. Click here to do so now!
Make Gilder Lehrman your Home for History
---
Why Gilder Lehrman?
Your subscription grants you access to archives of rare historical documents, lectures by top historians, and a wealth of original historical material, while also helping to support history education in schools nationwide. Click here to see the kinds of historical resources to which you'll have access and here to read more about the Institute's educational programs.
Individual subscription: $25
Click here to sign up for an individual subscription to the Gilder Lehrman site.
Make Gilder Lehrman your Home for History
---
Upgrade your Account
We're sorry, but it looks as though you do not have access to the full Gilder Lehrman site.
All K-12 educators receive free subscriptions to the Gilder Lehrman site, and our Affiliate School members gain even more benefits!